Entertainment
Claire Danes Is Pregnant! Expecting Baby No. 2 With Husband Hugh Dancy
Motherhood is indeed a blessing. Well, American actress, Claire Danes knows it better. Best-known for TV series Homeland, Claire Danes is already blessed with a child and now, counting days for the next. While Claire is looking after her young first born, she is set to welcome her second baby into the family.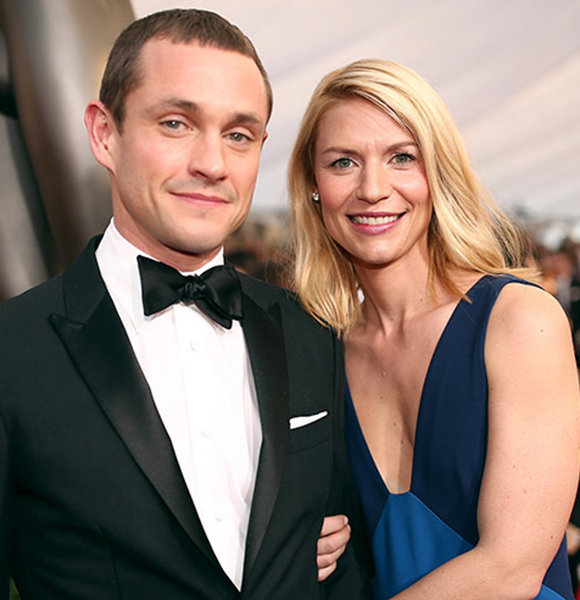 American actress Claire Danes is all set for the final season of her most prominent series Homeland, which is a spy thriller with IMDb rating of staggering 8.3/10.
Apart from her professional life, Claire is successful in managing her personal life as well; she is now a proud mother of two beautiful children and leads a blissful married life with her actor husband.
Let's take a closer look at the personal as well as professional life of this beautiful actress, and find out her journey from dating with now-husband to being blessed with beautiful children!
From "Sets" To Wedding
Claire Danes' life sounds perfect; she is rich in prestigious awards like Emmy and Golden Globe Awards and has a loving actor-husband, Hugh Dancy on her side, whom she has married for long. 
Claire first crossed paths with the Path actor on the set of the 2006 drama Evening in Newport, R.I. Claire was single that moment, and in the beginning, they started as just friends. But as time went by, they started growing on each other.
Claire Danes with husband Hugh Dancy (Photo: huffingtonpost.com)
Recalling the moment, Claire opened up with Marie Claire on falling in love with her husband back on 9 January 2017. She said,
"I was very recently single, and I had never been single before, so we were just friends for a while. [Hugh and I] met in Rhode Island when it was at its most audaciously beautiful, in the fall. And there was one day when we were bicycling by the water and it was sparkly and idyllic, and I just had this dumb epiphany, like, I'm really just happy."
The couple announced their engagement three years after they first met in February 2009 and tied the nuptial knot the same year in September in a quiet wedding ceremony in France.
Claire's Co-star's Dating Life:- Personal Life of Natacha Karam, 23: Married Life To Flaunt? 
Mamie Gummer, a guest and a friend of the couple, shared some insights into the wedding moments stating the wedding was memorable, and the pair is the perfect match for each other. She said,
"I was there when it was happening and it's something that I will never forget. I'm incredibly happy for them. They are perfect for each other."
Six months after their marriage Claire opened up with The Edit Magazine sharing her experience as the wife of the Hannibal star. She stated,
 "Marriage is wonderful. It's challenging, and… it just keeps getting deeper. I keep learning more things about him and myself, and that's not always comfortable."
Claire is married to her man Hugh for eight years now and the couple is still going strong, both in their personal as well as professional aspect.
Children, Second Baby
The couple added a new member to their family three years after their marriage. They welcomed their first son, Cyrus in December 2012. 
After over five years of birth Cyrus, the American actress revealed her pregnancy news on Howard Stern's SiriusXM show on 18 April 2018 where she stated,   
"I am pregnant. I'm seriously prego …"
What's interesting is, Claire had already opened up about her desire to be a mother back in the February 2013 issue of Elle, where she quoted:
"I've always wanted to have kids, but I'm glad I didn't until now. When I was thinking about [working and being a mother] originally, I was really nervous about it. I think I would make a lousy stay-at-home mom. It just wouldn't suit me. I feel so fortunate, in that I've had this arrow-straight focus that I wanted to act."
Increasing the happiness of the actor's family, Claire and Hugh welcomed their second son on  27th August 2018.
Her second pregnancy was different than the first one in a good way. While pregnant with Cyrus, she worked until eight months of pregnancy, but for the second time, she had plenty of time to chill; the reason behind that was her break from filming her hit Homeland show.
Acting Again With Husband
As of now, Claire and her hubby are all set to revisit the start of their relationship as they'll finally get to work in a set together. With perks of being in the same profession, Hugh will join his wife for the final season of Homeland as a guest star.
Homeland Star's Personal Life:- Morgan Saylor Likes Living With Her Boyfriend; Has Any Other Dating Affair In Past?
Claire's husband will appear as a character named John Zabe in multiple episodes on the final eighth season. The better half of the show's star, Hugh is a talented actor in his own right; he was nominated in Emmys for his role as Earl of Essex in Elizabeth I in Outstanding Supporting Actor in a Miniseries or a Movie category.
Stay with us for the emerging updates on the life of Claire Danes!