Being a model of beauty with brains and not being in the spotlight of media is something indigestible. Hot model/ actress Clara Paget possess a handy quality due to which a sparkling spotlight surrounds her.
Her fan followers and well wishers are lining in the queue to know about her singularity, her boyfriend, and her personal life, so today we are covering the relationship story of Clara Paget exclusively.
Is she Dating? Who is her Boyfriend?
Well, the lady has kept her relationship and marital status quiet behind the curtains. However, while going through all her available information and by carrying out intense research work we came across a news of the ongoing dating life of the lady with a man named Oscar Tuttiett. As posted by Daily Mail.Co.UK on 10th August 2013, the lady is said to have partied with her boyfriend, Oscar.
Even though the actress has not confronted it, few of her pictures along with the man was posted on her Instagram account. Even though the lady has not openly disclosed the actual relationship with him, she has disclosed in one of her post about spending six years with Oscar in 15th May 2016.
Caption: Clara Paget announces about spending 6 years with Oscar calling him sweetly, "this monkey."
Similarly, while going looking for other proofs in the past, we came across a picture with the same man at Burberry Menswear Spring/Summer 2016 show at Kensington Gardens on June 15, 2015, in London, England.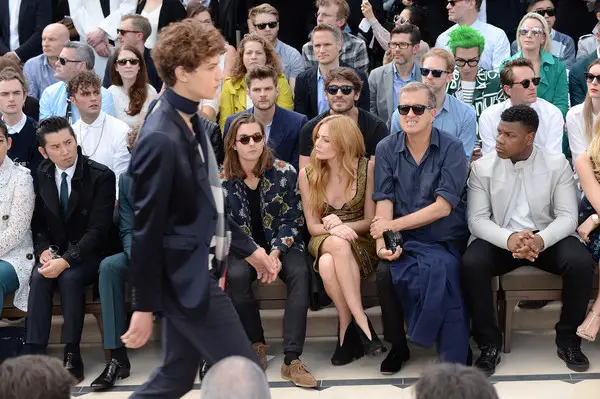 Caption: Oscar Tuttiett and Clara Paget sit in the front row at Burberry Menswear Spring/Summer 2016 on June 15, 2015, in London, England.
Source: zimbio.com
Even though she has not confronted her relationship with the man, she was spotted frequently with the same man on and off the media. Similarly, her cozy pictures with this man really indicate that they both have known each other for a long time period. As some online portal has termed the couple to be in a relationship no other details of the relationship has been obtained besides the number of years they have spent together.
Even though she is an active user of social networking site and has 72.1k followers on Instagram, she seems to be a kind of a lady who wants to maintain a distance between her professional life and her private life.
Clara Paget's Short Bio:
Clara Paget was born on 12th September 1988 in London, England to artistic father Charles Paget and mother Georgeanne Elliot Downes. 
In the year 2009, she was first offered a role of Bella in the film "St Trinian's 2: The Legend of Fritton's Gold" and in the year 2011 she got an opportunity to work in televisions series "Midsomer Murders" and "Little Crackers." In the year 2011, she worked in movies like "One Day" and "Johnny English Reborn." She came into the spotlight after she grabbed a role in the movie "Fast and Furious 6" in the year 2013.
She is currently working on the television series "Black Sails"(since 2014, where her character "Anne Bony" has been greatly admired by the viewers.