Entertainment
Clarissa Ward Turned Boyfriend Into Husband In Fairy-tale Like Event! Now Has A Blooming Married Life
We often used the word Blissful to describe successful marriages and married lives of various people.
But the foreign correspondent for CNN, Clarissa Ward has been taking this word to a whole new level, as she and her husband are having the kind of marriage and marital bond which people would envy of.
Today, let us take a stroll inside the beautiful relationship that Clarissa and her boyfriend turned husband share with one another.
The Married Relationship Of Clarissa Ward & Her Husband With Magical Dynamics:
Clarissa Ward is someone who you know for her work on CNN. We are aware of her excellence in the professional front of her life, but when it comes to her personal life, she is no less successful.
She has been enjoying her beautiful relationship with her boyfriend turned husband, Philipp von Bernstorff, a German Count, who she tied the knot back in November 2016 in a London wedding.
The happiness of them exchanging vows to be with one another for the rest of their lives was clearly seen on their faces through the social media post that Clarissa shared back in November 2016.
Rather than throwing a grand party, the couple opted for a simple and intimate ceremony at Chelsea Old Town hall followed by lunch at their home located in Notting Hill for just 46 guests.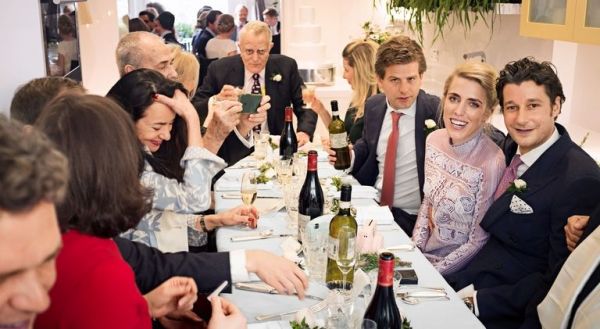 Caption: Clarissa and Philipps' wedding reception at their home in Notting Hill.
Photo Credit: townandcountrymag.com
Speaking about the beautiful ceremony, Ward said,
"Perhaps covering war does give you a slightly different perspective, In the grand scheme of things to freak out about, this is not one of them."
The two reportedly met each other at a dinner party held in Moscow back in 2007 and were attracted towards one another in no time.
This is what Phillipp said to Ward when they first met,
"I think war correspondents are egomaniacs,"
Even when they were only dating, they were more than adorable together.
And now that they are married and Clarissa is often far from home; the two still share amazing moments with one another virtually.
Thank god for technology, the loved ones at least have an option to stay connected!
Some Fascinating Facts About Clarissa Ward:
Born on January 30, 1980, in New York, United States, Clarissa Ward is one of a handful of network correspondents who is 37 in age and has reported from war prone Syria in recent years.
In 2011, she bravely sneaked into Syria posing as a tourist. She has earned numerous honors and accolades for her work from inside the deadly civil war in Syria as well as the wars in other countries like Iraq and Afghanistan.
Clarissa joined CBS News back in 2011 and will be based in the city of London for CNN. Moreover, she is multi-linguistic and speaks six different languages including French, Arabic, Italian, Russian and Spanish.
Think we missed something? Do let us know in the comment section below!