Entertainment
Did Cliff Floyd Get Married? Or Turning Partner Into Wife Isn't Necessary For A Happy Life?
Marriage is a vow shared between two lovers to spend the rest of their lives together living by every moment of happiness and sadness. However, love is beautiful and unconditional. It doesn't require certain rituals to define itself.
Similarly, former baseball player Cliff Floyd might be related to the fact as he hasn't revealed if he is married to his long-time partner. The two have been together for more than 15 years, but now, fans wish to know if the couple has tied the knot. So, does Cliff Floyd believe turning his partner into a wife isn't necessary to be happy? Or, are they already married? Let's get to the core of it!
Is Cliff Floyd Married To His Long Time Companion, Mary Anne Manning?
Cliff Floyd is no different from many celebrities who prefer maintaining their own personal space letting minimal details to surface in the media.
However, Cliff is romantically involved with his longtime companion; Mary Anne Manning.
There are not many details regarding when they met each other. But, according to sources, Floyd met Mary when the baseball team Miami Marlins played in her hometown, Toronto.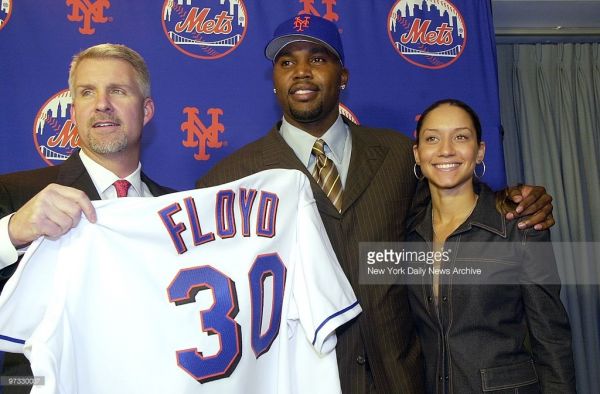 Caption: Floyd being presented a new jersey by NY Mets Manager Steve Phillips as he stands along with girlfriend Mary Anne Manning, 2002
Photo Credit: Gettyimages.com
Since then, they have shared their romance for each other and are all loved up until now.
On June 30, 2008, as Cliff was talking to VAULT about signing with Rays as a free agent, he also mentioned Mary as his Fiancee,
"On leaving the Cubs to sign with the Rays as a free agent last December
It was real important to come to a Florida team because my family is here—my fiancée, Maryanne Manning; my daughter, Bria Shae, who's four; and my son, Tobias, who's three."
The engaged couple attended several events together as well.
Caption: Cliff Floyd and wife Mary Floyd attend the Market America & SHOP.COM World Conference Day on February 2016.
Photo Credit: worldredeye.com
However, a source calls Mary his wife! Also, Along the years of their journey of love, the couple was blessed with three children; daughter, Bria Shae (13), son, Tobias Clifford (11), daughter, Layla (9). The couple seemed very happy together, but curiosities about the big question kept rising regarding if they were married.
Although details of their engagement and wedding remain confined, yes, the couple is beautifully tied in a husband-wife relationship!
A Short-Wiki Like Bio of Cliff Floyd
Cliff Floyd, who goes by the real name Cornelius Clifford Floyd, best known as a former baseball player was born on December 5, 1972, in Chicago. He has a younger brother named Julius and an adopted sister Shanta.
Ever since his young years, Floyd was athletic and energetic. Moreover, during his days at Thornwood High School, Cliff was a three-sport star in baseball, football, and basketball. He even led his team to Illinois state baseball championship as a senior.
Floyd's major league debut in his career was in 1993 when he played ten games with the Expos. Floyd shifted to Florida Marlins in 1997, and in 1998, he began his position as an Outfielder. He came back to Montreal Expos in 2002, but later that year, he moved from Expos to the Boston Red Sox team. In 2003, Cliff signed a contract with the New York Mets, but he had to suffer bitter time as he got injured the same year. Floyd had to undergo surgery on his left foot, and he got replaced in left field by Moises Alou.
On Jan 2007, he told ESPN about his injury that he had a bone spur,
"I had a bone spur, that was actually affecting the Achilles. It was a bone spur that was actually rubbing on the tendon. The doctors went in and shaved the bone spur down and cleaned the tendon up "
However, he continued his passion for baseball again from 2008.
In his 17-year career, he has earned an outstanding mark for himself with an impressive stats overall. He even earned a base salary of $750,000 playing with San Diego Padres in 2009.

Caption: Batting stats of Baseball player Cliff Floyd.
Stat credit: baseball-reference.com
With such dedication and passion for baseball, Cliff Floyd has accumulated a net worth of $500,000.