Entertainment
CNN's Enchantress Hala Gorani Married a Colleague in 2015. Meet The Photographer Husband: No Divorce Plan
She is someone who is widely known for her hard-hitting news reports and updates from even the most war-torn countries on the planet. She is someone who gives viewers information about everything that is happening worldwide in just a time interval of one hour. Nevertheless, she is fluent in English, French, and Arabic.
She is none other than American television journalist talking about Hala Gorani, the famous anchor of CNN's "The World Right Now with Hala Gorani," every weeknight. 
Here is a promotional video of "The World Right Now with Hala Gorani."
Caption: Promotional video of "The World Right Now with Hala Gorani."
These are just a bunch of information about her professional life that we ought to know for now to know who she is. However, we have gathered here today to know about her personal life.
A beautiful and talented hottie like Gorani can't still be single, right? Sure, she is married, but who is her husband? Do we know him?? What does he do??
You do not need to worry about anything because we've got you covered.
Married Life, Husband, and Divorce Rumors:
CNN International London-based Anchor and Correspondent, Hala Gorani, 46, married Christian Streib on June 15, 2015. The couple exchanged their vows in Jardin Majorelle, Morocco.
Moving forward, many of you might not know Christian Streib, after all; he is a man behind the camera. So, in this case, let us know him.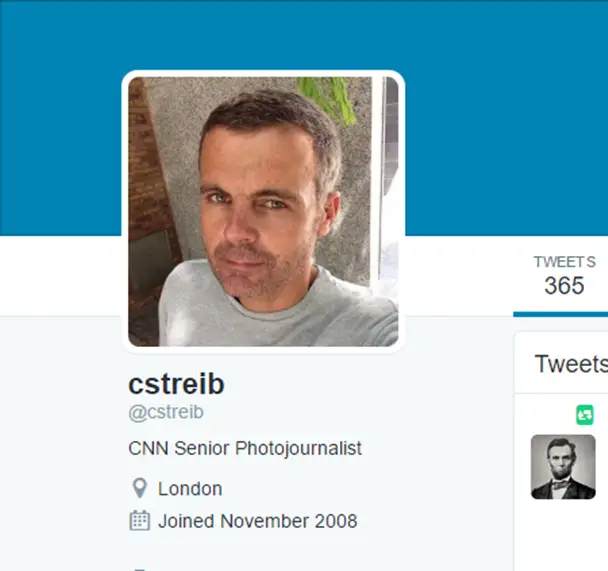 Source: twitter.com/cstreib
Christian Streib is the senior photojournalist at CNN and is a colleague of Hala Gorani. Both have been working together for quite a long time now.
Here is a picture of Hala Gorani and her team, which includes Christain too. For your information, they have won an Emmy Award together.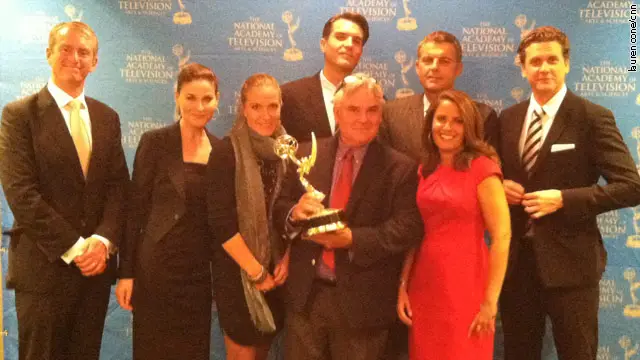 Caption: From left to right - CNN correspondents Nic Robertson, Hala Gorani, Arwa Damon, Fred Pleitgen, Ben Wedeman, Christian Streib, Suzanne Malveaux and Tommy Evans accept the Emmy for Outstanding Live Coverage of a Current News Story - Long Form for the Breaking News Simulcast of Revolution in Egypt: President Mubarak Steps Down.
Source: cnn.com
Hala Gorani with husband Christain Streib and her team during their shoot in Morocco in 2013.
Source: facebook.com
@rheaseehorn Really great job in the second season of Better Call Saul. My husband and I wait for each episode week to week, old school!

— Hala Gorani (@HalaGorani) April 6, 2016
So, it does makes sense why the couple gets along so well.
The couple has been married for almost a year now. For all we know, both the husband and wife enjoy each others company.  No divorce to this couple!!!!
She may be majorly known as an anchor, but she is someone who has covered numerous critical stories going to the field. To be more precise, she has covered many stories like the 2012 Egyptian election, the devastating earthquake in Haiti in 2010, gay life in the middle-east and much more.
In recent events, Hala Gorani was announced as a speaker at the Women World Changer Summit at Melbourne and Sydney conferences which is due this October. The 46 years old was named as a speaker after Amal Clooney, wife to actor George Clooney canceled her appearance because of her commitments at the Hague.
Over her more than two decades of professional career, Hala Gorani has earned the Golden Nymph Award, was nominated for a Gay & Lesbian Alliance Against Defamation (GLAAD) award, and Hala Gorani and her team have received a News and Documentary Emmy for her coverage of the 2011 Egyptian revolution.
Hala Gorani's Short Bio:
Hala was born on 1 March 1970 in Seattle, Washington, USA, to Syrian parents. Hala spent the majority of her early life in Paris, France. Hala started her journalism career as a reporter for the French magazine "La Voix du Nord."
In 1994, she joined the France 3 network. After a brief stint at France 3, she grabbed an opportunity to work for London-based Bloomberg TV. In 1995, Hala graduated from the Institut d'études politiques. In 1998, she joined CNN as an anchor for CNN International's European breakfast show, 'CNN Today.' She has never looked back since then. 
(Laughing). How did you know that? Even my colleague the producer of "Inside the Middle East" only found that out recently. I was born in Seattle to parents who are both originally from Aleppo in Syria. During my childhood, I moved with my family to Algeria where my father was working. After my parents separated, I moved to Paris to live with my mother until the end of my teens. I returned to the U.S. to attend university. I later traveled to Paris and then the U.S. As you can see, I have moved a lot. However, my roots are 100% Syrian.

Hala Gorani on her Arab origin in an interview with english.aawsat.com