Entertainment
Colby Brock's Wiki: His Age, Birthday, Possible Dating Affair With Girlfriend And Much More
Colby Brock's Wiki: His Age, Birthday, Possible Dating Affair With Girlfriend And Much More This Stanley fellow, known by a name Colby Brock, created several buzzes along with his friend Sam Golbach and now he is causing a maximum number of people to follow him on his Instagram profile. Well, we dedicate this session to him and continue knowing the happenings of his life in a short wiki-like bio of this youngster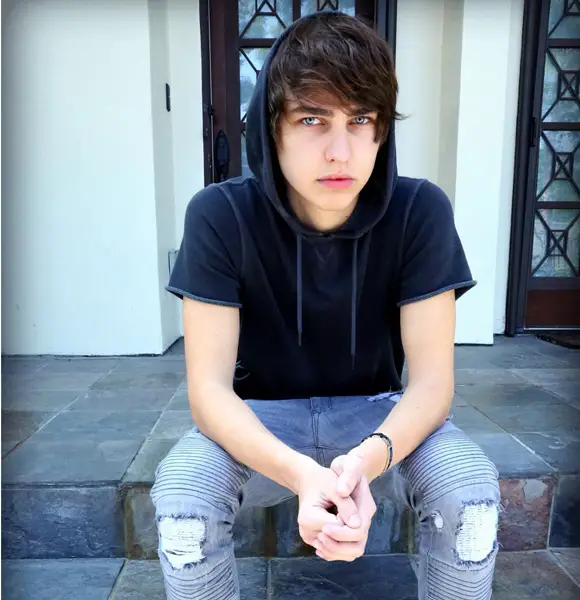 No one follows you unless you do something different and worth watching, and a young guy from Stanley knows this better. He incorporated the similar course of action to grab the attention of a huge mass.
This Stanley fellow, known by a name Colby Brock, created several buzzes along with his friend Sam Golbach and now he is causing a maximum number of people to follow him on his Instagram profile.
Impressive right?
Well, let's continue knowing the happenings of his life in a short wiki-like bio of this youngster.
Few Things To Know More About Colby:
Colby Brock celebrates his birthday on 2nd of January every year and this January it was his 20th. He is a Capricorn personality who stands much high from the ground with a height of 1.82 meters.
Besides these general facts, the lad maintains a muteness behavior when it comes to talking about his parents and siblings, despite the fact that he has gained much popularity in his early age.
Colby is supposed to have met his best friend Sam in high school, and they both had a crush on same Drummer girl. They even planned to have the same girl as their girlfriend and have their dating scheduled with her.
Well, they both didn't reveal whom the girl later fell for, but the two boys ended up being great friends.
With the time passing by, Colby and Sam came with an initial idea of generating ruckus, so that the people would start recognizing them and thence, they began posting videos of their unusual activities on a Vine page.
However, it caused troubles not only to them, but also to the people around them, and the only positive side of those videos was the popularity they got with the increasing followers.
Later, they began following Sam's grandmother's final words, "Outward and Upward," and started posting videos that would reflect the positive aspects of the life dedicated especially for the teenagers.
They reached their first 10,000 followers in January 2014, and first 100,000 followers two months later in April, and now the figure is much impressive, it's 1.6 million followers on Vine.
In January last year, they posted a six-second video "Following Fat People" to Vine, which has more than 15 million views.
Caption: A vine video "Following Fat People" by Colby and Sam (Published on Aug 4, 2014).
But this created a controversy, as it seemed offensive to people with over-weight issues and consequently, they were asked to take down the video.
In response to this incident, Sam explained the situation as:
"We wanted to become known, so we thought the best way and the fastest way to do that was to be funny on Vine."
Apart from Sam, Colby collaborates with another popular YouTuber and vlogger called Big Nik to post his YouTube videos. He also worked with Jack Dytrych on a video called "Inappropriate Songs While on Hold" in January of 2014. Colby posts videos on his YouTube channel with his name: Colby Brock.
One of his funny video with tattoo-like stickers also created a lot more buzz.
Caption: Colby making funny faces and flaunting so-called tattoos (Published on Sep 5, 2015).
Colby has also turned to social platforms like Instagram and Twitter, and he has already earned 476,000 followers on Instagram and 123,000 followers on Twitter.
The two besties gained fame as well as money with their videos and also have work experience with advertisers such as Dixie Cups and Pop-Tarts.
Stay updated with us to know more about Colby and his videos.