Entertainment
Colleen Ballinger Cried on Divorce with Husband! Has Boyfriend to Fix Things Now?
Who doesn't know Miranda Sings? Well, if you follow YouTube, chances are, you have stumbled upon this distinctive character at least once. But if you aren't a YouTube fan, you might as well have known Miranda from her show, 'Haters Back Off' on Netflix. Miranda Sings, with the smeared red lipstick, is all about making people smile, with the weird personality she possesses.
But, the person who brought the character into existence, Colleen Ballinger, had her share of downfall, when her married relationship ended in divorce. Well, that was over a year back, so, has she moved on to find love again?
You need to vest your few minutes below to get the answer.
A Look-Back at Colleen Ballinger's Relationship with Former Husband:
Colleen never kept her relationship a secret, all her social media followers were aware of her dating with a fellow YouTuber, Joshua Evans. Joshua and Colleen featured together in their respective videos a number of times. From girlfriend-boyfriend tags, answering the fans' question, to flaunting their love casually, their videos mostly gave a glimpse of their relationship. 
Moreover, not only that, Colleen videotaped even the most significant moment's she experienced with her then-boyfriend; their engagement, and even their wedding.
The former couple first met in 2009 when Joshua reached out to her on Facebook after discovering Colleen's video. After dating for years, they eventually got engaged and then exchanged vows in July 2015.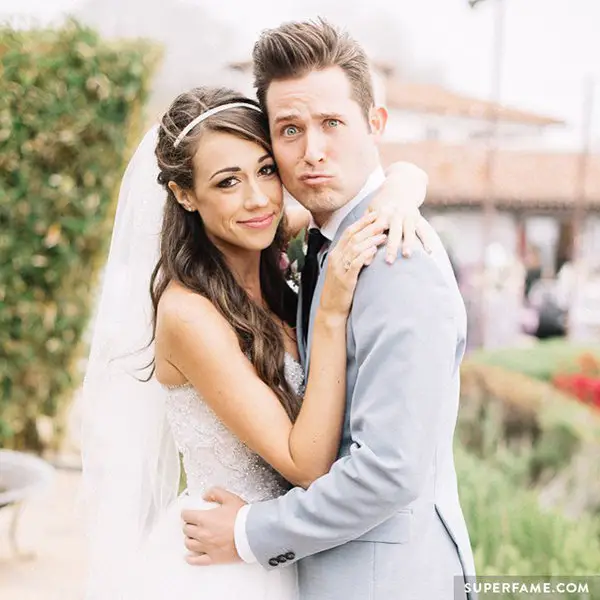 Caption: Colleen and her then-husband on their wedding day.
Picture Credit: Superfame.com
However, despite sharing vows of always choosing one another in their life ahead, an excruciating time came between the pair that ended their married life. Colleen and Joshua both made a video about it and uploaded to their respective channel where they explained the reason behind their divorce; however, it has been taken down now. Joshua in his video mentioned he didn't want the divorce to happen, while Colleen made things clear; that they had a rocky relationship from the beginning.
Joshua said,
"I want it to be known that I am not choosing this divorce. I don't want this divorce. I want her, but I truly believe she thinks she is making the right decision right now. I was faithful the entire time. It's nothing like that at all, in any way. I would never, ever break that trust with her – so that's not anything like that."
Moreover, it was about time that Colleen figured out neither she was happy nor was she able to make Joshua happy, and that was the prime reason behind them parting ways. Colleen divulged,
"You've watched us date, you've watched us get engaged, you've watched us get married, We've shown you everything because we wanted to, and I don't regret any of that, but, you know, we chose to not share with you the hard parts of our relationship. And there were a lot of hard parts of our relationship."
Caption: Colleen and her ex-husband Joshua talks about their divorce. (Published on Sep 30, 2016)
It's been over a year since Joshua and Colleen's divorce, and the two seemingly has moved on. Also, as of now, neither of them have addressed about them dating anyone.
Meantime, Colleen who has a precise thought on the religions as a whole is busy with her YouTube career, which has contributed to her net worth of $ 8 million, while also managing time for tours.
Caption: Colleen Ballinger shares her thoughts on religion. (Published on Apr 4, 2017)
Additionally, there is sad news for Miranda Sing's fan, since Netflix has canceled 'Haters Back Off' after two seasons.