Entertainment
Stand-Up Comedian Jim Breauer Talks About His Family And Career! View Full Report
Jim Breauer is a versatile personality and best at everything he does, be it as an actor, musician, stand-up comedian or radio host. But nothing is bigger than family, and for star comedian Jim Breauer the case is same as he shares every high and low moment with his family.
Jim Breuer is best known for his character of Goat Boy recently gave an interview and talked about his family and his illustrious career.
More of a family man, Jim Breuer!
Despite being a star of movie "Half Baked," and former Saturday Night live star Jim Breuer leads a simple normal life with his family. Jim Breuer married the love of his life Dee Breuer in 1993 and had been together ever since.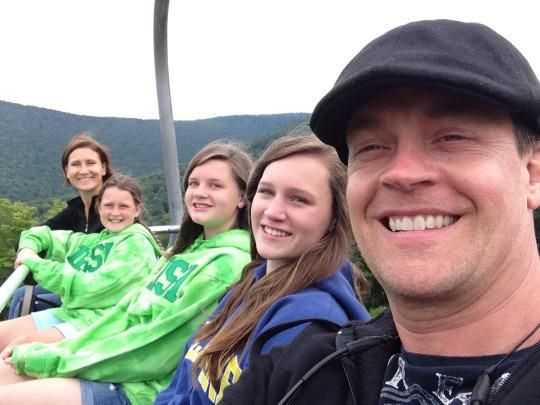 Caption: Former Saturday Night Live star Jim Breuer along with (from left) his wife, Dee, and daughters Dorianne, 10, Kelsey, 13, and Gabrielle, 16.
Source: yahoo.com
He was there when his daughters needed him and raised his kids: Gabrielle, Kelsey, and Dorianne. Breuer said of raising the children without outside help to the NY times in 2005 where he said;
'It's like three chimpanzees,''
Moreover, he added:
 ''You can train them all you want, but they're chimpanzees. There's nothing you can do.''
Jim said that he's concerned about his daughter as they are entering their teenage days and there are lots of challenges to it. He said to Yahoo on May 28, 2015, that:
 My big, main concern is pregnancy and addiction. Years ago, it was just have fun and don't get hurt. Now it's have fun, don't get hurt, don't get pregnant, and don't get addicted to anything. Please.
He dealt with a huge blow which included loss of his father and sister as well as his wife ongoing battle with cancer. Breuer explained:
 "I have a deep respect for life in general; just a huge, deep respect for life. And I have grasped onto the fact that every minute, every moment, to be grateful and thankful for. Because we don't know what's two seconds away. We really don't. It's so unpredictable. And again I learned that at a young age through death,"
Jim Breuer and his family got through the horrors of cancer and significant changes occurred through Jim's life. Jim's family got through it and are a happy family as of today. Jim Breuer revealed that his wife was diagnosed with cancer in 2012 and major changes took in his life after that event. 
Jim Breauer talks about his Career!
Veteran and one of the favorite comedian of today's era, Jim Breauer recently gave an interview with the digital journal on November 26 before his show at Mulcahy's Pub and Concert Hall. The musical concert was in support of Songs from the Garage, his breakthrough studio 11-track album. He performed along with his band at Mulcahy and shared his feeling.
"It always feels good being home. Doesn't matter where I am home, but especially Mulcahy's. Now I get to do the band stuff and what I'm gearing up to tour with next year, so this is a perfect place to work it out,"
Breuer is the man who plans his future and rightfully so being a top musician and comedian. He revealed:
Hopefully to tour this whole next year. Maybe we will do shows here, or The Paramount. I'm in the Paramount in February. I would like to tour. What you are seeing here tonight is completely raw, and production starts in Las Vegas in February, so if people want to make it a Super Bowl weekend, they should come out to Vegas on February 3 and 4."
It looks like Breuer is going to have a hectic schedule ahead. Nevertheless, Breuer is a family man and will make sure that he give time to his family.