Entertainment
Beautiful Comedian Julia Morris Talks Struggles with her Husband and Children!
Even for a celebrity life isn't always as happy as it seems on television. There sure will be ups and downs whether be it in their love life or a financial crisis but everybody won't feel free to talk about it. However, it is not the same case with Julia Morris as she speaks about her struggle with husband and children. Let's learn more about it.
Julie Morris has recently explicitly revealed all the struggles she went through till this date. You might have thought that the struggle was with her family life but it is not. One of the struggles was when Julie and her husband Dan Thomas a homestay dad with whom she got married on December 31, 2015. The couple had hit financial crisis before Julie held a tight and prolific grip on her career about five years ago. Julie said,
'[We were living] on the bare bones of our bums.'
The struggle started early when Julie flew to England in 2000 where she managed to secure many jobs but was finding it hard to make ends meet. With many unsuccessful attempts on establishing herself, she eventually returned to Australia and was determined to make it work in her home country.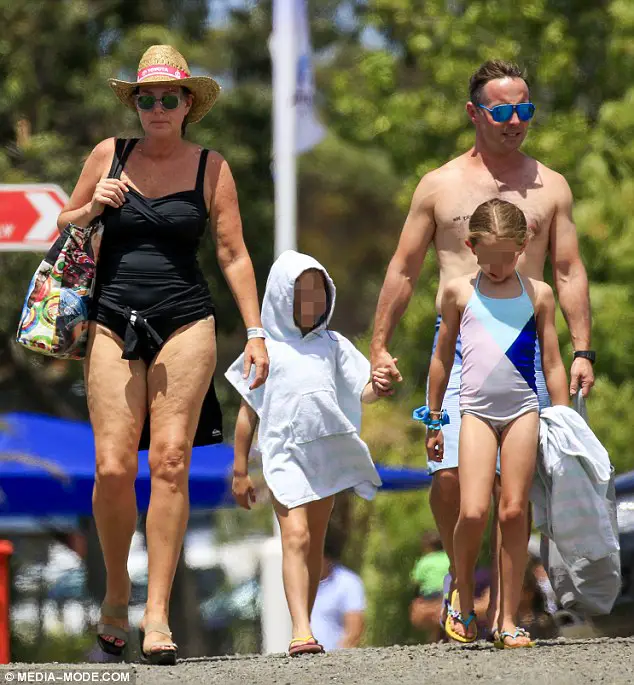 Caption: Julie Morris and husband Dan Thomas with two daughters Ruby (middle right) and Sophie (middle left) in January 2016.
Source: dailymail.co.uk
Her career started to climb the hill when joined The Celebrity Apprentice Australia and resulted in being the winning contestant. Well, that right there was the big break that saved and uplifted Julie and her husband who were already parents to two daughters, Ruby 9 and Sophie 7. Followed by that, in 2012, Julie starred in the comedy house husbands which is still running smoothly.
Julie also struggles health wise when she suffered an ectopic pregnancy. The emergency surgery she went through resulted in having half her plumbing removed. Not ending at this, later the couple suffered a miscarriage, but it was all before they couple welcomed their daughters one after another without any issue.
In 2015, Julie was seen with a notably slim body, and when she was asked how she managed to do so, she said,
'My Crunchie-eating days are over with my no sugar policy; No sugar, low carbs, vodka, and soda... that's pretty much it... but every day.'
The 48 years old revealed that she lost about 20kgs after she started her no sugar and now she feels pretty confident about the body she has right now and says,
"Sometimes I take a bikini selfie and think I look hot and I put it on social media. My favorite is when people write "lose weight" and  I'm, like, "mate, I've already done that."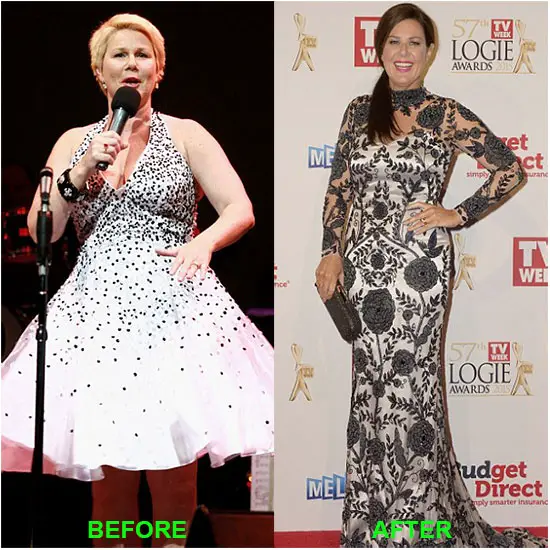 Caption: Julia Morris before and after weight loss.
Source: liverampup.com
Right now, the couple is living quite the balanced life where Julia brings food to the table being a working woman of the house and her husband does the job of looking after their children. Dan was into advertising before he quit everything to be a homestay dad and let Julie pursue her career. Julie said, 
"I'm the dad.It's fantastic. I get to live this insane double life."