Entertainment
Comedian Lewis Black Planning to Bring 'Rant, White & Blue' Tour to Peoria! View Full Report
Happiness, sadness, anger, grief, humor, greed are all parts of life. Among them, humor is one emotion without which life is impossible to imagine. It is not an easy task to evoke laughter in someone. But when it comes to producing laughter, one can't forget the name of Lewis Black for whom providing a hefty amount of laugh is no difficulty. He has a huge number of fans who enjoy his extraordinary sense of humor and impeccable comic timing.
Tour To Peoria: Rant, White, And Blue
Lewis Black has done many tours like "In God We Rust," The Naked Truth tour, and so on. His new "Rant, White and Blue" tour is coming on the way. The show is headed to Peoria coming spring at the Peoria Civic Center Theater. It's not the first time that he's performing in Peoria. He has performed several times in recent years and was seen last performing in central Illinois in 2015. The show is on April 27 at 8 p.m. Tickets cost $25, $38, $48 and $58. One can purchase tickets at the Civic Center box office, all Ticketmaster locations, or visit ticketmaster.com or call 1-800-745-3000.
He makes people laugh from their heart at the absurdities of life, with topics that include current affairs, social media, politics and anything else that exposes the hypocrisy and madness he sees in the world. He also gives rants against health-care costs, against greed, poverty, leaders. So if you happen to be at Peoria, 27 April 2017 is the date. Don't miss the show at any cost.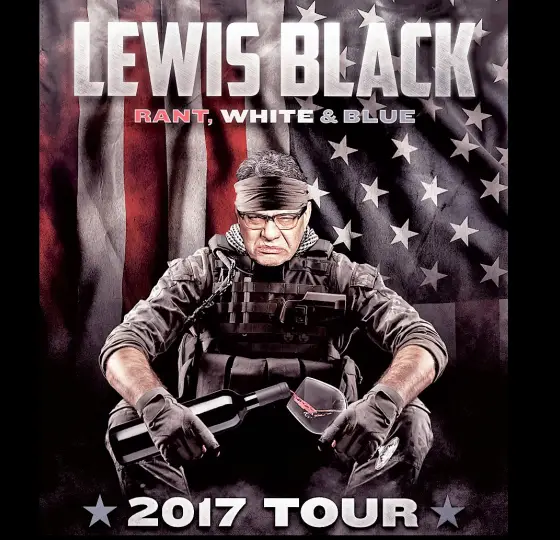 Caption: Lewis Black's Rant, White and Blue tour is all set to come to Peoria on 27 April 2017.
Photo Credit: lewisblack.com
Net Worth:
Lewis Black has released eleven albums and nine DVDs in the market. In 2006, his CD "The Carnegie Hall Performance" won a Grammy for Best Comedy Album. He won his second Grammy in 2011 for "Stark Raving Black."Black did his film debut in "Hannah and Her Sisters" in 1986. Other TV and movies appearances include "Mad About You," "Accepted," "The Happy Elf," "Man of the Year," "The Big Bang Theory,"Unaccompanied Minors," and "History of the Joke." All these projects have contributed him to have the net worth of $1.5 million.
A Short bio of Lewis Black:
Lewis Black was born on August 30, 1948, in Washington, D.C He is the son of Jeannette - a teacher, and Sam Black, an artist, and mechanical engineer. He was brought up in a middle-class Jewish family. His career began in theater as a playwright. He is a socialist as per the political affiliation. According to the source, he is single and not dating anyone. Whether he is married and has got a wife is not revealed nor mentioned.