Entertainment
Beautiful Commentator Margaret Hoover: Married to Her Journalist Husband in 2009, Pregnant and Baby Alert?
No matter how outstanding profession an individual has, he cannot be truly happy without a stable and healthy family life. Likewise, the lady we are talking about is someone who has a remarkable career and a beautiful family consisting of husband and children.
An American political commentator, feminist, gay rights activist, and author, Margaret Hoover, 38, is blessed with a lovely family. Margaret is a supportive wife and mother of two wonderful kids. Let's know precisely about her marriage, husband and children in our story.
Wedding and Married to Journalist Husband:
The author of bestselling book, "American Individualism: How A New Generation of Conservatives Can Save the Republican Party," Margaret Hoover married John Phillips Avlon, the editor in chief of The Daily Beast and a CNN political analyst, in November 2009. The wedding was conducted at Stanford Memorial Church in Palo Alto with some special guests and relatives.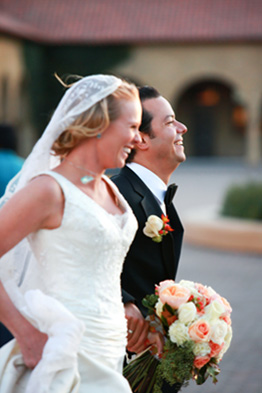 Caption: Margaret and John Philips wedding at Stanford Memorial Church in Palo Alto in 2009.
Source: liverampup.com
The couple has already celebrated almost seven years of marriage, and the connection is getting stronger with the increasing year. They are often spotted spending quality time and attending various events together and later share it with their fans through different social media.
Caption: Margaret with her husband, John
Margaret and John's Children:
The author with huge net worth, Margaret and John are gifted with two lovely kids. The elder son, Jack Avalon was born on 14 August 2013. The son was born at 7 pounds, 4 ounces and had the full head of hair.  John shared about the childbirth to The Times via email on August 15. He wrote,
"A beautiful brave mother and proud papa are very happy to announce the arrival of one of the newest souls on the planet. Mother and baby are doing beautifully after the birth, which occurred at Lenox Hill Hospital in New York last night. We are thrilled and exhausted and feel thoroughly blessed. (He is) currently sporting a faux-hawk."
Following the birth, Margaret and John were showered with blessings and good wishes from their fans and well-wishers. Later, John thanked everybody who greeted them through his Twitter account.
Thanks to everyone who gave @MargaretHoover and our baby Jack such a wonderful welcome - its been a blessed first two days on earth for him

— John Avlon (@JohnAvlon) August 17, 2013
Similarly, the great-granddaughter of Herbert Hoover, the 31st president of the USA, Margaret got pregnant with the second child in 2015 and gave birth to a baby girl in October and named her Toula Lou.  Besides the Twitter post of John, we did not find tabloids or other media writing about the baby's birth.
Margaret and John's lives have been delighted by the presence of the children. Jack is currently three years old while daughter is one-year-old. And they often have a great time together.
Caption: Margaret and John celebrating Jack's birthday along with their daughter.