Entertainment
Commentator Max Kellerman's Interview With Manny Pacquiao Results Chaotic Response!
In the match that took place at the MGM Grand Garden Arena in Los Vegas on May 2, 2015, boxer Manny Pacquiao lost the match against Floyd Mayweather. Shortly after that, Manny was interviewed by Max Kellerman but the way he conducted the interview has made a lot of fans angry.
So, he gained many negative remarks for his work. This post fight interview resulted in many unsatisfied responses from its viewers. Due to the interview, he became a trending topic on Twitter and was labeled it as a rude interview.
Caption: Max Kellerman in post game interview with Manny Pacquiao on May 2, 2016
This just confirms why I don't watch boxing. And that #MaxKellerman dude should lose his job for that horribly opinionated interview.

— Kelly Slater (@kellyslater) May 3, 2015
The thing I took away from tonight's fight is that Max Kellerman's interview skills are lacking.

— Michelle Kapusta (@PhilaMichelle) May 3, 2015
@Max_kellerman way to be an ESPN wanna be and prove yourself as a try hard and biased reporter

— David Helmerich (@Dhelm66) May 3, 2015
After that fight,I learned that Floyd isn't the most arrogant man in boxing,Max Kellerman is. @MaxKellerman_ you're a joke of a broadcaster

— Chris Greatwich (@chrisgreatwich) May 3, 2015
And that Max Kellerman post-fight interview with Pacquiao was horrible. Guy is supposed to act objective. Bad questions, wrong tone.

— Jacob Dennis (@jakeyd_8) May 3, 2015
@Max_Kellerman, it would serve you well to learn how to be respectful. Completely classless in that interview.

— Maddy Johnson (@simplemajic) May 3, 2015
To all these tweets that accused him of being disrespectful and biased, he came out with the response that he loves Manny, but he had to ask the Filipino player to elaborate why he disagreed with the fight's judge.
.@MannyPacquiao fans: I love Manny. He's pleasure to deal with & to watch fight. Manny disagreed w/judges. Had to ask him about it. #MayPac

— Max Kellerman (@maxkellerman) May 3, 2015
Kellerman's Wife And Children:
Max is married to Erin Kellerman. It was back in college; he says that he once hit his then girlfriend, now wife at the party. They were both drunk, and his girlfriend slapped him first, and he slapped her back as well.This was one awful incident in the couple's life.
However, they have been leading a happy married life for more than twenty years.The couple has two daughters- Mira and Esther Kellerman and a son named Sam Kellerman and together they take care of their three children. They seem very private about their personal life and want to keep their children in the low limelight without their pictures to be taken or faces to be revealed.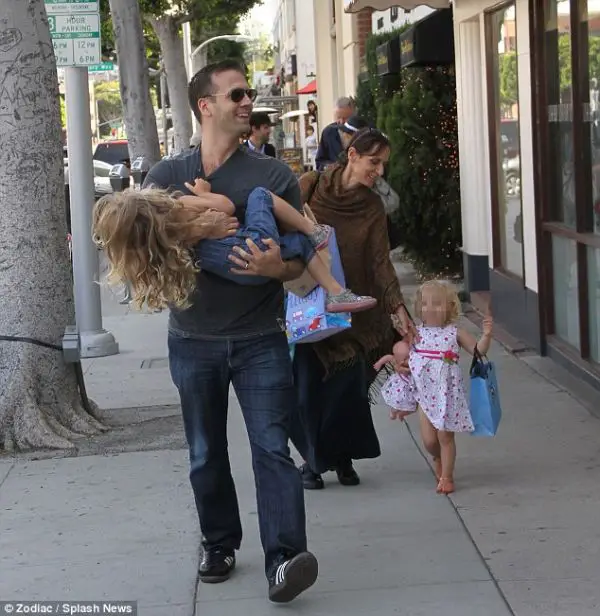 Caption: Max Kellerman with his wife Erin Kellerman and children (2016).
Photo Credit: dailymail.co.uk
Short bio of Max Kellerman's:
Max Kellerman is a boxing commentator, and sports talk radio host. In his early days, he covered boxing for a local public access station. ESPN hired him after college, and then he covered boxing for "Friday Night Fights." He also hosted the series "Around The Horn." He has worked on a series of short-lived programs like "I, Max," and "King of Vegas."
After spending some time covering boxing, he returned to television to work as part of the analysis team for HBO world championship boxing. He also does analysis for boxing matches on HBO and serves as a co-host for the midday show on 7 10 ESPN and is very dedicated to his work due to which he earns good amount of salary. It makes him the man having the net worth of $6 million.