Entertainment
Corbin Bleu From High School Musical Isn't Gay, Married Life With Wife Reflects
American actor Corbin Bleu is best known for his performance in the musical television film, High School Musical.
Well, Corbin's acting talents run to such extent that his real-life portrayal can confuse anyone. On such note, the Brooklyn, New York City native brought the gay rumors questioning his sexuality from the series, High School Musical.
However, observing closely on his personal life, Corbin possesses a happy married life which defies any swirling gay rumors.
So, why don't you quench all your curiosity about Corbin Bleu's married life in one go!
On-screen Gay; Bi-Sexual Character With Gay Best Friend 
Born to a Jamaican actor-father and Italian mother, actor Corbin Bleu started his acting stints at the age of two, appearing in TV commercials. But his major breakthrough came after portraying the role of "Chad Danforth" in the series, High School Musical.
In the series, Corbin's character, Chad is the best friend of Troy Bolton and the two best friends are seen sharing the intimate relationship with each other. Troy was originally thought-to-be cast as a gay character, which didn't happen. Being the best of Troy, Corbin's character was also thought to be a bisexual.
Notably, Corbin had originally auditioned for the role of gay character "Ryan Evans"  but later landed the role of "Chad Danforth." 
With his performance in the series, many of his fans speculate him to be gay. But unlike his on-screen character, Corbin is a straight guy in real life. He is a happily married man who got married to the girlfriend of five years.
Married Life; Honeymoon After A Year
The High School Musical star Corbin Bleu met his sweetheart Sasha Clements at a grocery store in Toronto in 2011 and later started dating her. After dating for several years, they turned their relationship into an engaged couple.
Corbin got engaged to the Canadian-born actress in October 2014 in front of Cinderella's Castle at Walt Disney World in Orlando, Florida. The Disney alums surprised his future wife with a stunning engagement ring that was placed inside of a glass slipper.
About the engagement, Corbin seems very happy to start his life with the love of his life. He stated:
"I'm very excited to begin this next chapter of my life with the woman who stole my heart."
After the two years of engagement, the day finally came when the five years old relationship would finally set an example for many people who thought they would just end like a normal couple.
So, before binding into the husband-wife relationship, Sasha Clements had a bachelorette celebration. Shortly after the bachelorette celebration, Corbin took to Instagram sharing a picture of the actress and a giraffe, quoting:
"Right before [a giraffe] tried to get to 1st base with my future wifey. Thank you @malibusafaris for making her day perfect! #sashasbachelorette."
And on 23 July 2016, Corbin got married to the long-time girlfriend turned fiancee Sasha Clements in front of 160 guests including their parents in Santa Barbara California. And they finally embraced into the marital relationship.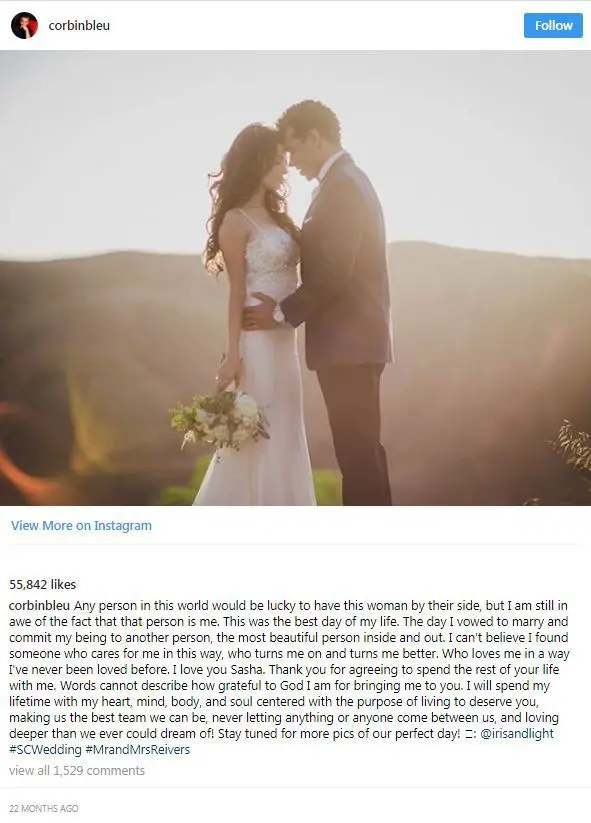 Corbin Bleu married to Sasha Clements on 23 July 2016 ( Photo: Corbin Bleu's Instagram)
Well, after a year of the married life, Corbin and Sasha went on a romantic getaway in Jamaica. On their honeymoon, Corbin, who holds mixed ethnicity, stayed with the wife Sasha at a private bungalow at the Sandals Resorts Royal Caribbean Resort and Private Island.
The couple took their time out for this vacation. Corbin said that this was the long getaway they had been waiting for. So this might be the reason that the couple turned off their phones and spend quality time together. He said:
"We turned off our phones, no work, just sleeping, sunbathing in paradise and drinking each other in. We did a few activities, but we wanted to make this trip more about spending relaxation time together."
The actor, who has a net worth of $ 4 million, further disclosed that they are more like a best friend. And it seems to have made their relationship stronger.