Entertainment
Is Coy Stewart Gay At Age 20? Personal Details Reflect 'Agents of S.H.I.E.L.D' Actor's Status
Talk about supportive parents and great acting chart, American actor Coy Stewart stands among top brasses.
Making his acting debut as a child actor in the 2013's movie Are We There Yet, he has already included the big projects like Bella and The Bulldogs, Ho Ho Holiday Special, Agents of S.H.I.E.L.D., The Glades, Devil's Whisper and more.
Achieving success at a young age, Coy's parents have a major role in playing but whether there's dating life too, where he derives extra love and supports, is still a secret.
Is he dating someone or is he continuing on his journey as a lone wolf? 
Dating Status, Sexuality: Gay or Straight?
Coy Stewart had been saving the biggest surprise package before he dropped in 2017 in the form of music video, 1-800-273-8255. The actor played the gay teen and the love interest of Modern Family actor Nolan Gould in the 2017 music video, that caught the internet community's attention.
raised speculations among the internet community if he is a homosexual in real life.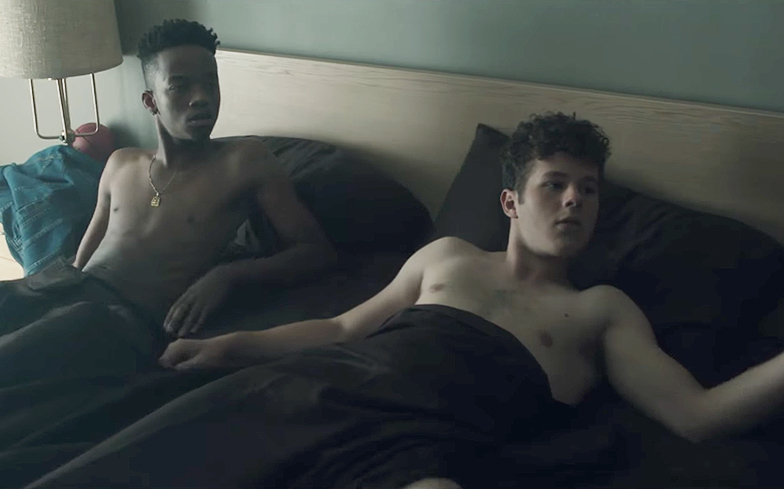 Coy Stewart and Nolan Gould in the music video, 1-800-273-8255 (Photo: Gaytimes.co.uk)
The video portrays the life of a black gay teenager, who struggles to keep up with family and peers after coming out of the closet. Further, it also shows the suicidal tendencies of Coy's character, who faces difficulties in accepting his sexuality.
You May Also Like:- Taylor Lautner Is Gay! Talks Surface Against Dating Hot Girls Time & Again
But, in real life, Coy is a straight man, who has maintained a clean history of no girlfriend. To back up his low-profile, some sources mention that his family is very concerned about Coy's privacy and don't want him to reveal his private details.
Well, his secrecy has shadowed his dating life too, keeping it a complete mystery.
The Unlikely Journey: Loving Parents & Book About Son's Career
As much as Coy loves being low-profile, his family wants to do just opposite. Take for one, his father Derek has dedicated a book called The Unlikely Journey. The writer-father penned Coy's long journey from a child actor to a full-time career in the entertainment industry. 
Born as Tyson Coy Stewart to parents Derek and Keisha Stewart in Columbia, South Carolina, the actor has been blessed with his parents' supports since the day one as the actor.
Read Also:- Caleb McLaughlin, Young Age Actor Reaches Tremendous Height - Parents, Siblings Of 'Stranger Things' Star
And, the actor, who recently reached the age of 20 on 24th June, has given all the credits to his parents for giving him a normal life and away from drugs during his teenage years. Talking to thestate.com on February 2015, he said, 
"My parents wouldn't have it any other way. They definitely keep me in check. I have chores at home just like any normal teenager, and I always try to stay true to the Southern roots that I was raised in."
In Coy's words, his mother is the one who gets credits for his success. He is thankful to have a mother like Keisha and wants his own children to have a mom as incredible as her. In an Instagram post shared on 3rd March 2018, Coy uploaded an old photograph of him as a baby and his mother; and wished her International Women's Day.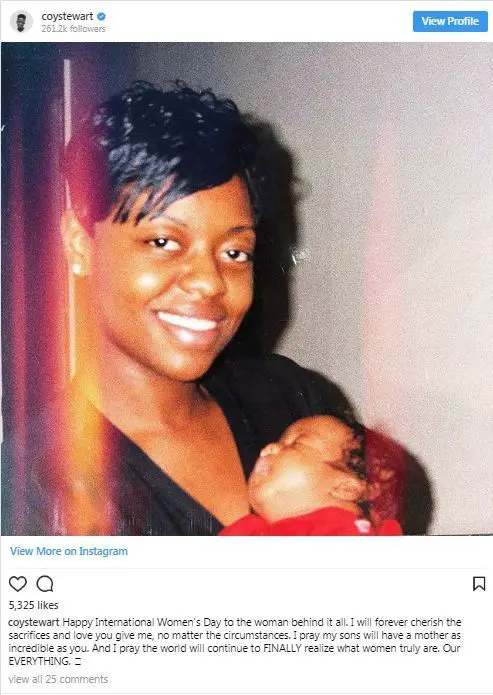 A baby Coy rests in arms of his mother Keisha (Photo: Coy Stewart's Instagram)
However, Coy's love for his father is no less. His writer dad has a been a sweet memory of Coy's childhood. On 4 February 2018, he shared a throwback picture along with his dad in which Coy called himself a "boss like Topdawg."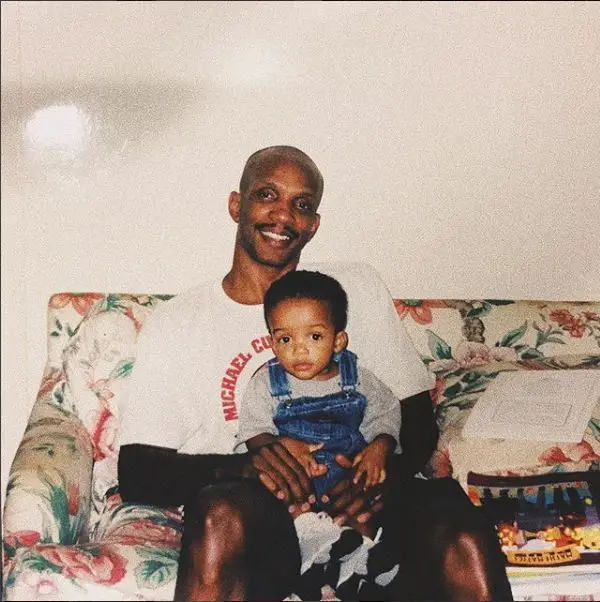 Coy shares an old photo with his father Derek on 4 February 2018 (Photo: Coy Stewart's Instagram)
Similarly, the 5' 8½" (1.74 m) tall actor is also close to his brother, Chase Stewart. Although not much is known, it is believed that Coy is an influential figure in his sibling's life.