Entertainment
Is Craig Robinson Really Dating His Co-Star Off-Screen?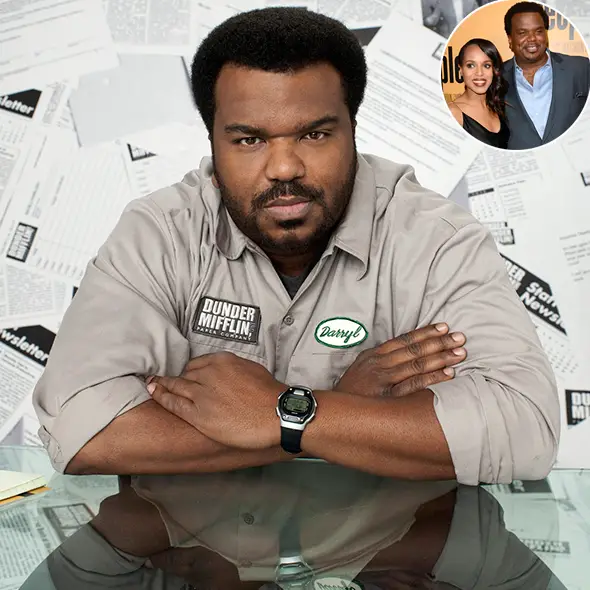 Craig Robinson is an American actor, stand-up comedian, and singer. During Robinson's famous movie 'Peeples,' his acting was not the only thing that caught fans' attention. Fans' were quite intrigued about Robinson's personal life when it was found that his on-screen girlfriend was also his off-screen girlfriend. 
So, were the stars actually dating each other because they were in love, or were the couple dating to capture the real emotions on camera? 
Love on Camera; What About Behind-The-Scenes?
While depicting and playing the role of Wade Walker (Craig Robinson), a child Psychologist leaves no stone unturned to impress his girlfriend, Grace Peeples (Kerry Washington). Every small step taken by Wade to win the heart of his lady love did not only impress her but has also gained popularity amongst his in-laws before making a final proposal to their daughter.
Caption: A look at the blazing chemistry between Craig and his on-screen girlfriend Kerry in the movie "Peeples"(2013). 
The chemistry between Kerry and Craig flamed in the movie 'Peeples,' while behind the scene, the story had a bit of uncertainty about the existence of romance between the two.
During an interview with the Shadow and Act, Kerry and Craig gave their version of the story. When Craig was questioned about their ongoing chemistry, he stated, 
"Unfairly probably, it was easy for me. Come on points to Kerry. But if you've ever tried to impress a young lady or wanted to make them laugh, you know I was constantly inspired to be charming around Kerry Washington."
Craig's co-star and on-screen girlfriend also answered the same question by adding; 
 "We both came at it like,We have to work at creating chemistry and history  but the truth was, it was there. He's so great; it was so easy. I think when you respect somebody's work it's much easier to have that connection, and we had a mutual admiration for each other's work. I'm obsessed with Hot Tub Time Machine." 
She further added, 
"But we did the things you're supposed to do as an actor. We went to dinner, and we talked about how we met, and we came up with a back story. We had figured out all these details about the apartment, all these real things so that you believed their relationship so that you found in the love connection. Because you don't go down the journey of feeling sorry for them unless you feel good about them. " 
Though both the actors have a strange kind of sentiments attached to each other in real life, it seems that Craig is trying to hit back on his dating life off-screen, while Kerry Washington got married to Nnamdi Asomugha, an American footballer, on 24th Jun 2013.
Does Craig Robinson Have a Girlfriend Off-Screen? 
Through the random tweets on his Twitter account, Robinson laid out hints of his interest in getting back on the dating game. 
On July 10, 2015, Robinson uploaded a picture on his Twitter with the caption,
"Thinking about joining a dating site....whatchyall think of this pic?"
And well, fans were quite happy with his decision. 
Again after a few days, Craig pinned his interest in making his dating profile more interesting by uploading a new profile picture. He uploaded the picture and captioned it with, 
"So on my dating profile I'm gonna be "Perry" here's latest profile pic! Lemme know! ProfilePicswPerry #PPP #Pcubed"
So, did his dating profile work? Is he married to his perfect wife now?
Who Is Craig Robinson's Wife?
Well, to his fans who were excited to see Robinson get married to a beautiful wife, it is quite a bummer because Craig does not have a wife. It also seems that Robinson does not have a girlfriend as well. 
Craig has kept his personal life very private. Thus, the history of his dating is also kept under wraps. He has not given his fans any hint about him being in a relationship or getting a wife on his social media. There have been rumors about him marrying his flawless wife and dating numerous women here and there, but he has never commented on those rumors. 
So we can assume that even if the actor is in his 50s, he does not have a wife or children. Instead, he is enjoying his single and private life. 
Craig has completely shunned his dating life as no prior information regarding his relationships has come forward. But while scrolling through his Twitter, a strange nail paint picture was obtained, which further raised an eyebrow regarding his sexuality among his fans.
Is Craig Gay?
After Craig's mysterious picture, many fans assumed that Craig was actually gay. However, it cannot be confirmed that the speculations are true as Robinson has never touched on any topics regarding him being gay, nor has he ever gotten involved in any relationship that might raise questions of his sexuality. 
Moreover, the star has also kept all the details of his current affairs perfectly tucked away from the eyes of the media. 
Currently, Robinson is living his single life and focusing on his career. His recent work includes being the voice-actor of Mr. Shark in a 2022 American computer-animated crime comedy film, The Bad Guys.
We will surely see him more in the coming days, so keep up with us for more updates!!