Entertainment
Cyn Santana Wiki: From Age To Dating Details On The Expectant Mother
Cyn Santana, a model with a discernible presence on social media, is not just famous for flaunting her flawless looks but is also known for dating the famous American rapper Joe Budden.
Now, she even is on the way of experiencing motherhood.
Want to get acquainted with all the possible details about this gorgeous looking lady? Well, help us serve you with her wiki-like bio.
Cyn Santana Wiki That Includes Her Dating Affair Details:
American model and reality television star, Cynthia Santana, known for her prepossessing looks, is of Dominican-Salvadorian descent and was born on October 20, 1992.
Cyn, who has featured in the music videos for 2 Chainz, Nicki Minaj, and Drake possesses stunning looks, which is enough to make headlines but her personal life is equally attention-grabbing.
Cyn, who belongs to the Afro-American ethnicity, was previously known for her relationship with reality show personality, Erica Mena. The former flames met each other around 2012 in L.A while shooting for a magazine cover. Their second encounter was on Erika's birthday, where they got drunk, and things then escalated.
Cyn, who is 25 years of age and a bisexual, also, has a particular taste in girls; the tomboyish ones! However, Erika wasn't her type, to begin with, but things took a different turn, and the two ended being in a relationship.
But, gradually, things started getting a little bit rocky between the two. Cyn mentioned that Erika's desire of acting single while in the relationship was the significant reason behind things falling apart between them.
Caption: Cyn talked about her rocky relationship with Erika in an interview with VH1's Shirea L. Carroll
Video Credit: vh1.com
Well, things got over between the two for good, and Cyn moved on in life. Cyn, then eventually found love in the American Rapper, Joe Budden whose net worth adds up to $ 6 million, in 2016. Moreover, after dating her boyfriend Joe for over a year now, the couple came forth announcing Cynthia's pregnancy in August 2017, following an extravagant photo shoot flaunting the baby bump.
Cynthia provided glimpse of it via Instagram as well,
Well, apart from the news of Cyn's pregnancy making her fans happy, Erika and Cyn reuniting on the set of Hip Hop Squares was a treat to her followers. Erika was seen touching the belly of Cynthia, alongside Cyn's boyfriend, Joe Budden.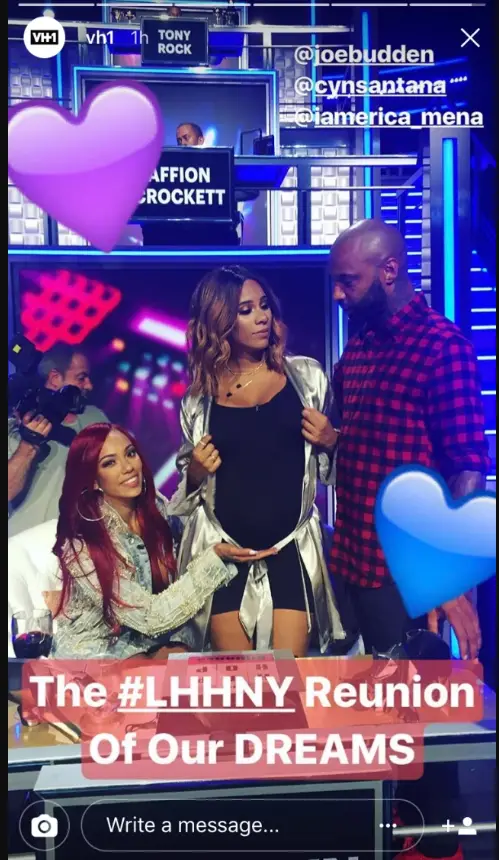 Caption: Erika and Cyn's reunion.
Photo Credit: vh1.com
Furthermore, Cyn who currently is flaunting her happiness all over social media; once had to go through the misery of losing her older brother Joel to suicide. Well, ever since, Cyn has been raising awareness to prevent suicide,
"I lost my older brother to suicide… This feels so surreal. my heart hurts. I never knew this pain existed. I don't wish this on anyone… I'm not posting this for pity.. I just REALLY need you guys to be thankful and appreciate your loved ones… Say I love you while they are still here. Not just today but EVERYDAY, cherish your loved ones… Please remind them what they mean to you. I didn't say goodbye the way I would have wanted to…I love you Joel.. You had no idea how much. I know you are now at peace….. There's always someone there to listen. Suicide is NOT the answer…"
Value your precious life GUYS!