Entertainment
Where Is Daisy Marquez With Cutest Boyfriend At Age 20? Dating Status Now
The beautiful Mexican model, Daisy Marquez is famously known for her Instagram modeling in the entertainment world. Apart from flaunting her makeup skills via the beauty and fashion videos, Daisy also updates her social media accounts with the happy dating life she shares with her boyfriend. 
Keep reading the following context to get updated on the dating life of your favorite makeup artist, Daisy. 
Daisy Marquez's Dating Life
Daisy Marquez, who stands at the height of 1.5m (five feet two inches) and ages 20, started dating her freelance artist boyfriend, Alex Juarez after the couple first met as students at their high school. The duo followed six months of dating before finally deciding to be in an official relationship.
The social media personality, Daisy frequently posted about her boyfriend in her social media accounts hinting that she spends quality time with her bae. Back in 2016, the duo even attended the prom together, and Daisy shared their time being together at the event on her Twitter account on 22 May 2016.
Sharing the mesmerizing pictures with her bae, Daisy mentioned that her boyfriend was her best friend. Not only best friend, but Daisy, through one of her tweet that she shared in March 2016, also regarded her boyfriend as the cutest boyfriend in the world.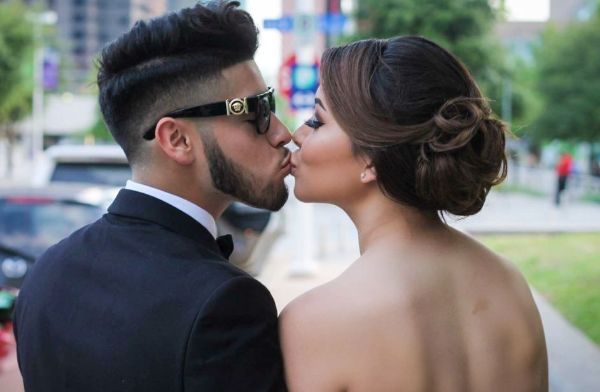 Daisy Marquez with her then-boyfriend, Alex Juarez in 2016 (Photo: Daisy Marquez's Twitter)
The 20-years-old model, who celebrates her birthday on every 24th September, even moved to California with her boyfriend back in December 2016. 
However, the love could not make it up to the aisle as both Daisy, and her boyfriend officially called it quits back in 2017.
Revealing the breakup with her fans and followers, Daisy uploaded a YouTube video back in March 2017, where she admitted that she was no longer with Alex.
"Me and Alex are no longer together; we just decided to go our separate ways.He's back in Texas and I'm staying here in California, focusing on my career. All I have to say is, it is what it is. Life moves on."
Though Daisy did not open about the reasons behind her breakup with Alex, she addressed her ex-boyfriend wishing him and his family the best,
"I wish you and your family the best. I don't really have anything else to say besides that."
Furthermore, Daisy stated that she and her ex-boyfriend continue to be friends with each other despite calling off their affair. Looking away from the breakup and citing to move on, Daisy declared that she would be focusing more on her profession as of now.
Daisy also mentioned about her project, which she started working from 2017 and her tour that would probably cover 20 cities including Dallas, Austin, New York, San Fransico, etc. 
Daisy Marquez After Break up With Alex!
As of now,  Daisy seems focused on her career as a Youtuber enjoying her singlehood, as no news of her dating anyone besides Alex has surfaced out in the media. 
Moreover, Daisy, via a tweet on 28 December 2017, declared that her dad would join her in her videos. She even asked her fans to send both Spanish and English questions to make the session enjoyable.
Daisy seems busy spending time with her parents and focusing on her video contents. But despite all the hectic schedule, Daisy timely mentions her parents in her social media accounts, despite the fact that she prefers keeping their real names confined. 
Earlier in June 2017, on the occasion of Father's Day, Daisy shared a tweet about how she does not have a single picture with her Dad. She even talked about her mother's supports in one of her tweets published in December 2017, explaining that she has a strong bond with her mother. 
Previously, Daisy even shared her struggle story through one of the videos she later deleted. The video shared how the self-taught makeup artist as an immigrant crossed the US-Mexico border with two coyotes and about the impacts of American immigrant policy, DACA in her life. 
Daisy faced further problems when it was time to join the college; as Daisy was an undocumented student, she would have to pay the international student fees that would have caused her mom to work '10 times harder.'
She even uploaded a YouTube video titled, "Story Time: I'm Undocumented | Daisy Marquez" on 13 January 2017 clarifying that she gave up the idea of going college and instead, she would focus on her YouTube career due to financial reasons. 
In her high school days, she used to go out for the drill team, and it was required for Daisy to wear makeup for football games. Inspiring from the event, she established her self-titled YouTube channel and earned 100,000 subscribers in her first two months.
Being just twenty years of age, Daisy already boasts around 1 million followers both on her Instagram and YouTube channel. 
Think we're missing something? Do let us know in the comment section below!