Entertainment
Is Dale Winton Now Married After Suffering Depression From Past Breakup? Also Addresses Fans On Illness
Is Dale Winton Now Married After Suffering Depression From Past Breakup? Also Addresses Fans On Illness The host of the British Game Show, Dale's Supermarket Sweep, Dale Winton faced some hard moments in his life, which eventually led to depression. Dale not only lost one of his friends but also missed his friend's funeral, and got heart-broken by his partner. But, what happened next in Dale's life? Did he got married after overcoming his depression?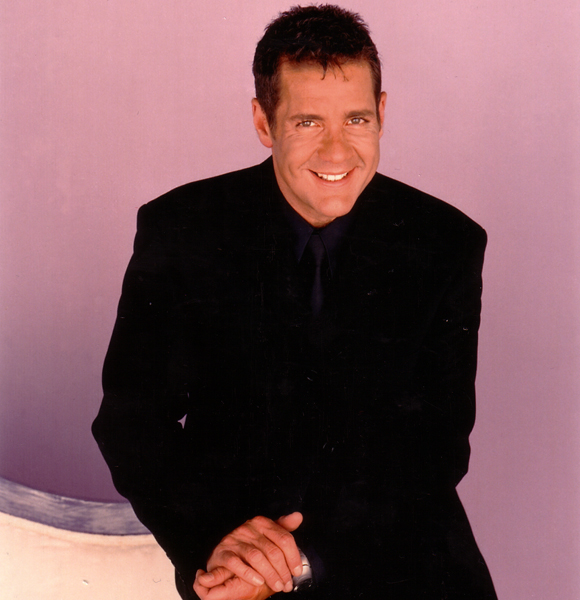 The host of the British Game Show, Dale's Supermarket Sweep, Dale Winton faced some hard moments in his life, which eventually led to depression. 
Dale not only lost one of his friends but also missed his friend's funeral, and got heart-broken by his partner. But, what happened next in Dale's life? Did he got married after overcoming his depression?
Dale Winton 2017, 2018, ILL, New Show
Dale's fans are now excited to see their favorite presenter returning to the television screen.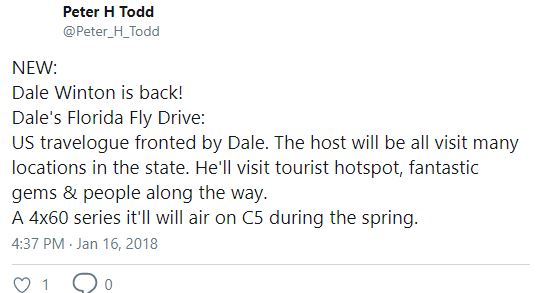 Watching a show with Dale Winton in Florida and he's in Disney ? take me back — ? кαуℓєιgн ? (@tweedlekay) February 10, 2018

The former presenter of the famous shows "Dale's Supermarket Sweep" and "In It To Win It," Dale Winton started hosting Channel 5 travel show called 'Florida Fly Drive' in 2018.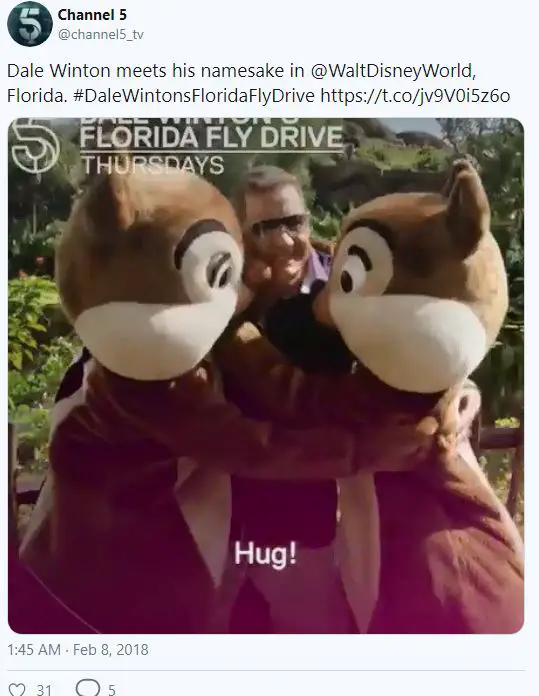 Dale in his first episode of the new show 'Florida Day Drive' visits Disneyland (Channel 5, Twitter)
 But the fans are put in the hold as the show has only aired its first episode and has disappeared from its schedule. According to the Channel 5, the show has been put on hold because of the recent Florida shooting. They further confirmed that the show would be resumed, but the date has not been fixed yet.
In an interview with whatsontv.co.uk in January 2018, he revealed that he had to take the recent break from TV because of the surgeries. He said:
"Absolutely! I've kept a low profile because I had about four surgeries. I had a shoulder problem and a knee problem, so I took a break to get myself sorted. It meant I couldn't exercise, so I've been dieting like crazy, but then when I was asked to do this show I thought it would be fun. I'm one of those people who work to live rather than live to work, so it's been very hard work – I'm used to being in a studio but this is something wholly different! People are going to see me in a way they've never seen me before!"
The actor had shoulder and knee injury, and that was the reason behind his brief disappearance from the television. In November 2016, Dale had completely disappeared from TV after lastly hosting the show 'It To Win It' in April 2016. Then, his spokesperson was forced to deny that he had died. 
Separation From Partner, Depression
On 17 June  2016, speaking with the Loose Woman Panel, Dale had revealed that he was secretly battling depression due to his break-up with the partner.
Dale on ITV's Loose Women show unveils his depression issue (Published on Jun 17, 2016).
Though he didn't reveal the partner, Dale admitted that he had been passing through hard times and needed a break from TV. He told:
"I had a very bad year. I should have taken myself off the TV but I didn't."
He added:
"I had a bad break-up and then I had health issues. I wanted to withdraw but you know what this business is like. I didn't look great."
Dale also said: 
"I always thought, 'get over yourself'. But my mum died of it. It exists and anybody out there who has had it knows it exists. I didn't want to put one foot in front of the other but for a couple of really good friends."
Dale Winton is known to several people and those who don't, happen to know him in detail through his autobiography, "Dale Winton: My Story" that came out in 2002. The autobiography provides us with the first-hand knowledge of Dale's life-long struggle to come out publicly as gay. 
It took Dale decades to own up to his sexuality in the public as he lacked self-confidence given his drunkard father and the background of leaving school at the age of 16.
Dale Winton Gay Revelation, Sexuality
In his dating life, Dale made some wrong choices and even dated men with families. In an interview with the times.co.uk in 2008, he segregated himself from his past dating experience, saying:
 "That's not me anymore"
In the interview, he also emphasized that he could do only monogamy. He said:
"I would love a relationship, but because I have made bad choices in the past, more than once, I'd be very nervous about having that emotional maturity has come so late.anyone move in. I think my age goes against me. I have lived on my own for so long that probably I've become quite selfish. And I can only do monogamy; I've never done one-night stands. People are always telling me to loosen up, go pick up someone, but I can't do it."

"I wish to God," he says with sudden passion, "that I could shag everything in sight, then I'd have probably had more sex than I ever needed. I am envious of people who could do that. I can't do that. And I'm at the age where I probably now haven't got the chance."
Dale revealed his homosexuality earlier in his 2002's autobiography, "Dale Winton: My Story" when his age was 47.
The actor waited so long to reveal his sexuality because he was waiting for people to question him on that matter. That rules out the speculation of him having a wife as a partner.
His mother, on the other hand, knew about his sexuality when he was young, but he never disclosed the matter to his mom. He recalled his memories to thetimes.co.uk. He said:
 "I never did! She heard me on the phone to my then boyfriend, who was very obviously gay, very camp. And it was one phone call too many. She said: 'Are you on the phone to him again? You do know he's gay, don't you? I thought, 'Oh God, she doesn't like him being gay, and if you follow it through, she's hateful of me being gay'.
Young Dale had packed his suitcase and left his home fearing that his mom will not accept his sexuality. However, mom Sheree located Dale and brought back him back home and said:  
'I will always be your best friend as well as your mother, and I never want you to feel there's something you can't tell me, and I will never judge or discriminate. You are my son, and you don't have a father; you can trust me with anything.'
In the interview, Dale was also feeling regretful of not disclosing his sexuality to his mom before her death. He said:
"if I have a regret, it's actually that I never sat...although she knew, I...I'm sorry that I never gave her the benefit of that trust. I kind of wished I had, because she died not long after."
Dale has nothing but gratitude towards his mom. His mom came from a poor background but still managed to get successful on her own. She was the one who raised Dale on her own since he was 9.  
Dale Winton's Loving Mother, Suicide
Dale Winton is the son of Gary Winton, who was Jewish furniture salesman, and English actress Sheree Winton.
The little Dale went through a hard phase in his initial years, as his parents got separated when Dale was just ten years old. After three years of the divorce, his father died. 
He later suffered a significant loss with the demise of his mother on 29 May 1976, in Hampstead, London.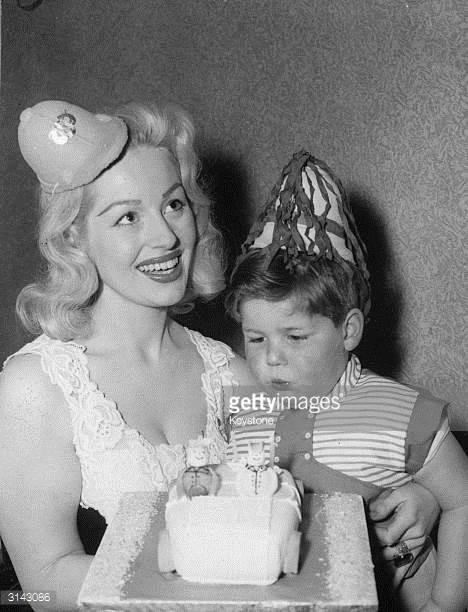 Dale Winton with his beautiful mother late Sheree Winton celebrating his birthday (Getty Image).
Dale and his father never got along. He felt no grief while going to the funeral of his father. 
In an interview with dailymail.com in 2000, he said "I was very much my mother son," and also expressed his feelings towards his father. He said:
  "I was always terrified of my father, and don't have any cherished memories of him."
After the divorce of his parents, Sheree, his mother, witnessed other relationships. She also remained in a married relationship for a brief period.
In 1976, his mother committed suicide by overdosing on barbiturates. She had died after a long battle with clinical depression. By then, Winston had already started Dj'ing in clubs in Richmond.
It was a few days after his 21st birthday when he returned home late and found a "Do Not Disturb Sign" outside his mother bedroom. The next morning he saw his mother lying dead when he opened the bedroom door.  
His mother demise awfully affected Dale's lifestyle. Shree hadn't left a substantial fortune but had left a large house in Hampstead for Dale. 
Dale sold the house and then went on to a thoughtless spending spree. Soon, he went bankrupt and had no option other than to work as a DJ on a Midland's radio station. 
Loses His Close Friend
In 1982, he moved to London from Nottingham and began working in the London Club Circuit, where he played during the weekends. He then got connected to Radio and later to TV, and got ultimately famous.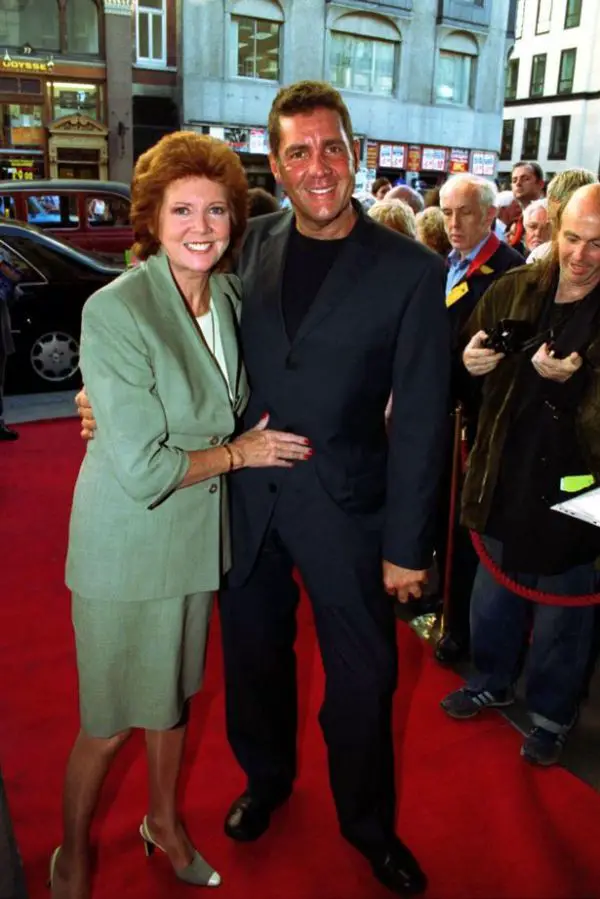 Dale Winton shares the red carpet with his close friend, Cilla Black (mirror.co.uk)
Dale close friend, Cilla died of a stroke suffered by subarachnoid hemorrhage on 1 August 2015, in Estepona, Malaga, Spain. Saddened Dale couldn't attend his friend's funeral because of a recording commitment for BBC.
Dale's Skit Marriage For TV
As for Dale's marriage, he got married to model Nell McAndrew on national television, and it also featured in a BBC3 spoof documentary. However, it was just a skit show, merely a part of the BBC documentary.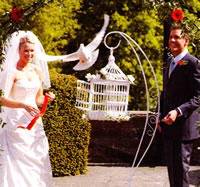 Dale Winton as a bride with groom Nell McAndrew.( Twitter).
Some sources even cited the marriage was the star-studded ceremony in Surrey in June 2003 where the host, Cilla Black was maid of honor and his friend, Graeme Souness was the best man.
Dale Winton's Bio:
Dale Jonathan Winton was born on 22 May 1955  in London. The British actor is the son of Gary and the late actress Sheree Winton. He first started his career in acting through television back in 1987 working for Channel 4.
The former DJ has appeared in various shows like You've Got The Answer, Gimme Gimme Gimme, Show Me What You've Got; ​​​​ and  Dale Winton's Florida Fly Drive. However, the net worth of the television reporter has not been revealed yet.
As of 2018, Dale hasn't disclosed about his recent dating life. He deserves to find someone special. Don't you think?