Entertainment
Dallas Lovato Already Married Or Just Dating? Her Status Now
Demi Lovato does not need any introduction as the singer who rose to fan from Disney and has a huge fan base, given her exceptional singing talent. The singer has impeccable stardom, and she deserves that. 
But we are more interested in another Lovato, who might not make it to the headline as much as Demi, but she definitely has her fair share of brush with fame.
She is none other than Demi Lovato's elder sister, Dallas Lovato. She is the oldest of the three Lovato siblings. 
If you are wondering about the beautiful Dallas Lovato, scroll down to know about her personal details and dating affairs in a single scoop.
Dallas Lovato's Dating Status:
Dallas Lovato is the older sister of the very famous Demi Lovato, an American singer, songwriter, and actress. Dallas is very private when it comes to her personal life as she keeps it really close to her chest.
Demi Lovato is not the only popular celebrity that has a connection with Dallas, however. Long before the hit musical series Glee was a thing, Dallas was romantically linked with Chord Overstreet, who portrays the role of Sam in the series.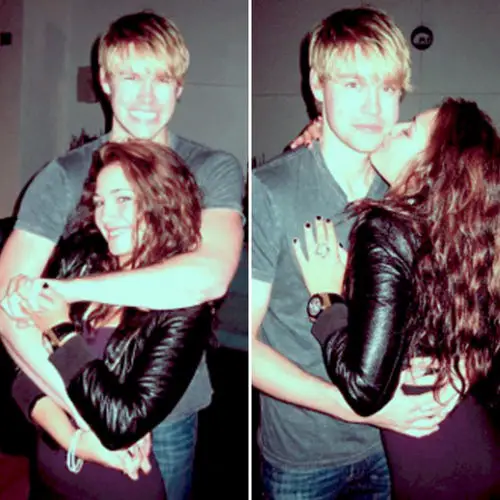 Dallas Lovato with Chord Overstreet (j-14.com)
The duo dated back in 2010 but there are not many details available as to why the couple broke up.
After Chord, Dallas has not been linked to anyone. But she did make a whimsical Tweet about boyfriend on Twitter in August 2012.
Well, that is the only time Dallas has ever talked about anything close to dating and being in a relationship. The actress is not married so far, but only she can tell if she has any husband material rolled up her sleeves hidden in Lovato land.
More about Dallas Lovato:
Dallas Lovato was born in Dallas, Texas on February 4, 1988. She is the older sister of her siblings Demi Lovato and Madison De La Graza (half-sister). Her parents are Dianna Hart and Patrick Lovato. Dallas's mother was a cheerleader while her father had mental illness and passed away in 2013 because of cancer.
In an interview, Demi Lovato revealed that he was an abusive father.
"I was very conflicted when he passed, because he was abusive.He was mean, but he wanted to be a good person. And he wanted to have his family, and when my mom married my stepdad, he still had this huge heart where he said, 'I'm so glad that [he's] taking care of you and doing the job that I wish I could do.'
Though the Lovato sisters' father was abusive, their step-father is very loving, and Dallas is very close to him. She shared a picture with him accompanying it with a touching caption.
She is also very close to her sister Madison who has her own Youtube Channel. Take a look!
Dallas Lovato with her sister Madison (Published: Nov 25, 2016)
It seems the family is very close to each other. Bless the Lovatos!