Entertainment
TOWIES' Dan Edgar Age 28, Dating Girlfriend Amber; On And Off Relation Now Stable?
Dan Edgar became an overnight star on social media following his participation on ITV2's soap opera, The Only Way Is Essex in 2015. Once the former electrician, Dan hugged the limelight, there was no stopping him, which reflected in his dating life too. 
The reality star has been labeled as a womanizer, who even admitted cheating on his then-girlfriend. However, the adultery issue has long been settled, and Dan has  found a fresh face in his dating life. He has also shown commitment and emerged as a new man. 
On-And-Off Affair; Now A Serious Commitment
Dan, age 28, has been involved in an on-again-off-again relationship with the actress, Amber Turner.
The news of the two dating surfaced after Amber admitted to kissing Dan while filming the season 20 of the British TV series, TOWIE in 2017. She was in a long-term relationship with Jamie Reed at that time, through which fans assumed that the beauty was not satisfied with her partner.
The rumors turned out true to some extent as Amber broke up with Jamie and started dating Dan. However, the couple mentioned that they were taking things slow and had not thought of anything serious. 
The partners dated on and off for about a year, with neither of them ready to commit seriously. They even split for a while after Dan admitted to sleeping with another woman behind Amber's back only to reunite later.
The romance became official only in May 2018, when Dan finally proposed Amber to be his girlfriend. The proposal came from Dan during the finale of season 22 of TOWIE. 
The actor, who comes from a broken family as his parents split up when he was a young boy, started the conversation with an indirect approach. He said, 
"We've gone around in circles long enough and I've been thinking a lot lately and I need to stop thinking about what everyone is saying. I think personally we should things a go."
Amber was unaware of Dan's proposal and asked him to simplify it. Finally, Dan gathered the courage to pop the question and asked,
"Will you be my girlfriend?"
Amber replied with a positive attitude and answered, 
"Erm dunno. Just kidding, yeah I will be your girlfriend"
The lovers even shared a passionate kiss after the romantic proposal.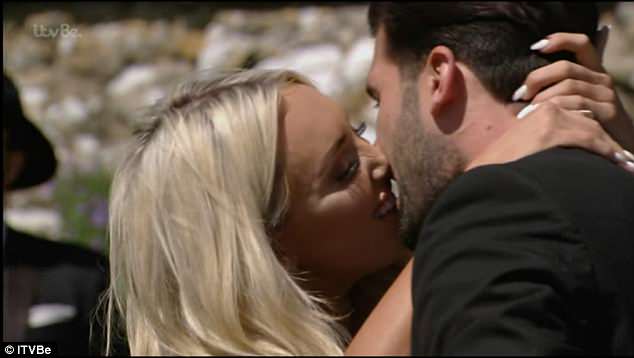 Dan and Amber share a passionate kiss after his proposal (Photo: DailyMail.co.uk)
In June 2018, the pair took a trip to Santorini, Greece, where the couple was pictured enjoying their vacation at a plush bar with a couple of drinks. Amber looked dashing in the bikini whereas Dan flaunted a tanned body in a shirtless avatar.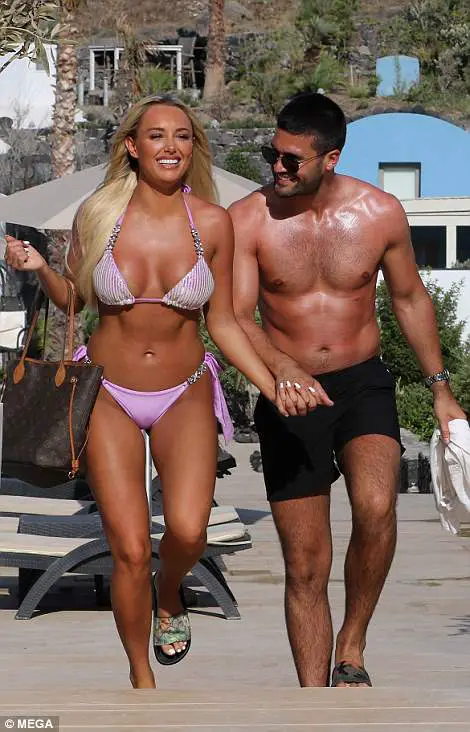 Dan and Amber enjoy their time off in Santorini, Greece in June 2018 (Photo: DailyMail.com)
More recently, in June 2018, Amber attended the red carpet event of the Caudwell Children Butterfly Ball in London for a charity programme. Dressed in red, Amber showcased a belly bump which attracted media attention with many claiming her to be pregnant. However, Amber and Dan are yet to make any comment on the issue.
Past Failed Relationships; Net Worth Speaks In "Millions" 
Although Amber made Dan settle down and crave for a committed relationship, several other ladies had already tried to saddle the wild horse.
The tall - height actor met Jessica while working together on TOWIE. The two dated for a short duration before finally calling quits.
Before his romance with Jessica, Dan was in a committed relationship with actress Kate Wright. The couple lasted for four years after which they parted their ways. However, when Kate joined TOWIE in 2015, the pair resumed their affair. 
After Kate's entry in the show, the pair got involved in an on-off affair which lasted more than a year. In the Christmas Special of 2016, Dan and Kate even shared an intimate kiss which viewers assumed was the couple getting serious in their relationship. 
However, any chances of them having a long-lasting commitment were shut down after Kate exited the series and started dating a man named Rio Ferdinand. 
Further, Dan had a short-lived affair with actress Clelia Theodorou and Frankie Gaff, but none of the relationships lasted long. Similarly, Dan had also been linked to actress Lauren Pope; however, the romance was not confirmed by either of the parties.
As for Dan's finances, the reality star is yet to disclose his net worth amount. However, as several of his TOWIE castmates have become millionaires from the show, Dan does not seem like an exception.