Entertainment
DangMattSmith Wiki: From Age To Personal Status – In His Own Words
The famous vlogger Matt Smith started his career by interacting with different people on Chatroulette and later became a popular Vlogger on YouTube with the channel dangmattsmith, which he started back in August 2011.
The teenage star has achieved huge popularity and a large number of fans and followers who are always wondering to know the personal life of the young sensation. If you belong to the group willing to know more about Matt Smilt, then this article's just for you!
DangMattSmith's Wiki-Like-Bio 
Matt Smith, popularly known by the YouTube channel dangmattsmith, has accumulated around 5.4 million subscribers on his channel. Similarly, he has about 612k and 76k followers on Instagram and Twitter respectively.
At the young age of 19, Matt is able to flaunt his talent through social networking sites. Well, he even has shared some personal information through his videos.
In the YouTube video titled, "Pranking Ex Girlfriend with Ariana Grande's 'Into You' Lyrics," which was published on September 21, 2016, Matt pranked his ex-girlfriend with the song lyric of Ariana Grande's Into You.
Though the young star has been talking about his personal life in the videos, he mentions minimal details about his relationship status. In this context, he might probably be single or might be dating someone secretly. Nevertheless, he has thoughts about the qualities that should be inherited in his girlfriend.
Matt appeared in the video of the YouTuber Lauren Francesca titled DATING DANGMATTSMITH? DODGER PLAYOFFS published on September 9, 2015, where he disclosed some information about the girl he likes. He said,
"I like sports and if you are a girl that also likes sports as something we have in common that something that what you all do together." 
Additionally, he mentioned,
"If a girl likes sports and then she's not as fragile she's got some spunk."
Well, in another video, Matt unveiled his 'embarrassing' and 'crazy' family. His fan-made channel then shared the video with a title "dangmattsmith! My Mom Ruined Disney Movies."
In the video, Matt shared his experience from his childhood, which he thinks to be embarrassing. He gushed,
"When I was little and I'd lose a tooth and I'd show my mom I'd be like, 'hey mom what's the Tooth Fairy coming, she'd be like Tooth fairy died, Tooth Fairy don't exist ain't real its fake fiction'."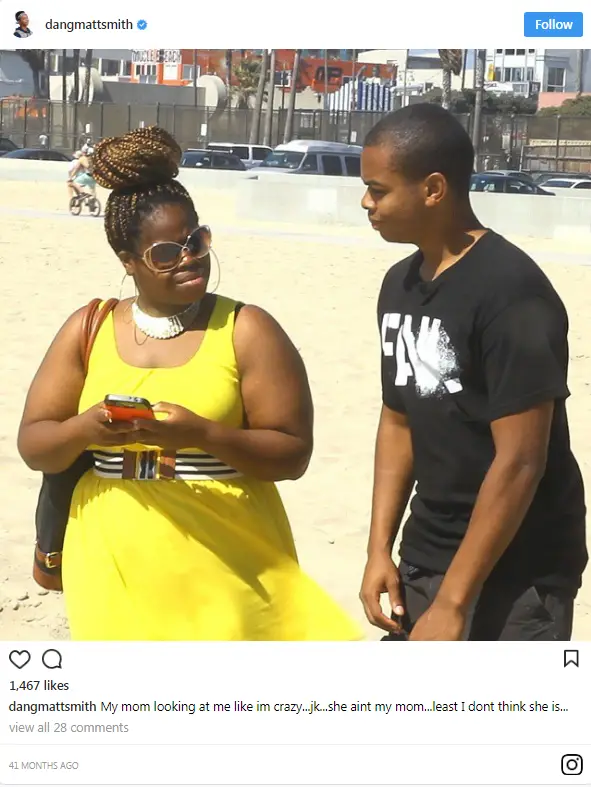 Photo: Matt Smith's Instagram
Matt Smith has achieved so much at a tender age and with the height of success that he has achieved, his family must be proud of him.
Think we're missing something? Do let us in the comment section below!