Entertainment
Daniel Zovatto Has Girlfriend? Dating Status Amid Throbbing Career
Daniel Zovatto is an emerging actor who has played substantial roles in several big-budget Hollywood movies and Tv shows. Recognized for his performances in horror genre including the cinema It Follows (2014) and the horror/thriller series Fear The Walking Dead (2016), the actor recently appeared in HBO drama series Here and Now.
In the show which got canceled after its first season; Daniel played Ramon, a gay college student who develops a romantic relationship with a tattooed and bearded man, Henry (played by Andy Bean).
But moving beyond Daniel's onscreen character, what is his dating status in real life? Is he a gay man like his reel life character or does he share a romantic relationship with a girlfriend? Continue reading this article to find that out!
Mysterious Dating Life
Talking about his private life, Daniel has always been open to sharing quirky posts on social media related to dating and girlfriend.
For instance, the Costa Rica-born actor shared a post on his Twitter account on 27 February 2011, where he quoted,
I wanna love ya...I wanna love ya and treat ya right
From his tweet, he hinted that he was involved in a romantic relationship; however, he didn't disclose any more details of his partner for about a year. Later on 26 February 2012, Daniel released a tweet where he shared another bit of info about his girlfriend, her name.
In the post, Daniel revealed that he had decided to love a woman named Meryl, although he didn't disclose any specifics about his ongoing affair.
Daniel, who stands at the height of 6' 1" (1.85 m), also posted a tweet on 26 May 2014 mentioning a trip to Spain with his ladies. But he did not disclose their identity, which made it unclear as to if the ladies were his girlfriend, friends or his family members.
Co-Star Turned Girlfriend?
After the 2014 tweet, his dating status went through a halt as no further news about his alleged affair surfaced in the press or his social media account. But later in 2016, when Daniel was cast opposite to Otmara Marrero in the movie Vandal, he developed a close friendship with the actress.
On 13 January 2017, Daniel shared a picture of Otmara where he admired the facial expression of the beautiful actress.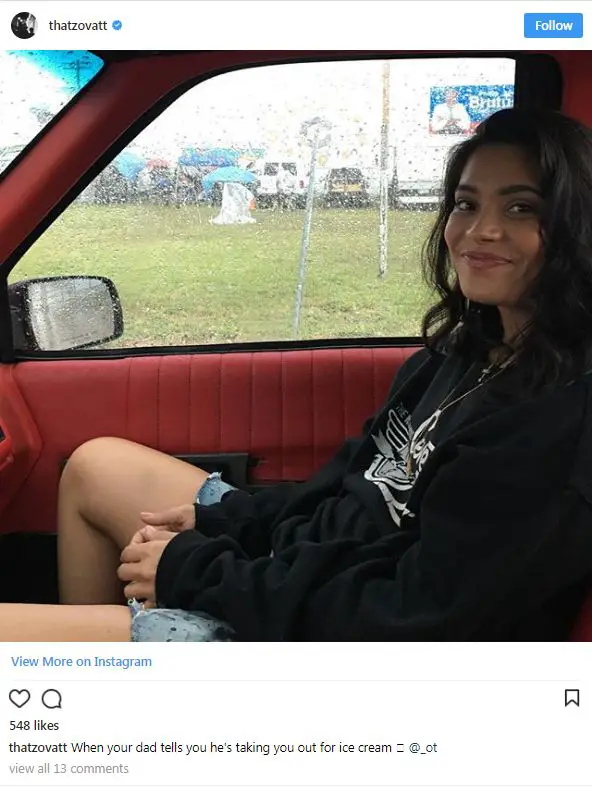 Daniel shares a picture of actress Otmara Marrero (Photo: Daniel Zovatto's Instagram)
Moreover, the two co-actors are also known to share similar posts on their Instagram accounts, which gives a hint about their friendship. However, neither Daniel nor Otmara has come forward to reveal if they are just friends or something more than that.
Daniel is also imminent to his parents and likes spending time with them. On 5 October 2015, Daniel shared a picture with his mother of the two having steak together. Meanwhile, Daniel also mentioned on his Instagram on 29 June 2016, that he took a trip to Grand Canyon with his father.
Lately, Daniel has been busy focussing on his acting career. Perhaps, he is having a tough time managing his work-life to get involved in an intimate relationship or get married.
Keep Visiting for emerging updates on the life of Daniel Zovatto!