Entertainment
Daniella Pineda Hints On Dating! But, Who Is Her Boyfriend?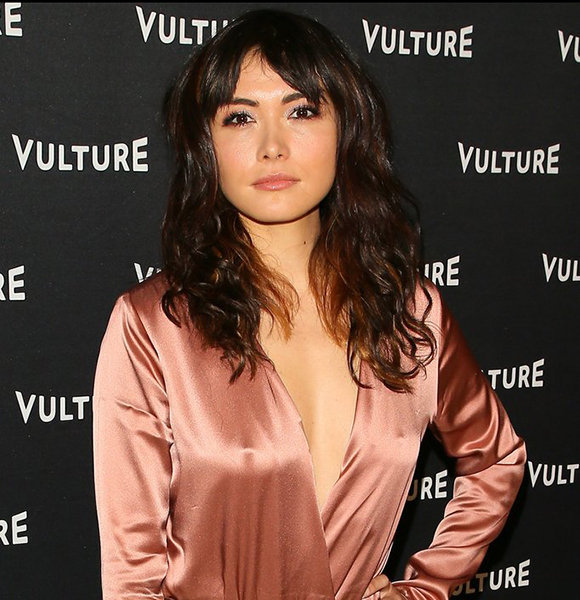 Mexican-American actress Daniella Pineda, who portrayed the character of beautiful witch Sophie on the CW's hit series, The Vampire Diaries has made a significant name in the entertainment industry. 
Well, the talented witch of the New Orleans has gained enormous fan's attention and apparently, everyone wants to know about the boyfriend of this beautiful brunette, which she has been hinting through her social media account.
So, if you as well want to know about her relationship status, keep reading!
Sneak Peek At Daniella Pineda's Love Life
Daniella Pineda, who was born as Daniella Nicole Pineda has maintained a low-key personal life. But her social media account somewhat has been hinting at her romantic relationship.
Back in August 2012, Daniella tweeted a guy's picture while writing, "F***ing gross. My boyfriend plopped prunes in his cereal." Well, everyone was curious to know what did she mean by, boyfriend. But, Daniella didn't clear the air on the matter of her dating status.
Similarly, later in the year 2013, as the actress starred in the CW's Originals, a guy named David tweeted stating he is proud of his love, Daniella for her new show. Well, yet again Daniella was quick to reply to the tweet mentioning the guy as her boyfriend.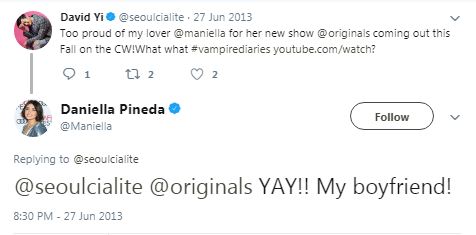 Daniella Pineda replies to David's tweet (Photo: Daniella Pineda's Twitter)
Likewise, in her another tweet of 2015, the actress claimed that she has the best boyfriend in the world. Though she usually hinted about her relationship status, she has not disclosed the name of her boyfriend, neither has she shared any photos. 

Daniella Pineda talks about mystery boyfriend (Photo: Daniella Pineda's Twitter)
Daniella should have kept the details low-key, probably, because she doesn't want to create hype out of her love life. However, as of now, she is not spotted with any other personality in the industry, but it is difficult to believe that, the beautiful actress is single.
More About Daniella Pineda
Daniella, who is also a comedian, possesses white ethnicity and was raised with her family in Oakland, California. Despite the fact that she has kept her personal life out of the media's eyes, it has come to light that she has a younger brother, Elliot. 
Talking about her rising career, the actress was the lead character in the famous movie, Jurassic World Sequel, in January 2017. Her other film credits include Newlyweds(2011), The Fitzerald Family Christmas(2012), Sleeping with Other People(2015), Mr. Roosevelt(2017), Before/During/After(2017) and Jurassic World: Fallen Kingdom (2018).
Furthermore, Daniella as well has depicted roles in TV series that includes Men of a Certain Age(2010), CH Originals(2010-2011), Homeland(2012), The Vampire Diaries(2013), The Originals(2013-14), American Odyssey(2015) and The Detour(2016-present).
Think we're missing something? Do let us know in the comment section below!