Entertainment
Danielle Colby Is Married And Her Husband Is Someone You Might Want To Know! Any Children With Him Yet?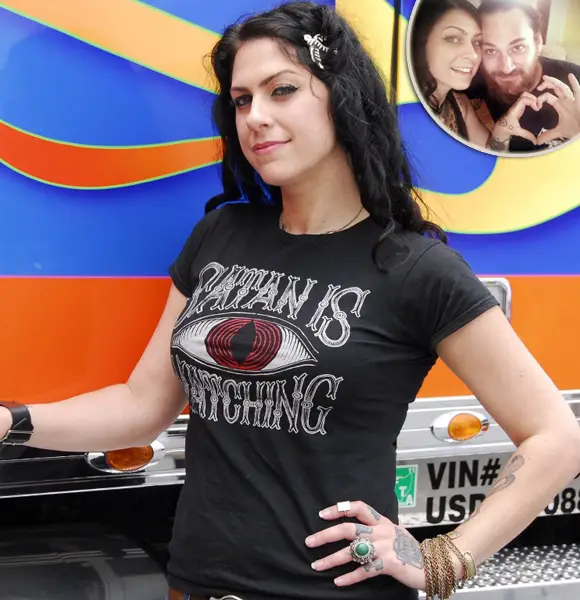 Do you guys love antique items? Well, if you do, you should make a deal with Danielle Colby, the one who runs a related business with a name Antique Archaeology.
This business of her has also been featuring in a reality show, American Pickers on the History channel, which she runs along with two antique pickers; Mike Wolfe and Frank Fritz.
In the series, Colby negotiates with the customers and packs up shipments keeping the two antique pickers Mike and Frank in line, and the two men collect the valuable antiques for Colby to sell.
While we have been witnessing the same scenario in front of our television screens from the beginning of 2010; we are trying to serve you something different today.
Now, let's have a look at Colby's family and her relationship stories, as she has got a French husband, who is worth cognizing.
The Real Life Of Danielle Colby Besides The Reality Series:
American Pickers' Colby is not only a reality star but also a better half of a French graphic designer artist, Alexander De Mayer. The married couple lives in Chicago parenting three children, but Colby has to switch between Chicago and Le Claire, Iowa because of her work.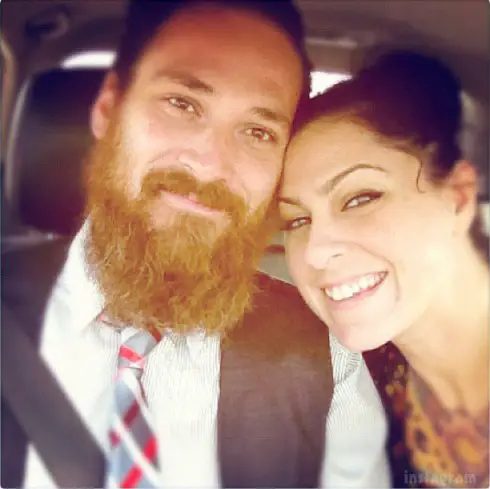 Caption: Danielle Colby and her husband, Alexander De Mayer's  happiness when Alexander received a green card!
Photo Credit: starcasm.net
Alexander is a designer who primarily plays with designs to create posters, covers artwork, logos, stickers, t-shirts design and so on.
Moreover, he is a green card holder, who mixes up traditional techniques and digital technologies to create beautiful designs, and he gracefully credits traditional American tattoos, movie posters from the sixties and seventies for his creative ideas.
We can view different artistic works of Alexander in the store of his website called ninelivesalex.bigcartel.com. One of his artwork entitled "Rider Jesus" is available to below to view.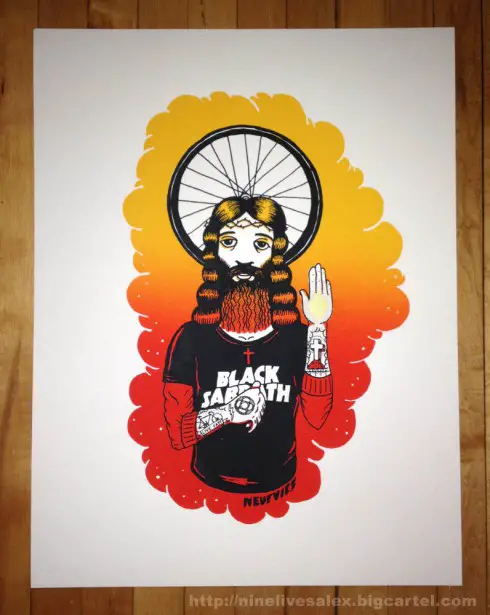 Caption: Rider Jesus from the artwork gallery of Alexander.
Photo Credit: ninelivesalex.bigcartel.com
Getting back to Danielle's family, the three children earlier mentioned are not the ones which Danielle shares with her husband. One of the three children is Danielle's niece, and the other two are from her past relationship.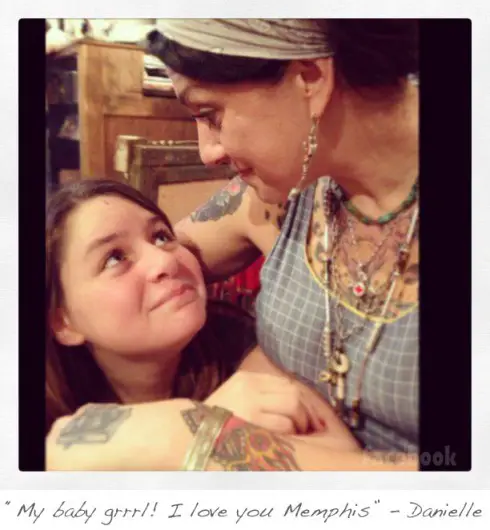 Caption: The mother-daughter moment: Danielle with one of her daughters, Memphis.
Photo Credit: starcasm.net
While this reality star hasn't veiled her earlier affairs with Alexander, she is also successful to keep the information regarding her past relationship completely under the wraps.
However, she had previously reasoned the failure of her previous relationship to WQAD-TV and told that her partner couldn't deal with her fame and notoriety.
Caption: Danielle Colby talking about her failed relationship. (Video published on May 8, 2012).
A Short Wiki-Like Bio Of Danielle Colby:
Danielle Colby is an American TV personality who was born on December 3, 1975, in Davenport, Iowa and brought up as a Jehovah's Witness. This star stands tall at the height of  5 feet and 9 inches and maintains a beautiful figure, which seems to be an output of a significant weight loss effort.
Danielle is a special part of the series of History Channel, American Pickers. Moreover, she was recently featured in History Con 2017 in World Trade Center, Manila along with other casts of the series from August 10 to 13. Currently, the television personality, Danielle enjoys decent net worth of $1.5 million.
Stay with us to stay updated to Danielle Colby!