Entertainment
Danny Miller Is Not Gay! But Dating Affair with Girlfriend Isn't Fine Either
You know how sometimes real life gets so dramatic, you can't help but think its a movie plot. Danny Miller, a British actor, has taken a page out of the classic soap opera Emmerdale.
The show revolves around Victoria Barton, played by Isabel Hodgins, who has on-and-off romances with two handsome hunks: Aaron Dingle, played by Danny Miller, and Ross Barton, played by Micheal Parr.
Well, a similar case hit their real life as Isabel and Danny had a secret affair going on while both of them were committed to different relationships. Danny also had a romantic kiss with a guy. You heard that! But he is not gay, and we have proof.
If you want to know more about his twisted dating patch, you are in for a treat.
Danny Miller Is Not Gay: More on his Dating Affair
The Emmerdale star, Danny Miller, hit the spotlight when his secret dating affair with his co-star's girlfriend, Isabel Hodgins, made it to the news. Danny and Isabel were having a secret affair despite her relationship with a fellow Emmerdale cast, Micheal Parr.
Isabel was not the only one caught cheating on her boyfriend. While the twisted affair was taking place, Danny was in an on-and-off relationship with Kirsty-Leigh Porter.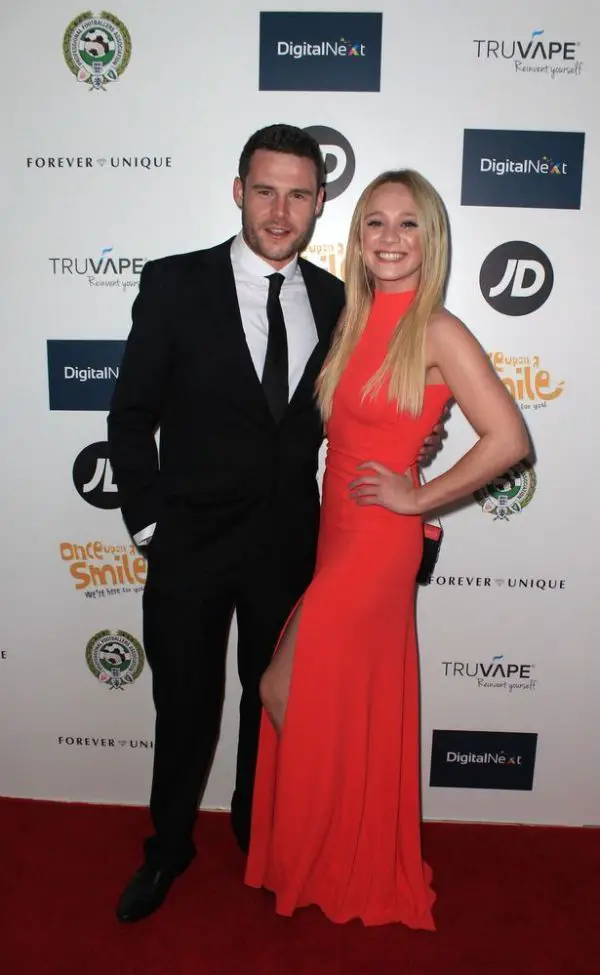 Caption: Danny Miller with his ex-girlfriend Kristy.
Photo Credit: Mirror.co.uk.
Their secret affair was exposed after Kirsty found text messages between Danny and Isabel and she was quite furious when she figured that out. Likewise, Isabel's boyfriend, Micheal, made it clear that he did not want to be around Danny anymore.
The news spread like a wildfire and Danny was portrayed as a homewrecker across the media. He took to Twitter to express his anger.
I've been apart of helping over 400 families overcome bereavement in their lives in under 5 years @Sidley_OUAS - Write about that instead.

— Danny Miller (@DannyBMiller) April 24, 2016
Danny and Isabel's tryst caused an outrage among the two couples. After the two ended their fling once and for all, Micheal broke up with the latter while Kristy, who had already been way too kind to Danny for his previous acts of infidelity, thought of giving him yet another chance. 
The relationship between Danny and Kristy was pretty much like a roller coaster ride. The couple started dating back in 2010 and broke up in 2011 after rumors of Danny being unfaithful to Kristy started floating in. His drunken call-girl scandal was the reason behind their breakup.
But they gave the relationship another chance and started seeing each other, but called it off the same year. Later that year, however, the couple got back and even moved in together. And after countless break-ups and patch-ups, the couple finally split in 2016.
While his personal life is filled with flings and rumors, his professional life is quite contradictory. His character Aaron is in a committed relationship with Robert.
The gorgeous actor took his on-screen role to real life and made a whimsical post about his secret girlfriend on his Instagram.
At the moment, the actor remains busy with his career but often takes time out of his hectic schedule to reach out to his fans via online interview where he answers questions asked by his fan.