Entertainment
Darcy Rose Byrnes Has a Boyfriend? Or Single and Focused on Career?
The price of success is determination, hard work, and dedication. If one can bear the cost, success can be achieved in all age groups.
Some people start to work at a very young age and kiss the trophy of triumph early in life. Materializing such gain is Darcy Rose Byrnes, an American actress, who has gathered the utmost attention of the media for her dedication but is reticent about her love-life.
Since Darcy keeps her personal life very confidential, it is, indeed, a matter of great interest to her followers. So, are you eager to know what's going on in her life?
Well, you have come to the right place. Join us as we shed some light on Darcy's private affairs!
Darcy Rose Byrnes Has a Boyfriend? But She is So Much Into Her Career!
American Actress Darcy Rose Byrnes, born on November 4, 1998, started her career as a child artist, soon gaining overwhelming highlights in the media. However, the talk of her private life has not yet made to the limelight. And the actress is stifled when it comes to sharing information about her personal life.
As far as we know, Byrnes has not been found indulging in a relationship till date. But that is not enough grounds to assume her to be single, as she might be dating her boyfriend secretly behind the limelight. Well, we cannot make any decision on her relationship status until she decides to reveal it.
Apparently, she is quite busy and seems inclined only towards her career.
Darcy Rose Byrnes' made her debut with the direct-to-video film, The Sparky Chronicles: The Map, back in 2003 when she was barely five years of age. In the same year, her career flourished after she was cast as Abby Newman, the daughter of Ashley Abbott and Victor Newman, in the series, The Young and The Restless.
Subsequently, in 2007, the character of Abby Newman made crossover appearances in another soap opera The Bold and the Beautiful. Byrnes left both the shows when Newman rapidly aged to a teenager in 2008.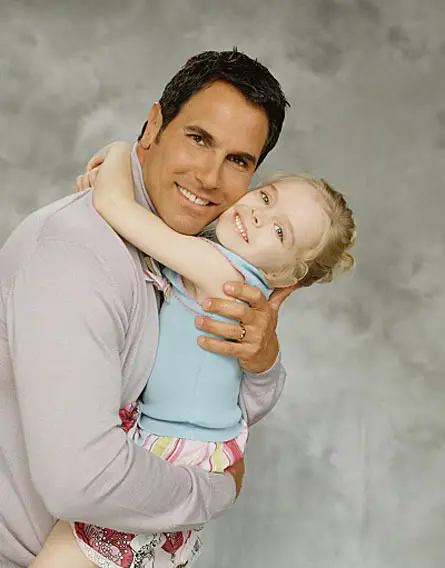 Caption: Darcy Rose Byrnes with his on-screen dad, Don Diamont, on the set of "The Young and the Restless."
Source: Pinterest
Byrns has appeared in more than twenty widely acclaimed TV Series including How I Met Your Mother, Ghost Whisperer, Cold Case, Dirty Sexy Money, House, and Desperate Housewives.
She is a versatile artist as her talent is not just limited to the acting field. She is also a voice actor and has voiced many animated favorites. She is the voice of Princess Amber on Sofia the First, Ikki in The Legend of Korra, Elena in Winx Club, and Maricela in Spirit Riding Free.
Additionally, she is also into singing. Her passion for singing can be seen in the video she shared on YouTube.
Caption: Darcy Rose Byrnes performing her original song, "Sparks Begin To Fly." ( Published on Feb 5, 2012)
She not only sang the song but also wrote the lyrics and music. How incredible is that?!
Darcy Rose was catapulted in the world of soap opera stardom with the series The Young and the Restless. For her performance, she was awarded the Young Artist Award for Best Performance in a Television Series in 2005.
Looking at her career and the ever-increasing success, she has undoubtedly worked with determination. And we can't wait for her to shine brighter in Hollywood.