Entertainment
Married Man Darnell Williams Is Not Gay! Who Is The Lucky Wife?
British actor Darnell Williams is famously known for his Daytime Emmy Award-winning role of Jesse Hubbard on the ABC' Television series, All My Children. Besides being the highlight of the entertainment world for his lifelong dedication, Darnell timely became the hum due to his alleged gay rumors as well. 
But as for now, it has come to the limelight that Darnell, defying all the gay rumors and allegation, is married!
So join in on a journey destined to get you familiar with the lucky wife of Darnell and the married life they share!
Three-Decades On-Screen Romance; Married On Real Life
The veteran soap star Darnell Williams is not a rookie to on-screen romance as he portrayed the lover of Debbi Morgan on the sets of American TV series, All My Children for more than three decades. 
The Afro-American couple, who later married in the serial, became one half of the first African American to enact the role of a couple in the American soap opera.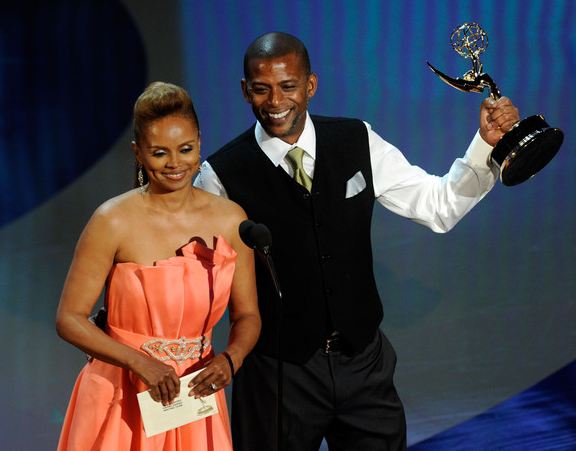 Darnell Williams attends the 38th Daytime Emmy Awards with on-screen partner Debbi Morgan on 19th June 2011 (Photo: zimbio.com)
Darnell's on-screen wife revealed that she had been married to him longer than with any of her real-life husbands in an interview with HuffingtonPost in April 2013. She stated, 
"I've been married a couple of times, and I say I've been married to Darnell/Jesse longer than any of my other husbands. And, you know that [chemistry] is not anything you can teach. Either you have it or you don't. And it's like Darnell said, we clicked from day one, and so much so that it just comes through the screen and it connects with the audience. I think if you don't genuinely like somebody, I don't care how good of an actor you are, it's like the audience doesn't feel it."
Darnell also agreed by stating that he and Debbi clicked from the first day. He remarked,  
"I just think Debbi and I clicked from day one and we've been good friends ever since. I think we both love what we do and, you know, the rest just comes naturally."
However, the London, United Kingdom native's on-screen romance is just real-life friendship. In reality, Darnell is a pro to keep his personal life low key. Not much information about his life behind the cameras has surfaced out in the media till date.
Despite such secrecy, answers.com states Short cuts star to be a married man, who has an actress-wife, named Jackie Lowe. Apart from that, the married couple has remained fairly low-key and remain confined when it comes to revealing if they parent any children as well. Even social media is of no help as Darnell is out of social media world for the matter. 
Well, Darnell's married status certainly helps to falsify the gay rumors that surround various celebs. It would be safe to say Darnell is not gay unless any revelation comes forward. 
How Darnell Rose To Stardom?
The American artist debuted on the entertainment world as a dancer on the Television series, Soul Train and further landed on a role of Jesse Hubbard on the soap opera All My Children in 1981.
He has been giving his best one after another and Darnell's dedication towards his acting passion has credited him with various awards and nominations.
In 1994, the actor won the Golden Globe Award categorized for the Best Ensemble Cast. After two years in 1996, Darnell earned the Soap Opera Digest Award as an outstanding supporting actor. He was also awarded NAACP Image Award for Outstanding Actor in a Daytime Drama Series back in 2011.
With decades of acting experience, Darnell has earned himself significant fame, and it seems to grow with every passing year. 
Keep Visiting for the emerging updates on the life of Darnell Williams!