Entertainment
Davante Adams Escalates Romantic Dating Life To Cute Girlfriend Inside Loving Family
NFL player Davante Adams has seen and conquered all in his more than a decade-long career. 
Making significant contributions to the sports, the Green Bay Packers player started his journey as the 53rd overall in the 2014 NFL Draft and now, already decorates the Paul Warfield Trophy in his award section. 
Same goes for his family life too. 
Turning his girlfriend into fiance, Davante has started a loving family of his own and treasure his partner's company much. The family man also holds high values for his parents and siblings.
Why don't we unwrap all of his personal achievements in one go!
Fairy-Tale-Like Love
Davante has been involved in a long-term bi-racial relationship with a woman named Devanne Villareal.
Although the couple has not revealed how they first met, the pair's dating news surfaced after Davante's girlfriend shared a picture of the two via her Instagram on 4 March 2013.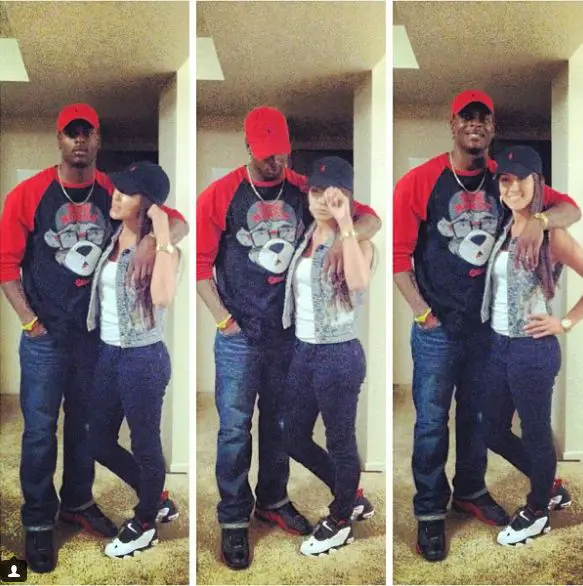 Davante and girlfriend Devanne dress up in matching clothes on 4 March 2013 (Photo: Devanne Villareal's Instagram)
The gesture continued again on 3 July 2014, where the 25-year-old shared an Instagram image congratulating his lover for graduating from Esthetition school. In the post, he mentioned his pride in having such an academically qualified girlfriend and also encouraged her to pursue her interests.
After maintaining a long-lasting relationship, Davante finally decided to take the romance to a new level. In July 2017, while the couple was enjoying a holiday in the Bahamas, he got on his knees and proposed Devanne for marriage to which she instantly accepted. The California-born even captured the partner's life-changing moment and shared it via his Instagram on 7 July 2017.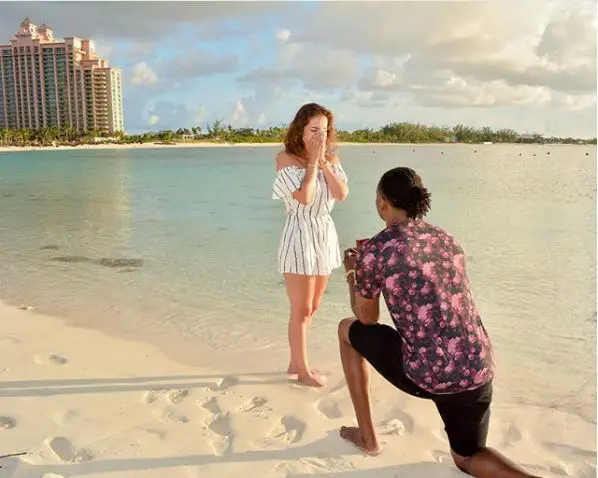 Davante proposes Devanne while enjoying their stay at the Cove Atlantis in the Bahamas (Photo: Davante Adams' Instagram)
Three months after Davante's proposal, the couple took a romantic trip to the Pacific Grove in California. During their stay, the couple enjoyed sight-seeing and even got engaged at the beach. 
On 28 October 2017, Devanne shared an engagement photo in which she was dressed in a white gown whereas her fiance wore a white shirt and black pant. Devanne further mentioned she was living in a fairy tale.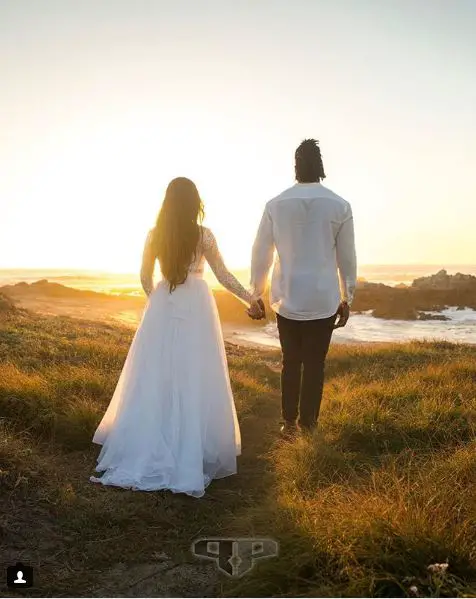 Davante and Devanne get engaged at the Pacific Grove in California (Photo: Devanne Villareal's Instagram)
As of 2018, the newly engaged fiancees have not disclosed their wedding arrangements, however, most fans believe the couple's wedding are gonna happen this year. 
Proud Member of The Adams Family 
Apart from his romantic life, Davante is also a proud member of the Adams family and flaunts his family union on Instagram.
Born to parents Douglas Adams and Pamela Brown as one of their four children, Davante has a brother and two sisters. His mother tried to persuade him into leaving football after he broke the same arm thrice in his school days. However, she finally gave in after finding out her son's talents. Davante has no hard feelings for his mother for not supporting his football career initially.  
In fact, he is thankful to have a loving mother. On 8 May 2016, he shared a tweet in which he expressed his gratefulness to have found such a loving mom and wished her on the occasion of Mother's Day.
Davante's brother, Derek Carr, is also a football player who made the NFL Top 100 in 2016. On 4 May 2016, Davante shared a tweet congratulating his brother on this massive accomplishment and further added that he was worth more than the number 100 spot.
Davante, who is a proud member of the Adams family, has also displayed his love for the family on several occasions. On 28 March 2017, he shared a post on his Twitter in which he mentioned that family was his most beloved possession and nothing was above it, not even the sky.
Moreover, he also has a large group of brothers chiefly consisting of his cousins who are united by their common love for the Adams family.