Entertainment
Here's How Dave Abrams & Jennie Garth Saved Their Married Life
Dave Abrams is an actor who is known for movies like J. Edgar (2011) and A Mann's World (2011)...He is married to actress Jennie Garth...They first met through...and the couple got engaged in...and tied the knot on...The actor filed for divorce in...but they later reunited...Dave was born on...his Zodiac sign is...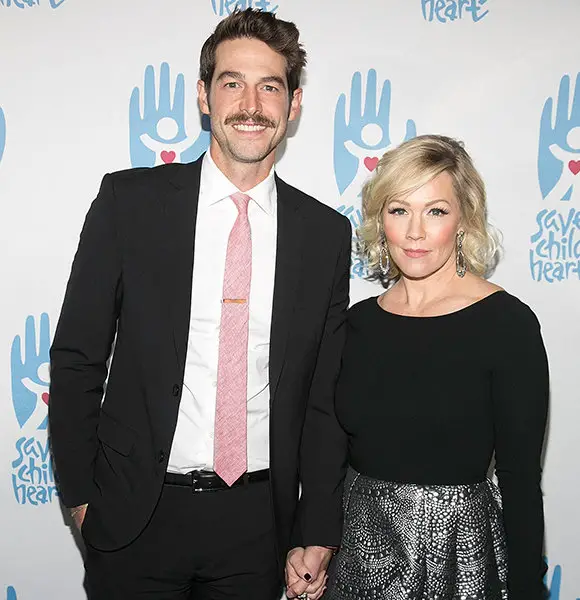 American actor Dave Abrams- who made his acting debut in 2006 with an episode of That 70s Show- is best known for his appearance in movies like J. Edgar (2011) and A Mann's World (2011). 
The actor is also quite popular through his role in 2 Broke Girls (2011- 2017). And he has appeared in commercials for Nike, Oscar Mayer, and Lady Speed Stick.
First Meet To Engagement Details
The Virginia native is married to actress Jennie Garth.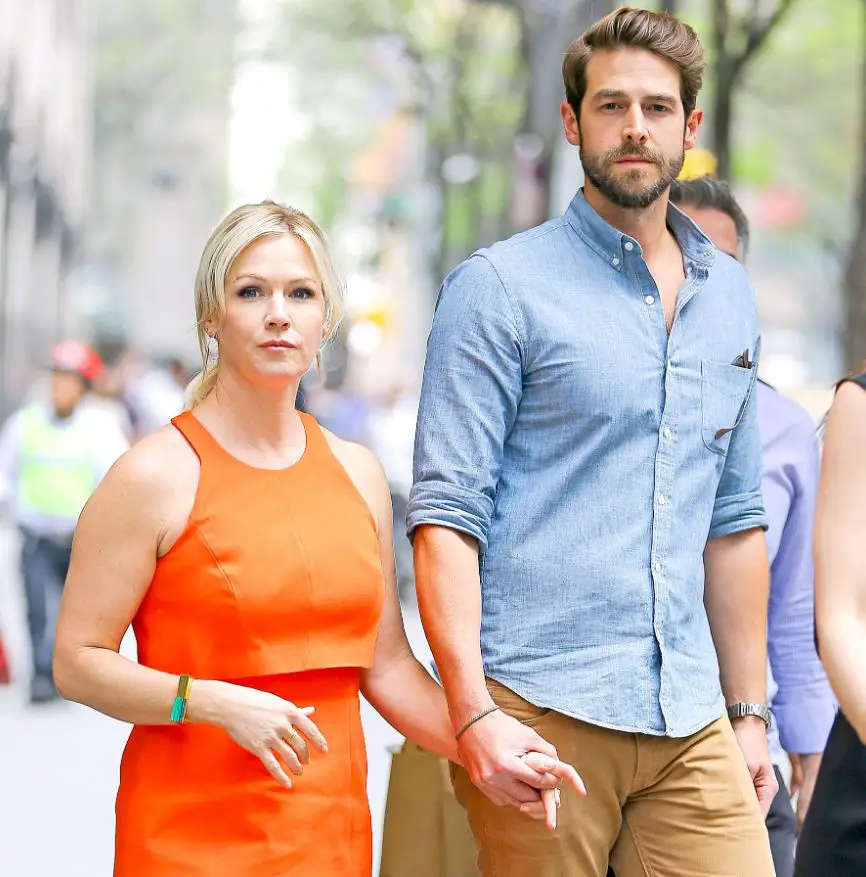 Dave Abrams poses with wife Jennie Garth (Photo:usmagazine.com)
Dave and Jennie first met on a blind date; Jennie's friend asked her if she would go on a blind double date- which consisted of the actress' friend, her boyfriend, and his friend, who happened to be Dave. The actor and Jennie hit it off and began to date one another towards the end of 2014. 
In April 2015, the representatives of Dave and Jennie confirmed their engagement to People.
Wedding Details
On 11 July of the same year, they tied the knot in Los Olivos, California. The wedding ceremony was an intimate one with about 120 guests as the attendees, and the theme was a romantic and vintage-inspired wonderland adorned with flowers.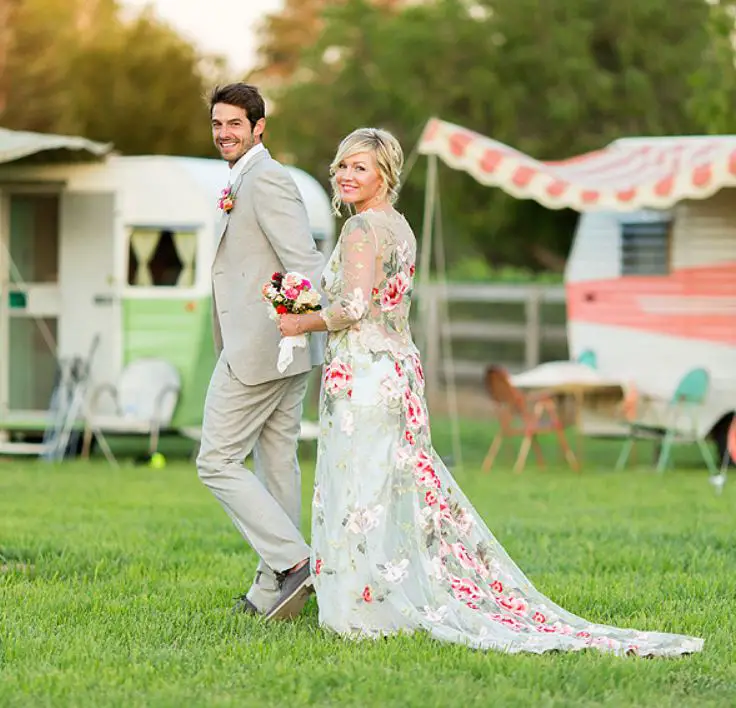 Dave Abrams poses with wife Jennie Garth at their wedding day on 11 July 2015 (Photo:people.com)
The actress wore a nontraditional Claire Pettibone gown while Dave opted for a grey suit at their wedding. 
Divorce Petition
However, in April 2018, Dave filed for a divorce after nearly three years of his marriage with wife Jennie. The couple then separated for about ten months. Then, the two decided to get back together, and Dave withdrew his divorce petition from the court. 
Reflecting on the whole situation, the actress stated in an interview with People in August 2019 that,
"we both had separate learning to do, and then coming back and sharing that growth was kind of the fiber that connected us back together like, 'I see you differently now.' "
Who Is Jennie Garth?
Dave's wife Jennie is an actress by profession who is famous for her appearance in Beverly Hills, 90210 (1990). She has a net worth of around $8 million, according to Celebrity Net Worth. 
Jennie was born on 3 April 1972 in Urbana, Illinois, USA.
Her parents are John Garth and Carolyn Garth. And she has six siblings in total. 
Also, she was previously married to Daniel Clark. The ex-couple wedded on 16 April 1994 and separated in 1996.
Moreover, the actress was also married to Twilight (2008-2012) actor Peter Facinelli from 20 January 2001 to 11 June 2013. They share three children named Luca Bella Facinelli (born 29 June 1997), Lola Ray Facinelli (born 6 December 2002), and Fiona Facinelli (born 30 September 2006).
Facts About Dave Abrams: Wiki And Age
The 2 Broke Girls (2011- 2017) actor was born on 14 June 1981 in Virginia Beach, VA.
Dave stands at the height of 6 feet 2 inches (1.88 m). 
Dave has a sister. 
His Zodiac sign is Gemini.