Entertainment
Media Matters Founder David Brock Now Dating? Or Staying Single After Former Gay Partner Blackmailed Him?
Falling in love might be easy but finding a soul mate in life is comparatively hard.  David Brock, the founder of a politically progressive media watchdog group Media Matters, knows very well that not every person you date can be your life partner.
Brock has gone through a bitter experience with his romantic partner; his partner of ten years blackmailed him for an enormous amount in return of the privacy of the information regarding his organization's donors and the IRS.
Today, let's take a peek on his past relationship and dig in if he is backing the dating game after the incident.
David Brock's Relationship With Former Gay Partner Who Blackmailed Him!
If you are in a relationship with a person for almost ten years, will you doubt their intentions? 
Media Matters chief, David Brock too trusted his partner of ten years, William Grey.
However, in February 2012, Fox News revealed that  David was blackmailed by Grey, who threatened him for $850,000 from his net worth in return of the privacy of the information of organization's donors and the IRS.
According to Fox News,
"Grey threatened to go public about Brock and Media Matters' finances after he accused Brock in a civil suit filed in Washington of taking $170,000 in possessions, including an $8,000 Louis Vuitton suit bag, paintings, a rug, a chandelier, a painted bust of a Roman soldier and a pair of carved wooden chairs upholstered with purple fabric. Those possessions were displayed in the Washington townhouse where the couple entertained liberal movers and shakers in happier times."
Following the blackmail, David filed a complaint in Metropolitan Police in 2010, which stated that David was threatened to:
"release specific derogatory information about [Brock] and his organization to the press and donors that would be embarrassing to him and cause harm to the organization …"
According to the lawsuit, Grey contacted David for three times to demand the payment. Likewise, Grey sent an email to David and his then partner, James Alefantis.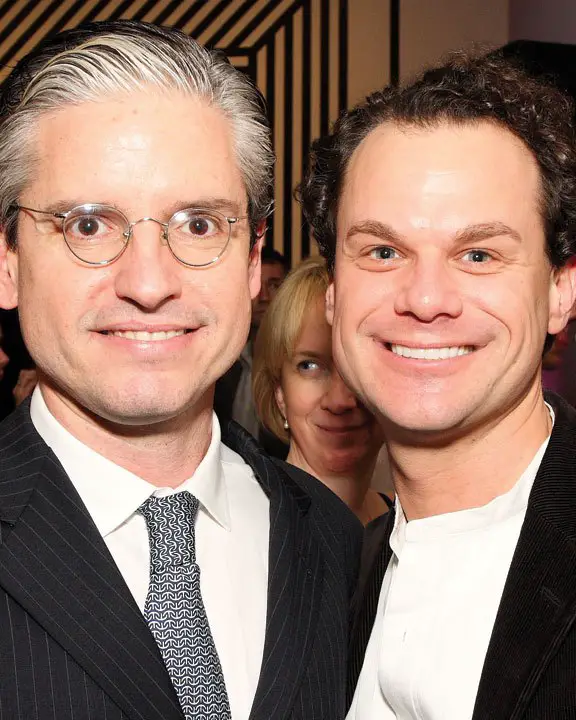 Caption: Media Matters' founder David Brock and his partner James Alefantis pictured at an event.
Photo Credit: Washington Life Magazine
The email Grey sent to David and his then partner, James Alefantis read,
"David, You and James pulled this same kind of sick nonsense in 2008 to try to hide your financial malfeasance. Next step is I contact all of your donors and the IRS. OK? Do you understand? This is going to stink for you if you do not resolve this now, I assure you."
The information that Grey was threatening to unveil is still a mystery, and Grey appeared to realize that Brock traveled in powerful political circles. The pair settled their lawsuit two months before the news about blackmailing was revealed, but the terms of the settlement remain confined till this date.
David, who was rumored to be dead earlier this year, has been very private when it comes to disclosing the information regarding his love life.
As per 2012, David dated Washington, D.C's restaurant impresario James Alefantis, but Alefantis was referred as David's ex-boyfriend in 2016, which, to an extent, hints their split.
However, David still seems to have a good relationship with his Alefantis, which is evident through his tweet in 2017.
The pair hasn't confirmed their separation themselves, and they have been talking about each other on social networking sites, which makes the matter somewhat complicated.
Stay with us for further clarification on the matter in the future!