Entertainment
David Giuntoli Did Get Engaged To Girlfriend Secretly But When Will He Get Married?
In several cases, while working for a movie or a series the on-screen pair knowingly or unknowingly fall in love with their co-star or co-worker, but only a few are ones who give continuation to such love and turn it into a wedding. Actor David Giuntoli falls in those few people who fell in love with his on-screen star and is now in the story for his engagement.
For now, let's turn the page of his dating story with his love followed by his wedding date.
On-screen Pair Halfway Hitched; Get Hold Of Their Wedding Date:
The on-screen couple David and actress Elizabeth Tulloch had made a way to headlines in 2014 when they opened up about their off-screen involvement. The relationship bloomed while they were working in the series of Grimm (2011). Though the relationship created an illusion to the public for quite a long time, the relationship was officially confirmed when the actress on an interview with a source spoke about their flourishing relationship. She said:
"It's pretty public now that I'm dating David, so that's kind of out of the bag. We were hiding it for a long time, but now everybody knows."
After dating for approximately two years, the duo again surfaced in the news for their deep engagement. On April 2016, David proposed his woman with an antique diamond engagement ring from the 1980s. Though the engagement details got kept within themselves, David expressed his excitement of his hush-hush engagement. He said:
"We've just been quietly enjoying it."
While on the other hand, the would-be bride talked about her public demonstration of the ring along with David's taste on picking the ring. She said:
"We did decide that Comic-Con. I was going to wear the ring out in public for the first time so. My little joke was because we were boyfriend and girlfriend on the show, everything in the marriage will be a tax write off.
And further added:
"It's over a hundred years old.The diamond is from the 1890s, and the setting is from 1915, which is the year my grandfather was born."
Tulloch after the ceremony has been consistently flaunting her ring in all the events and public places.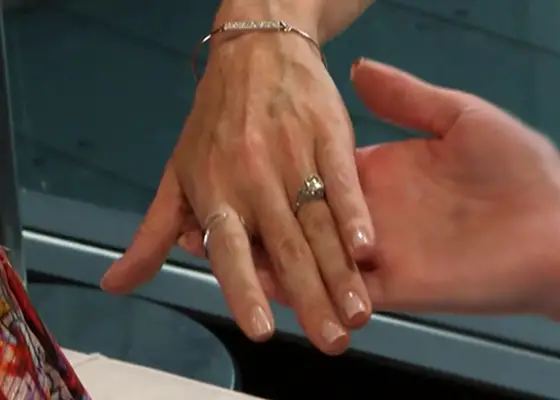 Caption: The 1980s ring, show-cased by Elizabeth Tulloch as her engagement ring (2016).
Photo Credit: etonline.com
Despite getting engaged the power couple has not yet fixed their wedding date, but they are often seen together in several events and was recently spotted enjoying their vacation in Portland.
David is still with his would-be wife as he has uploaded a picture of Elizabeth on his Instagram on the occasion of her birthday.
Well, from his recent engagement we can surely say that David is not gay nor did in the past he had any gay partners. Despite getting engaged neither David nor Elizabeth have spoken about getting married and nor have they given any clue about their wedding date.
Just like their secret engagement ceremony may be they will tie a knot in the presence of their few family members, or there may be a case of them digging for a perfect wedding date. We are sincerely hoping for the longevity of their relationship and pray their love to flourish every day with the pace of time