Entertainment
Gay Actor David Hyde Pierce & Husband Against Of Sharing Married Moments
Actor David Hyde Pierce, a four-time Emmy award winner, turned the success pages of his career after finding fame from the TV series Frasier, where he portrayed the role of Dr. Niles Crane.  
Well, the actor has had a lot of his own struggles before he found his stardom. He went through a lot of turmoils from hiding his gay identity for more than two decades, losing his grandpa to facing the interference of the court in his married life. 
In all of his personal battles, the actor had his partner on his side, without whose help he could not have made it through all. 
Well, here we present you David Hyde Pierce's whole story, his road to stardom battling his own struggles with the support of his partner!
Dating Reveals Gay Sexuality; Family Embraces Instead Of Shock 
Also the director, David Hyde was thought of straight guy before he himself revealed his gay sexuality. Even when David first started seeing his male partner, even his parents were not aware of their son's homosexuality.
The 59-year-old met Brian Hargrove, a Hollywood writer, in 1982. The two became friends and slowly developed feelings for each other. After the pair started dating in March 1983, David brought his lover to his parents' home and revealed both, his dating partner and gay sexuality at once.
With the expectation of terrible reaction from his folks, David introduced Brian as his boyfriend to his family. To his surprise, David's father and mother had no reaction like David thought of but instead embraced and liked his love interest instantly making him the member of his family.
However, the Yale University graduate was yet to come out with his gay sexuality to all as revealing to family and making the revelation in public are two different things. During those times, gay men had a bad reputation among society and Brian had to make a pretend girlfriend to fool the world of him having a heterosexuality.
Two Decades Of Togetherness With Partner; Same-Sex Married Life Hampers
David came out publicly as gay in 2007.
David had to wait a long time before he could reveal his sexuality in public. But, once he chose to come out, David selected a special occasion to flaunt his companion to the world. 
During his 2007's Tony Awards acceptance speech, the New York native talked about his gay identity and thanked Brian for being with him for more than two decades. He said while receiving the award,
"I'd like to thank my partner Brian because it's 24 years of listening to your damn notes--that's why I'm up here tonight."
The couple got married a year after on 24 October 2008 after same-sex marriage became legal in Los Angeles. The ceremony was kept private and was not attended by the big shots of Hollywood, so it missed the eyes of the paparazzi and media.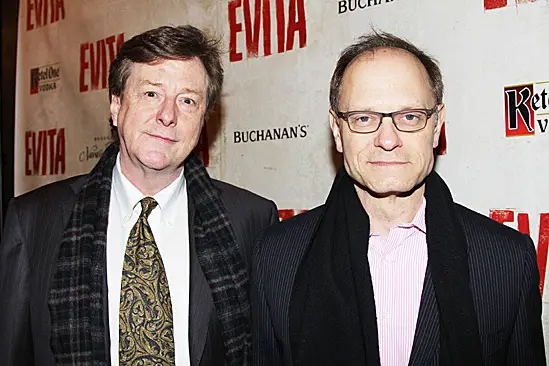 David and husband Brian attend the premiere of Evita at Marquis Theatre on 5 April 2012 (Photo:  Bruce Glikas/Broadway.com)
However, the couple's marital status was soon nullified as the state of California banned same-sex marriage. But, the Proposition 8 was later defeated in the Senate, and the partners resumed their married life. Talking about the interference of the state in their private life, David told The View,
"Brian and I always kept a low profile. We didn't hide our lives. We got married very quietly last October 24 and thought that was fine, and then suddenly the state of California said, 'No it's not.' Can you imagine if you're married, [and] the people in your state getting together and saying, 'Well, you know what, you're not.' It's a very odd thing."
Meanwhile, David and Brian have kept their married very personal. Further, the partners do not make many public appearances which make it hard for the paparazzi to get into the private life of the couple.
As of 2018, The Good Wife actor resides with his husband and two pet dogs, Maude and Mabel, in Los Angeles. And with David's net worth of $40 million, the pair has got all, to suffice their lavish lifestyle. He along with his partner had even bought a 1929 house located at Los Feliz for an astonishing amount of $3.625 million in 2003. The couple sold the home in 2012 for an amount of $7.5 million, double than its original price.
Fight Against Alzheimer's 
David has been active since 1994 in finding the cure for Alzheimer's. He has even donated a substantial amount for the research of the disease. His grandfather suffered from the illness, and his memory started to fail in the late 1980s. He slowly started losing his reading abilities and motor skills. Further, David's grandpa began having fits of anger. 
Later in the early 1990s, David's father also caught the disease after going through heart surgery. His dad died in 1998 due to pneumonia; however, it was Alzheimer's that took his grandpa's life.
So, the battle against the disease is personal for David. Further, he also emphasis on a healthy diet and exercise. David likes to believe that the effort people make to safeguard their heart will eventually lead to a healthy mind.