Entertainment
David Labrava Talks on His Journey of Sons of Anarchy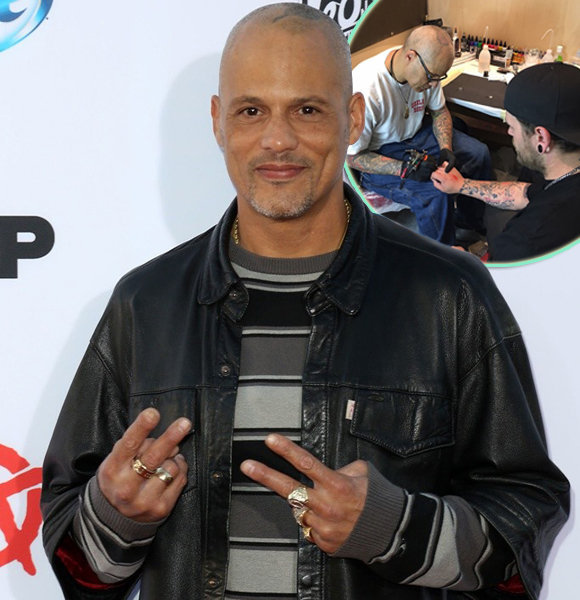 Dreams seem too far unless you turn your dreams into reality. Being a part of Hollywood is everybody's dream, but only a few can accomplish their goals.
Even tattoo artist David Labrava saw the big dream of being a part of Hollywood and starred in the drama series "Sons of Anarchy" and co-wrote one of its episodes as well. So, how did David embark on his dream destination Hollywood? And how was his journey so far? Let's find out.
Sons of Anarchy Changed His Life
Initially, David was a camera operator for the Zalman King Company. While working in the company, he learned scriptwriting. David hosted the series Whiplash ZK and also did an independent project called FTW under Picture Perfect Production, and later starred in Fencewalker.
Also check out: Inside Shawn Doyle's Successful Career and Personal Life
Following his 30 years of experience of riding bikes, David was hired as the Technical Advisor for Sons of Anarchy, and later, he portrayed the character "Happy Lowman" from the inception of the show.
In an interview on November 15, 2011, Labrava revealed a few details regarding his journey to Hollywood.
While watching the series "Sons of Anarchy, " everybody questioned if he had taken acting classes. Replying the same, David Labrava shared,
I got hired to be the technical advisor, and when (show creator) Kurt [Sutter] came up to my area to get some technical advice on the motorcycle club world, I showed him that I wrote scripts and I asked him to let me have a chance, when he cast the show. I got cast on the show, and then he gave me a real chance to write, and here I am.
Moreover, David shared his dream of being in movies as well.
 It seems like the Hollywood thing found me a couple of times. I wasn't living here, trying to do this, at all. I'm a tattoo artist and I went to school to paint, and I started writing and getting published. I think every American kid grows up dreaming about being in the movies. That's completely normal for us.
Caption: David shares his favorite screens from the series "Sons of Anarchy." (source: YouTube)
David shared his wish of becoming a writer in the interview, where he expressed,
But, I mostly wanted to be a writer, and I got taught the scriptwriting program. I got a chance to act, and I have to say that acting is extremely fun and vital. It's an incredible crew that I work with. They all have a great appreciation for film.

We do movie trivia all day long. Ron Perlman knows film, all the way to black and white. I enjoy the acting, but I didn't plan on that. It fell into my lap and I'm having a lot of fun with it, but I'm definitely moving towards directing because I'm naturally a writer, and I think a good director edits, writes and has acted a little bit.

He's done a little bit of everything, and that's what I'm trying to do.
David revealed that he fell into acting, appreciating his preference for acting, writing, and directing.
I love writing. I think writing and directing go hand-in-hand. I've been writing and getting published since 1990. I kind of fell into the acting, which is a lot of fun. I enjoy acting, but I'm definitely pushing towards directing.
Similarly, describing his character Happy from "Sons of Anarchy" a bit more, David said,
I think Happy is getting a little bit more vocal, but like in the club, there are all kinds of members – every kind you can imagine. Some guys are basically just soldiers, which is Happy. He's a solider. He's not an officer, and he doesn't desire to be an officer.

He's there to just make things happen for the club. On a production level, as an actor, I couldn't be in Episode 10, and sit in the writer's chair behind Peter Weller and do the writer job. It was very important for me to learn that aspect of it. But, I'm pretty certain Happy will be in the rest of the episodes.
David's character as "Happy" is a fan favorite, and sharing his fan encounters, David said,
 I have to say that it's very strange. I get recognized at least once a day. It's very a popular show. I grew up in Europe, and this show is even bigger in Europe than here. It's huge. It's quite different for me. I live a pretty private life, and now I get recognized, but the fans are so appreciative that it's truly overwhelming. They are wonderful.
Experience of Co-writing the Episode 
The show Sons Of Anarchy has given him a chance to pen down his writing abilities, and he ended up co-writing its episode 10, called "Hands," along with the show's creator, Kurt Sutter, and Chris Collins. David shared the creative process of writing an episode,
Writing a TV show is totally different than writing features. I started with writing features. You write a little bit more organically. You start from the beginning, and then move to the middle, and then the end. In the TV world, there are probably at least 25 points that have to get carried over, from episode to episode, to make the show work.

It's an incredibly creative process to sit in that writers' room with six other people and pitch ideas until you have a great story. And then, Kurt [Sutter] comes in.

He is an incredible writer, and you pitch ideas until everybody gives feedback and everybody signs off on it. Then, you move away to write the dialog and fill in the blanks on the show.
Sharing some beautiful words, David described the creator of the show Sons Of Anarchy, Kurt Sutter.
 He's wonderful. I'm not just placating that. It makes the job easy when somebody knows exactly what they want to see and exactly what they don't want to see, and exactly how it should go, and the tone of the scene, and every bit of it. It makes the job much easier.

There is no guessing game involved, and that's good. It's a tough thing to run a show and to work with all kinds of egos and different people and different opinions. It's just a hard thing.
Moreover, in his statement, David undoubtedly revealed that Kurt Sutter is his mentor,
Without a doubt, he is my writing guru. He has helped me immensely. He has given me incredible breaks, and I'm so appreciative. It's no joke.
Furthermore, David also gave his opinion on the intensity of Episode 10.
I think it's been culminating for quite some time. In my personal opinion, if we just stay on the show level, I think Clay should keep Gemma a little bit closer, since she is complicit, from the start. If you follow the show, they [supposedly] killed JT together, and now Clay is pushing her to the outside, but Gemma is no dummy.

She's been around the block, so I thought that that fight scene was right on time. It's right where it should have been.
David Labrava Family and Passions:
In the interview with Collider, David expressed that he has made his mom proud, which makes him feel proud as well.
Yes, a lot, and my mom is so proud. The ultimate best part of all of this is that I make my mother proud. She stuck by me. I haven't been a walk in the park, so it's definitely cool. I didn't see this coming. I'm making the people in your life very proud, and that's totally exciting. I speak to my mom all the time, so it's very cool.
David wished his mother Mother's Day on May 14, 2017, and expressed his love through Twitter.

Labrava's Tweet on Mothers Day (source: Twitter)
Labrava shared his love for motorcycles and revealed he owned Harley Davidson when he was just 17 years old.
I was riding dirt bikes when I was a little kid. I got my first Harley Davidson when I was 17 years old. It was a frame with wheels and a tank on it, and all the parts in a box. I got it for a great deal, and six months later, my mother was telling me to get it out of the living room. I had to build this outside because it was stinking up the house.

You go through years of having motorcycles that have been more in the garage than out on the road. It just takes a long time. It's like you get bit by the bug and it won't go away
David is an incredible tattoo artist as well; being an artist from Switzerland, he urged his followers to get tatted if they are in Switzerland with an Instagram post on April 8, 2017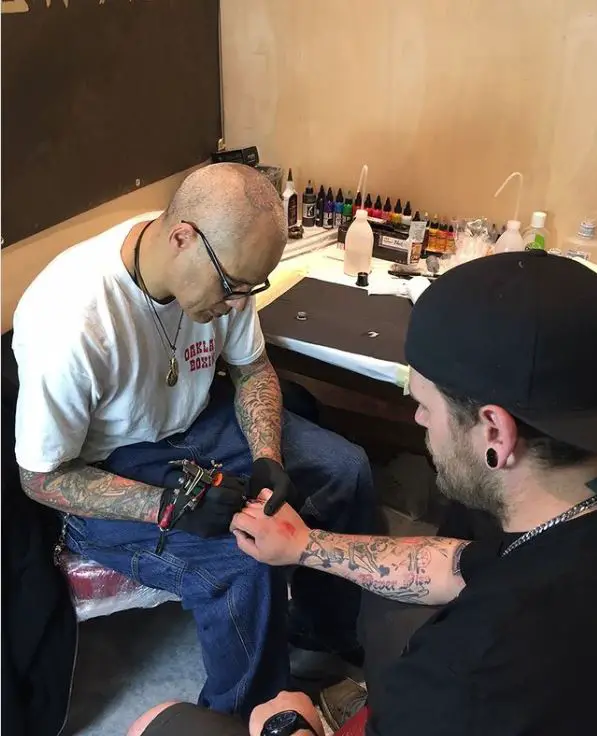 David Labrava in His Tattoo Studio (source: Instagram)
It is hard to believe that David is not indulged with a girlfriend in real life. However, any information regarding his personal life has not circulated in the media as the man himself admits to being a private person.
It's hard to know what is happening in his life unless the man speaks. Thus, his fans are eagerly waiting for the announcement of his girlfriend, or he could even surprise by getting married to his wife, who knows!
Also check out: Chris Obi - Height, Net Worth, Wife and More
The show gave him name, fame, and wealth, fulfilling his dream of writing as well. Caucasian-American ethnicity actor David is an accomplished glass artist and owns a shop as well.
Moreover, he owns a tattoo parlor called Evil Ink Tattoo in the Bay area of Northern California. Passionate and talented, David has accumulated a hefty net worth through his love for his craft. However, he is yet to reveal the exact figures.
Stay with us for the latest updates on David Labrava!