Dawn Davenport has been working as an ESPN host...it was her family's support...celebrates her birthday on...earns an annual salary of...boasts a height of...Dawn got married to...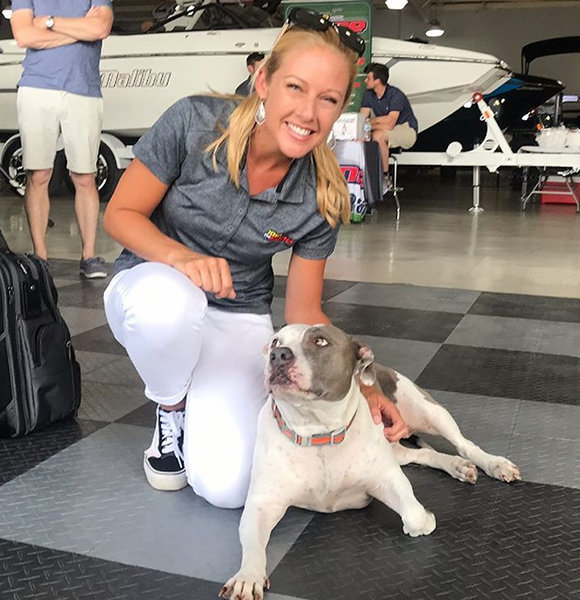 Dawn Davenport has been working as an ESPN host since 2013 football season. Before her job as the sideline reporter at the prestigious network, she worked at WKRN-ABC for nearly a decade.
Also, the TV host made waves in the anchoring world when she became the first full-time female radio host after joining SEC Network's show, 104.5 The Zone, in 2017.
Besides boasting a sucessful hosting career, Dawn is a compassionate member of society. In 2018, she was nominated as a candidate for the Women of the Year due to her works to raise money for cancer research in collaboration with the association, Leukemia & Lymphoma Society.
What Is Dawn's Age? Education & Salary
Born in 1980, Dawn celebrates her birthday on 25th February every year. She is a Piscean according to her date of birth. 
The talented host - who boast a height above 5 feet (1.52 m) and maintains a moderate weight - was born in Plano, Texas, but got raised in Atlanta. She is exceptionally close to her parents and elder brother.
Along with her guardians and sibling, the ESPN host is close to her brother's children: Demi and Dylan. She often flaunts spending time with her muchkins on Instagram.
ESPN Host In Our Dome:- Hubie Brown Net Worth, Daughter, Wife, Now
It was her family's support, which led Dawn to excel academically. She got her college education with honor from an undergraduate program at Auburn University. Along with a degree focusing on Mass Communications/Radio, Television, and Film, she was awarded academic excellence award for three years before graduating in 2002.
Being an all-around student, Dawn was also the volleyball team's two-time SEC Academic All-American member.
Thus, it was no surprise that she went to make a name for herself in the media field. As ESPN's host, she makes an average salary between $55K - $65K per year.
Past Married Life 
Dawn got married to Johan Kok on 4th June 2011 at Nashville, Tennessee. Since their wedding, the sports host continued to flaunt her golfer husband on Twitter until 2014.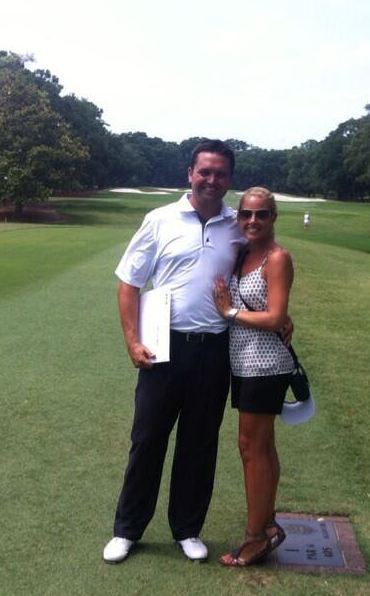 Dawn Davenport poses with her ex-husband Johan Kok on June 2014 ( Photo: Dawn Davenport's Twitter)
However, the married lady abruptly stopped posting about her PGA Championship contestant husband.
It was not clear whether she voluntarily stopped posting to keep her married life private or there was trouble in paradise. In such a condition, fans couldn't help but speculate about her divorce. However, there was no evidence to support the conjectures. 
Basketball Coach with Twin Name:- Here's How Dawn Staley Won Second Basketball Coaching Award 2018
While she refused to post about her husband, Dawn remained an active member of Instagram. She kept her fans updated on the events going on in her life.
However, the long speculations of divorce of Dawn and husband turned out to be true. While there is no news on the divorce with husband Johan, a new man has already entered her life.
Love Life In 2019
Without any news on the subject of a divorce with her ex-husband, Dawn got engaged and then married in 2019.
The news of her engagement became public when she posted a beautiful proposal picture on her Instagram handle on 30 July 2019. While enjoying a trip in Tuscany, the blonde was proposed by her boyfriend, Travis Harter.
While Dawn and Travis never came out as a couple, they didn't have any need for it. The two lovebirds had plenty of Instagram posts as proof of their commitment towards each other.
Only a few months after getting engaged, the pair tied the knot on 20 September 2019. On a beautiful beach wedding, the two exchanged their wedding vows in the company of friends and family.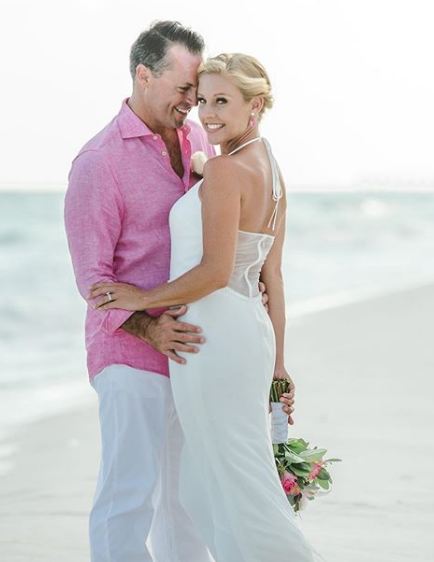 Dawn Davenport with husband Travis Harter on 20 September 2019 (Photo: Dawn Davenport's Instagram)
In the slew of photographic memories present on her Instagram, the husband and wife shared some intimate moment with each other. While her husband was rocking a magenta shade shirt with white pants, Dawn displayed a beautiful traditional white wedding dress.
Ethnicity & Special Family Members
While beauty is not bound to color, Dawn is a princess with her White ethnicity.
The ESPN host is also blessed with particular individuals in her life. Her companions are rescue dogs named Patton and Palmer.
Her pets are like family members to Dawn, and she cares for them dearly. She even sent them off to get trained at training school. The adorable pups boast quite a fan following among her Instagram followers.