Entertainment
Dawn O'Porter: Married With Actor in 2012, Welcomed Baby Boy in 2015
The life of television personalities can get amusingly fascinating. On television, we may see them playing many pathetic roles tackling with every taboo, but in real-life, they will be enjoying their stunning life with their loving partner and cute babies. wedding,pregnant,baby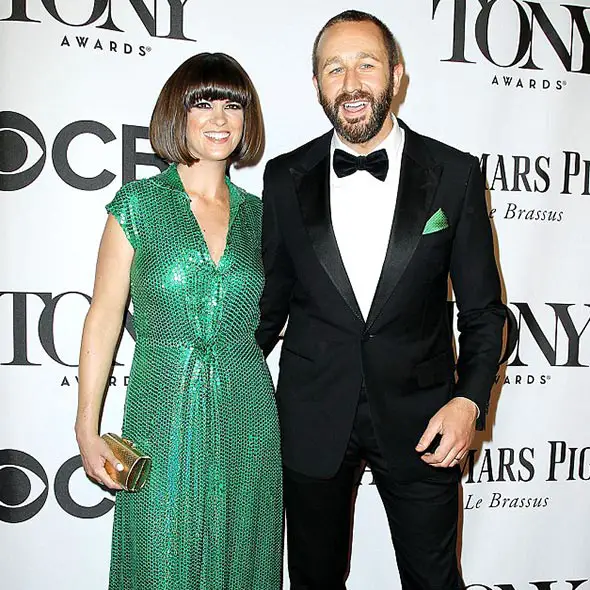 The life of television personalities can get amusingly fascinating. On television, we may see them playing many pathetic roles tackling every taboo, but in real life, they will be enjoying their remarkable life with their loving partner and cute babies.
Dawn O'Porter happens to one of those lucky individuals, who - in five years time span - managed to do it all -- from having a dream wedding to getting pregnant for the second time with her husband. 
Wedding - Three-Day Affair & More
Dawn O'Porter married Irish actor Chris O'Dowd at 33 Portland Place on 26 August 26. The location is one of London's most elegant venues and dates as far back as to 1775.
Unbeknownst to many, on the day of their wedding, the actress donned a dress which was previously worn by Princess Lillian of Belgium. Meanwhile, her husband opted for a more traditional navy blue suit.
See Also:- Melissa Magee Age, Bio, Egnaged, Wedding
The couple hadn't spoken about their wedding earlier. Later, it was known that they had celebrated their three-day long wedding a long time ago. Dawn posted her pictures of marriage only eight months after the occasion.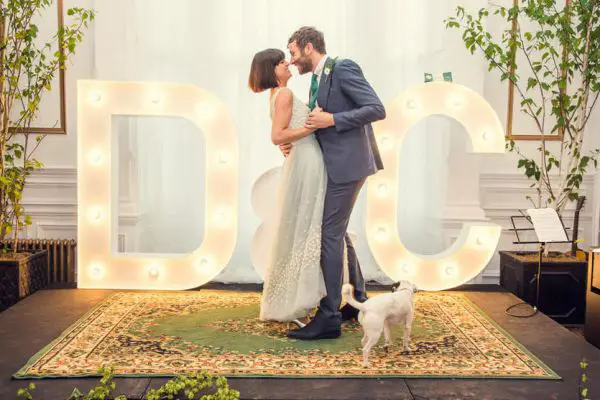 Dawn O'Porter dances with her husband, Chris O'Dowd on the day of their wedding (Source: hellomagazine.com)
Nonetheless, everybody knew about the marriage after husband Chris O'Dowd posted a picture on Twitter with the caption "Just married."
Even in the prior interview with hellomagazine.com in June 2012, she had hinted that the wedding would be silent and small. She said,
"I am thinking of it in terms of a party rather than a wedding really. We are trying to keep it as informal and fun as possible. I can't stand the formalities of weddings."
After the marriage, Dawn changed her surname from Porter to O'Porter. She had met Chris at her 30th birthday party in Los Angeles in 2009.
On their 6th wedding anniversary, taking to Instagram, she revealed that her husband, Chris popped the big question outside the old Guernsey Slaughterhouse. Isn't that romantic?
Welcomes First Baby in 2015
The couple was indeed enjoying their married life, but they became happier after Dawn gave birth to a baby. The couple had previously revealed in interviews about Dawn's pregnancy and also about the place where they wanted to get settled after the birth of the child. Chris said,
"We're having our baby in America definitely, but I don't know where we're going to be living in five years. It's nice that we travel all the time and we love living in LA. That's totally home. But London or Ireland is also another opportunity."
Chris Jr. witnessed the world in February 2015, three years after their marriage.
The couple hid the news of the baby's birth for nearly a week. But, later Chris couldn't resist the temptation and hilariously announced the news. He posted a photoshopped picture of the baby boy with the beards and mustache from Dawn's trademark Bob.
While the husband posted this funny picture, Dawn modestly confirmed the news and thanked all the followers for their first wishing. She wrote,
"Thanks all. He is one week old today. It's been a beautiful week. I think we'll definitely keep him;)"
Little did she knew that the family of three would turn into a crew of four in two years.
Pregnant With Second Child
In July 2017, the Brit actress and her husband Chris welcomed their second bundle of joy into their lives.
Appearing before the Loose Women panel a few weeks earlier, an evidently pregnant Dawn revealed that she and her partner were planning on having a home birth.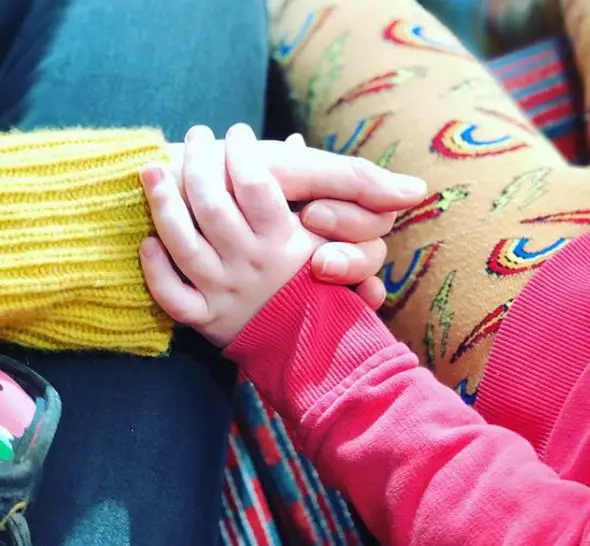 Dawn O'Porter shares an adorable snap of her holding her baby's tiny fingers (Photo:- Dawn O'Porter's Instagram)
Currently residing in Los Angeles with the rest of her family, she provides regular updates on her motherhood experience via social media.
Dawn's Short Bio
Born on January 23, 1979, Dawn belongs to British nationality. She studied acting at Liverpool Institute for Performing Arts. Dawn O'Porter is a television presenter and writer.
Interesting:- Hannah Jeter baby, Wedding, Pregnant, Parents
She has performed in the documentary series such as "Dawn," "Seriously dirty dancing" and "extreme wife." She is also the author of "Paper Airplanes," "GOOSE," "The Old Thing" and more is to come.