Entertainment
Dean Kamen Married and Has a Wife? Work is All He Talks About
It is only natural for people to commit to their work, but some people instead indulge in their work so much that they almost forget to enjoy their life.
Such is the case with the inventor of Segway PT, Dean Kamen, who has gathered utmost media attention for his dedication towards his invention while his love life remains muffled.
Since Dean Kamen has kept his personal life away from the controversies, it is indeed a matter of curiosity for the people to know about the private life of the great inventor.
So, are you eager to know if he is hiding his married life from the public? Or could he still be single? Well, then, keep reading!.
Dean Kamen is Completely Into His Work
The American engineer, inventor, and businessman, Dean Kamen, has a lot of achievements that have been tremendously highlighted in the media. However, the information about his private life including his love life has not been the headline of the news.
However, at the age of 67, it is hard to believe that, he has not had a dating life. Well, he once did. In the book Code Name Ginger by Steve Kemper, Steve has mentioned that Dean Kamen had a long-term girlfriend, who used to stay with him, but she was not meant to be his wife as their relationship did not end happily.
This book is the first-hand narration and further disclosed that Dean's love is his work: he thinks if he marries somebody, then his love would be divided, and thus he won't be able to concentrate on his projects. Talk about work-oriented!
Well, this might be the reason for his progressive career. But wait, we cannot assume him to be single as he might be either married or at least dating secretly, right? 
But we can claim, however, that he is in a relationship with his invention and that he is in so much love with the technology.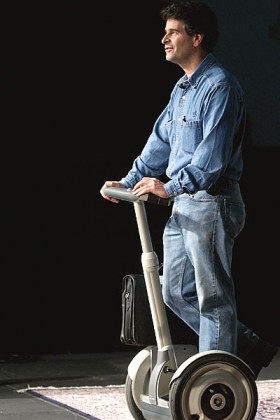 Caption: Dean Kemin on his most famous invention, 'Segway'.
Source: HuffingtonPost
According to the source, Kamen never married or had children of his own, but sees the budding scientists as his legacy, passing on to them the love of technology.
Dean Kamen is not particularly a family man, whether it's due to nature or nurture. Dean's dad, who spent his entire career as an illustrator for comic books, never had time to play with his son. Further, while recalling his childhood days, Dean accounted what his father said to him when he asked him why they couldn't play together.
"Dean, don't ever feel sorry for me; you're right, these fathers are done with work. But Dean, I don't have a job, my artwork is my hobby, not just a job. If you can find something you love to do, you'll be very lucky and that's what I want for you. Go find something you love and you'll have a happy, successful life."
Before his success, Dean used to live in a little tract house, but now he owns a hexagonal-shaped mansion on a New Hampshire island. Holding more than 440 patents, Kamen is the most prolific inventor popularly known for innovating Segway and his life-changing innovations in treatments aimed at illnesses ranging from diabetes to cancer, successfully decreasing the death rate.
To gain his engineering skills, he attended Worcester Polytechnic Institute, but he was more passionate about inventing than attending classes. So, rather than graduating, he dropped out in 1976 and founded his first company, AutoSyringe, to sell his medication device.
However, ten years into running the company, he sold it to Baxter International Corporation, which made him a multimillionaire. He now has a net worth of $500 million.
As for his innovations, he invented the first wearable infusion pump while he was still attending his college. The pump rapidly gained acceptance in medical specialties as chemotherapy, neonatology, and endocrinology.
Following the sale of AutoSyringe, he founded DEKA Research & Development Corporation to develop internally generated inventions and also provide research and development supports to major corporate clients.
In addition to DEKA, one of Kamen's proudest accomplishments is founding FIRST(For Inspiration and Recognition of Science and Technology) targeted for the students, back in the year 1989, with the motive to encourage the next generation to understand, use, and enjoy science and technology.
His inventions went on to impress the medical as well as technological world. Kamen was elected as the member of the National Academy of Engineering since 1997.
Following his achievements, he was respected with awards like the National Medal of Technology from the then-President Clinton in 2000. He was inducted into the National Inventors Hall of Fame in 2005. He also received the Global Humanitarian Action Award from the United Nations in 2006.