Entertainment
Denise Crosby Keeping Married Life With Husband At Bay! Meet Her Low-key Family
The era where the majority of women's roles were centralized on soft and emotional characters, there was a woman who paved them a way to action roles by holding the position of a head of the security on a starship. You might be wondering whom we are indicating to.
We're talking about Lieutenant Tasha, of course, from the widely acclaimed science fiction series, 'Star Trek: The Next Generation.' Actress Denise Crosby, who made Tasha Yar legendary, lives on and continues to appear in films and on television as heroines in all sorts of universes.
Though the character of Tasha offers everything there is to know about her on-screen; similar is not the story in case of Denise Crosby's real life. The actress prefers to maintain a low-key profile.
If you want to know more about the short-haired lieutenant who is now fully committed to her husband and son, then continue reading!
Denise Crosby And Her Low-Key Family!
As Lieutenant Natasha "Tasha" Yar on 'Star Trek: The Next Generation,' the actress Denise gave an impressive performance during her short appearance in the series. Though Denise's professional life is an open book for us, the actress is tight-lipped when it comes to her personal life. As a result, many of her fans are still wondering about her personal life that she has kept very confidential.
Well, Denise Crosby got married to Ken Sylk, best known for his small role in 1985 romantic drama film, 'Perfect,' back in the year 1995. The couple welcomed their first child soon after the marriage in 1998 and named him August William Sylk.
However, many of her fans may not be aware that the actress was previously married to the film director Geoffrey Edwards from 1983 to 1990. And like we can make out, their relationship did not last long and ended in a divorce. The reason behind the separation is not disclosed, and contrary to popular assumptions, the reason behind their divorce does not seem to be Edwards being gay.
Well, the actress does not particularly seem to enjoy to reveal any information about her family. And Denise's son, August, is not usually seen in the media, either.
However, the actress Denise Crosby was once accompanied by his son, August Willian Sylk, to the after-party of the Showtime's new series premiere of 'Ray Donovan' back in June 2013 in California.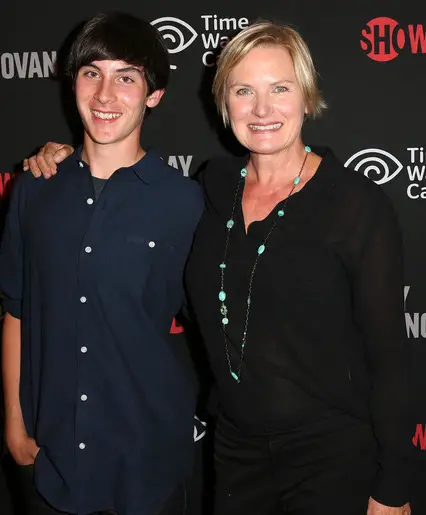 August, Denise Crosby attend the after-party of 'Ray Donovan' (Zim bio)
Likewise, Crosby took to Twitter back in 2016 to announce that her husband shares the birthday with the American actor and filmmaker, Alfredo James Pacino, famously known as Al Pacino.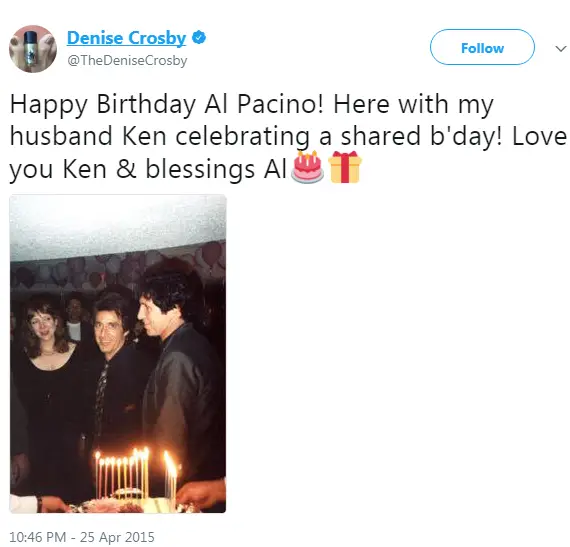 Denise Crosby wishes birthday to her husband and Al Pacino (Denise Crosby's Twitter)
Despite her low key family life, the actress has not missed a chance to wish her husband and her son a happy birthday on such occasions, on her social networking sites. And talking about Denise's only son, August; well, he is not a child anymore, and has grown up to become a man now. August is already 18!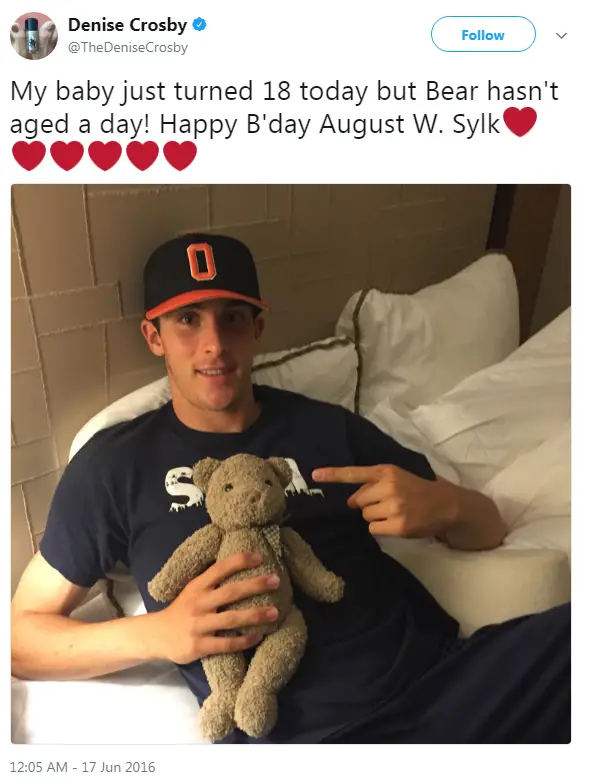 Denise Crosby wishes her son, August, birthday (Denise Crosby's Twitter)
How fast the time flies!
It must feel like not very long ago to Denise, too, that she was growing up with her siblings: two half-brothers, James Anthony Crosby and Dennis Michael Crosby.
Being born as the granddaughter of the actor and singer, Bing Crosby, and the daughter of the singer Dennis, Denise's nurture always inclined to the entertainment industry, but, oddly, she wanted to be a journalist. But it appears that her genetic profession drove her to the acting field.
Besides her remarkable screen credits, Denise Crosby, who has an impressive net worth of $6 million, has also filmed an independent movie with her husband, Ken Sylk, called 'Ripple Effect,' back in the year 2007 and a horror thriller 'Born.'