Entertainment
Derek Kaplan, 43, Relishes Twin Bliss! Married Life With Daddy AKA Husband
British-Zimbabwean painter, Derek Kaplan, who has amassed over ninety thousand followers on Instagram is leading a blissful married life with his husband. Likewise, Derek who turned forty-three this year is also delighted having twin children through a surrogate.
So today, we will shed some light on Derek's raptured love life with his partner. Have a look below!
Derek Kaplan's Byronic Married Life
Starting a family together has been a long journey for the Derek and his partner, Fredrik Eklund, the Million Dollar Listing star.
However, now, they are here, enjoying one of the best moment of their life with their twin children. Fredrick who is now the parent of twins took the big news to his Instagram on November 2017 and posted a snap of their new son and daughter by captioning it as the happiest moment of his life. In the post, Derek, and Fredrick, who stands at the height of 1.95 m (6ft 4 inch), were seen holding their infants sharing a kiss together.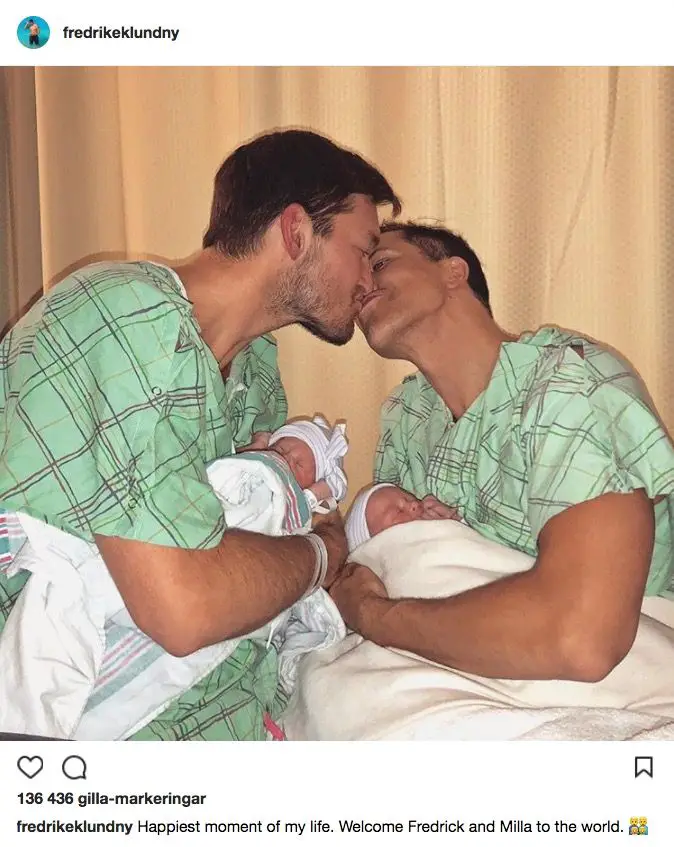 Derek, Fredrik share happy news, welcoming twins. (dailymail.com) 
Derek first shared the big news about the arrival of their children on the season finale of Million Dollar Listing New York.
The couple previously also had taken the help of a surrogate, but unfortunately, they had to suffer a miscarriage in 2015. Similarly, the duo again sought another surrogate; however, the luck didn't favor Derek and Fredrik for the second time too. 
After they lost their children, Fredrik shared the saddening news on Instagram with their fans and followers by saying:
Our family is no different from yours... we just want to build our own unit of love in our own home.... I've felt like a failure and that I'll never get to where I want to go: for me and Derek to finally become parents.
Prior to having kids with Fredrik, husband Derek who enjoys a net worth of one million dollars, already had one child, a son named Kai. According to a source, Derek had a son before he met Fredrik; donating his sperm to a lesbian couple, he met in London.
As for now, the duo is enjoying their companion as well as parenthood. Likewise, on 19 February 2018, Fredrik took to his Instagram on the occasion of Derek's born day and wished him with a caption that read, 'Happy birthday daddy.'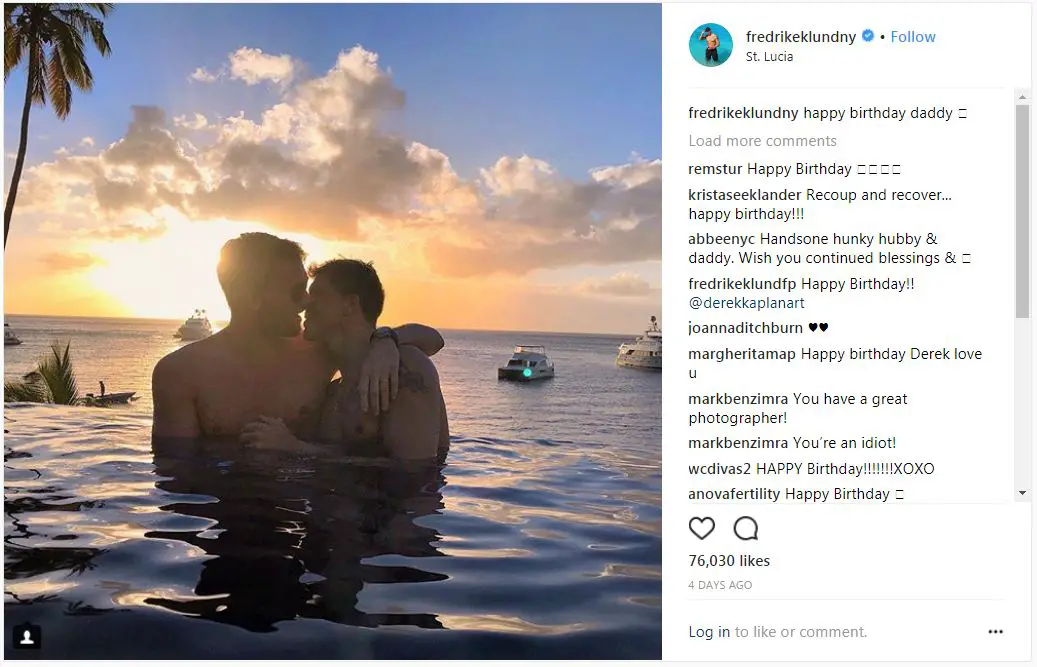 Derek, Fredrik embracing quality time together (Fredrik's Instagram) 
The couple, Derek and Fredrik got married on 9 February 2013 in Little Palm Island in Florida Key after dating for a couple of years since they crossed paths in an island on Greece in 2010.
Ever since they first met, the couple has always stood by one another's side despite all the ups and downs.