A man learns a lot from his own experience, and his past profoundly shapes his future decisions. And it turns out; the statement resonates with the life of famous YouTuber, Derrick Jaxn.
Well, he once stood in a very abandoned position in his past relationship. But, he managed to take a valuable lesson out of it and began sharing his relationship experiences on his self-titled YouTube channel. His story resonated with the audience, and thousands of viewers started watching his videos for love advice.
No wonder he has gained over 600K YouTube subscribers as of September 2019.
Refused By Girlfriend
On 25th July 2019, Derrick shared a viral video of a man getting rejected by his girlfriend after proposing marriage publicly. It was an embarrassing sight for the viewers of the clip, and many couldn't help but feel sorry for the guy in the video.
Explore:- Issa Rae Reveals Her Awkward MomentsAlso Opens Up About The Struggles In Her Career
Interestingly though, the YouTuber made a surprising reveal through the video. Alongside a caption in the clip, he shared about how he almost came close to the same situation if he hadn't taken some precaution first. He wrote,
Yeeears ago, I almost ended up in this exact same situation with my then-girlfriend, but thank God I asked her first in private if she would be willing to marry me and she very politely told my a** NOPE! I took that ring right off layaway and saved myself the humiliation this brother had to endure.
Yes, he had suffered his share of heartbreak in the past. Thus, the reveal displayed his vulnerable history and unrequited love affairs. It also proved that he had good instincts in taking several precautions in a relationship from the start.
Wife & Children Info
At the age of 30, Derrick remains a married man. He got engaged his longtime girlfriend named, Da'naia Broadus on November 2016. Further, he tied the knot on 13th January 2018 in Georgia. Although his wife is mostly busy taking care of the family and kids, she also helps him out with his YouTube business.
Taking more about his wife, she went through a drastic weight loss in 2017 while also going through postpartum depression. She lost about 34 kilograms before the wedding and managed to fight through the depression, taking healthy measures. Amidst the struggles, Derrick was always by her side supporting her.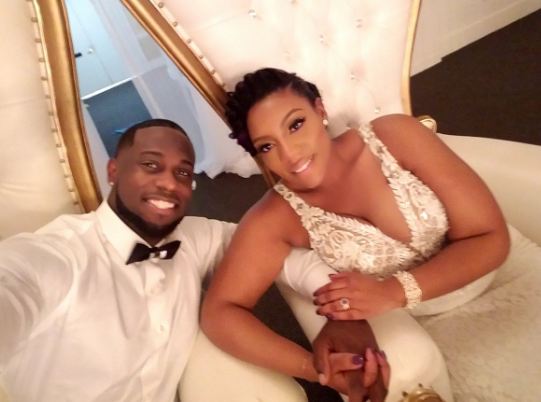 Derrick Jaxn with wife Da'naia Broadus during their wedding on 13th January 2018 (Photo: Derrick Jaxn's Twitter)
The pair were dating for quite a long time as before the marriage. He was already a father to the couple's daughter, Marey Jackson ( born on October 2016) at the time of the wedding.
Interestingly, he shared his desire to have a baby boy in one of his Q&A videos in 2018. So, maybe his fans can expect another Jackson Junior on the way.