Entertainment
Played A Gay Character; Is Gay In Real Life?; Inside Shawn Pyform's Life
Best known for his gay character "Andrew Van de Kamp" on ABC's Desperate Housewives, this man is known online as an alleged gay. However, Shawn Pyfrom who has always been proclaimed as gay has actually come out straight.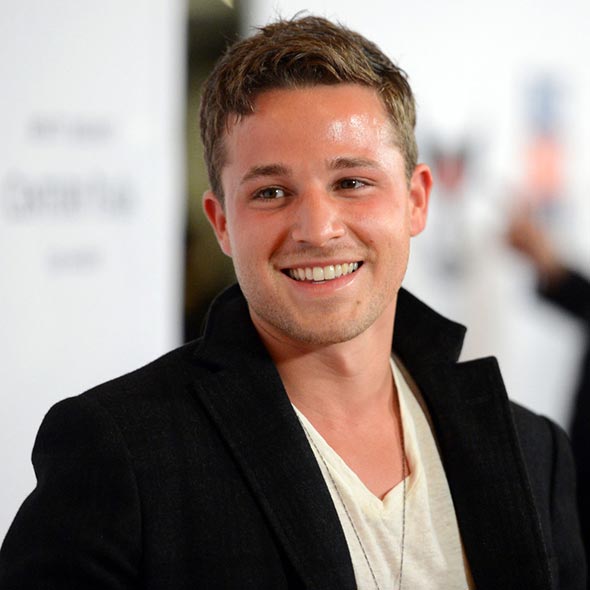 Desperate Housewives Star Shawn Caminiti Pyfrom, after playing a gay character in the show, has had speculations towards his sexuality for a long time. However, having to deal with addiction problems, he has been open about his struggles. 
Having his struggles and professional career transparent to the world, he hasn't shown the same energy to his dating life.
Who Is The Lucky One? Is Pyfrom Gay?
Despite having lots of opinions regarding his sexuality, the actor, age 34, is not gay. However, the character played by Pyfrom had an intimate moment with another boy, which led fans to be sure that the character was gay, resulting in questions surrounding his sexuality in his real life. 
However, the actor cleared all the rumors about himself and his character when he said that the character is not gay.
Although later on, he did hint that this character Andrew was bisexual. Upon being asked about his character's sexuality again, he said-
I really don't even know at this point. I mean, he did make that statement [that's he's bisexual]. I think he's a little more gay than he is straight, though.
While this was still not enough for fans to believe that his character was not gay, the scenes shared and his relationship with men in the show do kill the merit to his statement. 
His hesitation led fans to doubt his sexuality but looking into his past dating life, he never had a boyfriend. So we cannot be certain about his sexuality, but he might be straight looking back at his past dating life. 
The American actor had his dating life public a few years ago. His first relationship was with Elyanna Reyes, which lasted for two years, and another with Lauren Conard that lasted for less than a year. His relationship with Andi Elloway was also in talks after the latter posted Instagram posts with the actor.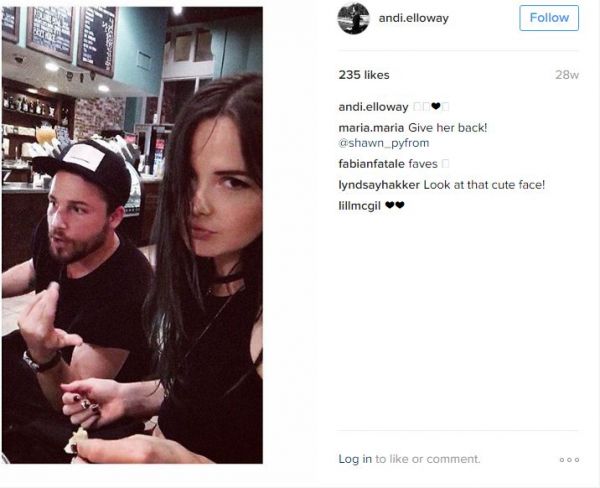 Shawn Pyfrom with his then-girlfriend (Via Andi Elloway Instagram)
Even though it is hard to believe that this charming gentleman hasn't been enjoying dating life as no linkups have been heard for a little over a decade. The 47-year-old seems to be single as he has been very lowkey about his dating life all these years.
Dark Times Of His Life
Behind all the smiles the 34-year-old shares on his pictures, his past has been filled with struggles. After Hollywood was stricken with the heartbreaking news of the death of Philip Seymour Hoffman due to an overdose, the actor came forward to discuss his struggles with the substance. 
He revealed that he struggled with his addiction and that he "Lived for drugs." On a heartfelt blog shared by him, he shared how hard it was for him to write the blog, and he had to rethink about publishing it. 
He states that sharing this would allow more people to come to terms with his addiction and give more people the strength to deal with it. The 34-year-old goes deep into his struggles and writes,
"I am an addict. And I've never been more proud, saying it. Because when I think about where I've been, and where I am now… I am proud of the man who has addressed and admitted to himself, what was once a clouded denial."
The actor also revealed that he had been sober for five months now, and he celebrated his sobriety. 
"I'm relatively new to being sober, considering the scope of time that I've been an addict,"
While it might have been hard for the actor to come out with the news, we give more praise to Pyform. We are sure his act went on to motivate many and still does to this day. 
Shawn's Short Bio:
Shawn Caminiti Pyfrom ( born August 16, 1986) is an American actor best known for his role as Andrew Van de Kamp on ABC's Desperate Housewives.  Pyfrom, born in Florida, is of English, Dutch, Italian, Welsh, Hungarian, French and Irish descent.
Shawn was seen in The Darkroom in 2007 and The Shaggy Dog in 2009. He was also seen in the movie Killing Lincoln in 2013. On the other hand, Andi Elloway is a photographer.