Entertainment
Diana Vickers Dating After Multiple Affairs! Meet Her "Too Cute" Boyfriend
The English singer, Diana Vickers came to limelight, after she finished as the semi-finalist on the show, X-Factor in 2008. Not only her professional career, but she is also known for her dating life, as she has dated multiple partners.
However, after multiple affairs, she has a new boyfriend on the horizon, which we will be covering today on our article.
Diana Vickers' Multiple Dating Affairs
The former X Factor contestant, Diana Vickers started dating her then-boyfriend, Chris Jones after they first met while Diana was working as a waitress. The couple followed the eight months of dating period while Diana was participating in the show, X Factor. But, while the two were dating, Diana was rumored getting close with another X Factor contest, Eoghan Quigg.
Eventually, the pair ended their dating affairs as Diana dumped her then-boyfriend, Chris Jones over the phone. Talking to Star magazine in December 2008, after the split, her ex-boyfriend, Chris explained saying,
"We had been talking about our relationship loads but every time we'd ended up arguing. Then last week she called and told me she wants to split. She said she just wants to do her own thing for the next couple of weeks. I'm gutted because I do love her. But every time I called her she was like: 'What? I'm busy!' I'd say: 'I haven't spoken to you.' But she'd snap back: 'Well I can't talk now'. It was as though I always caught her at the wrong time."
The daughter of the parents; Edwin Vickers (father) and Ann Vickers (mother), Diana, talked to Heat Magazine in December 2008, where she gave her reason behind the split saying,
"It's so much to think about – I'm just 17 and I need to think about my career and put my all into it without thinking about someone else and having a relationship."
Since her split with Chris, she started dating another Eoghan Quigg. The duo was even spotted going on a movie date together on December 2008.
However, her dating affairs did not last long with Eoghan too, as she started dating the rock band singer, George Craig in 2011. Revealing about their first meeting, Diana expressed in an interview with August edition of DRAFTED magazine, saying,
"I fell in love over these past two years when I was writing the album, so that had a big impact on the creative process. I wrote half the album before I met my boyfriend, but falling in love has definitely had an effect on the overall record."
She explained more about her feeling when she was in love with One Night Only singer, Craig by saying,
"It makes you feel happy and that affects your work – whatever you do in life. When you fall in love, you feel alive and everything is magical. You can always tell when someone's in love because it radiates from them."
Later, in July 2013, Daina celebrated her 22nd birthday together with her then-boyfriend, Craig by going on a date night with him in London's Covent Garden.
Following four years of dating, Diana ended the dating affairs with George too in 2015. After the split with George, she was also spotted in a beach in Santa Monica, Los Angeles enjoying her vacation days.
In the same year that she split with George, Daina was reportedly dating Olly Murs terming their relationship as "casual dating." According to The Sun, a source reported about Diana and Olly's dating affairs in October 2015 saying,
"They've always had a soft spot for each other. Now since they are both single they have been in touch. They're just fooling around at the moment and having a laugh with each other. Neither wants anything serious as they have both come out of long-term relationships."
However, later in an interview at the Music Industry Trust Awards in November 2015, Olly's then-reported boyfriend denied the dating rumors stating,
"It's so ridiculous. It's a load of rubbish!"
He further added,
"Me and Diana are friends, we've known each other a long time. We laughed about it. What? We're casually dating? No, we're not. We find it funny."
Diana's reported boyfriend, Olly was rumored to be dating Diana after splitting with his long-term girlfriend, Francesca Thomas.
Diana Vickers' New Boyfriend
After her multiple dating affairs, Diana, who enjoys the net worth of $8 million, started dating the former Mr. Universe runner-up, Jack Waldouck in 2015. Revealing how they first met, Diana talked to Star Chic magazine in November 2016, where she stated,
"Obviously I knew him from the band The Wanted. but we met properly for the first time working on Big. We just kind of hit it off right away, we get on, he's lovely, he makes it very easy and I think we've got good chemistry on stage."
She further explained the duo had been dating for a year in 2016 by saying,
"He's a model and actor. We're together a year, he's just one of the most incredible humans I've ever met, he's wonderful. We met at a Dragon's Den dinner party in the middle of Chelsea and none of us really knew why we were there, we were dragged along by our friends. He's just the most incredible person."
Besides the Lancashire, Daina has also made her dating life with Jack evident on her social media. Sharing an Instagram image on 22 July 2017, the model captioned quoting Jack as the cute boyfriend.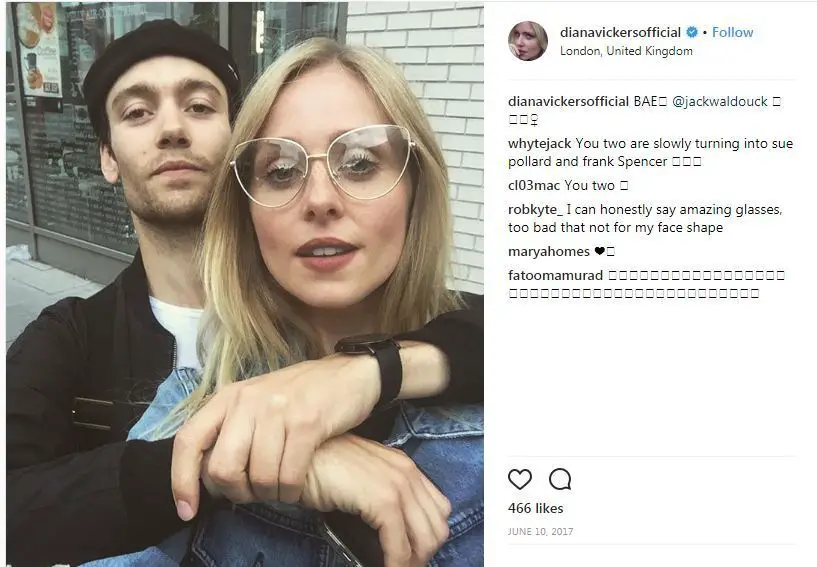 (Photo: Diana Vickers' Instagram)
Not only that; Diana also celebrated her 26th birthday together with her boyfriend, which she shared via an Instagram image on 31 July 2017. The duo is currently running on three years of dating period.