Entertainment
Book Club's Diane Keaton 'Never Married' Story, Dream Husband & Adopted Children Talks!
Oscar-winning actress Diane Keaton has many well-known movies like Godfather, The First Wives Club, Father of the Bride etc under her resume. 
Like that of her movie career, her dating history also makes a long high-profile list. She has been in numerous dating affairs, which all turned into major headlines in their prime time. 
But, the million dollar question strikes whether the actress has been able to turn any of her dating affairs into married life. 
Why don't you find the answer yourself by digging in!
High Profile Dating Affairs; Ultimatum To Al Pacino
Diane had a couple of high-profile relationships, her list of ex-boyfriends alone includes famous Hollywood actors like Woody Allen, Warren Beatty, Al Pacino and Jack Nicholson.
She dated Woody Allen in 1972 while working on the Broadway show Play It Again. Although the two separated after dating for a while, they still remain as close friends, till this day and co-stars for some movies, post their separation.  
Next, Diane started dating actor Warren Beatty in 1979, but the pair split after a short while hiding the breakup reason. She then got involved in much high-profile dating, after she started dating her Godfather co-star Al Pacino.
While talking to PEOPLE in June 2017, Diane mentioned that she talked about her craze for the actor and even her thoughts about getting married to the actor.
 "I was mad for him. Charming, hilarious, a nonstop talker.  There was an aspect of him that was like a lost orphan, like this kind of crazy idiot savant. And oh, gorgeous!"
She stated Al was not ready for the commitment at the time so she gave him an ultimatum to her former love interest and eventually broke up with him after finishing Godfather 3. She stated about her ultimatum, 
 "I worked hard on that one. I went about it in not a perfect way."
Moreover, the actress also romanced with the Chinatown actor, Jack Nicholson, for a short period.
Never Married; Channing Tatum As Ideal Husband
Diane may have a colorful bunch of dating histories but the 72-year-old never turned any of them into married life. And she has a strong reason behind it.
Talking to Ellen in the Ellen DeGeneres Show, Diane opened up her reason for never getting a husband. Diane revealed that she had the desire for getting married, but it so happened that none of her former boyfriends proposed her for marriage. She said, 
"I'd like to get married; what happened was nobody ever asked me" 
In the show, she also mentioned her Channing Tatum as her ideal husband, however, Ellen remarked that the 21 Jump Street actor was a married man. Further, she revealed in a 2012 interview with DailyMail that although the actress provided all she could to her children, she liked the idea of having a male lead the family.
"As a parent I provide all I can, but I think in the best possible scenario you need to have a man."
However, the actress is yet to have a husband in her family. 
Prosperous Family With Children
Diane may not be married but she has her own family, where she is the mother of two adopted children.
She adopted her daughter, Dexter Keaton, at the age of 50 in 1996. Later, the Los Angeles-born adopted her son, Duke Keaton, in 2001. The same year, she had given up her dating life and would focus her time and energy raising her kids. 
In 2015, she talked about her after the adoption of her children,
"[It] changed my life and made it so much more meaningful. It's given me a purpose other than myself, which is really nice."
Diane, who is close to her kids, likes to take them to different events. Most recently, she along with her kids attended the Los Angeles premiere of Diane's latest movie Book Club on 6 May 2018.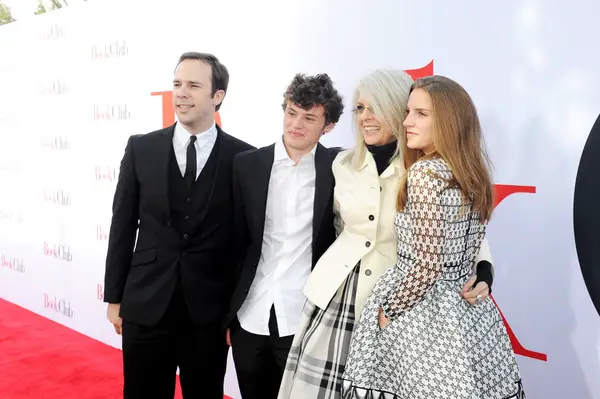 Diane attends the premiere of Book Club with Dexter (left) and Duke Keaton (third from left) (Photo: Zimbio.com)
Diane is currently raising her kids and has been cherishing her family time.
Connection To Gay and Lesbian
Although Diane has never explored her sexuality and has remained loyal to the opposite sex, she has been connected to gay and lesbian on one or two events. 
On 12 June 2017, comedian Michelle Collins posted a picture on Instagram in which she showed the resemblance between Diane's trademark look and the Australian psychological-horror movie The Babadook's character of the same name.
Michelle shows the resemblance between Diane and the Babadook (Photo: Michelle Collins' Instagram)
The comedian further pointed out that Diane was aware of the fact that the movie may have stolen her looks.
Previously, Diane had also mistaken Lena Dunham for a lesbian, despite the fact that she was in a committed relationship with Jack Antonoff. When the two first met at a Jennifer Aniston's Christmas party, Diane even went out of her way to ask the young actress if she even considers dating a man. Although Lena is not a lesbian, she is a supporter of LGBT rights.