Entertainment
Diane Neal Done With Being Married And Having A Husband? Taking A Break From Dating And Career As Well?
Do you know the gorgeous lady Diane Neal, who portrayed the character of Casey Novak in Law & Order: Special Victims Unit and Law & Order: Trial by Jury? She is beautiful, right?
No doubt Diane has captivated many hearts from the portrayal of Casey Novak. So there must be many people wondering about her life beyond the screen. Are you the one interested to know about her married life as well? Well, if you are, you've hit the right place.
Diane Neal's Married life
Forty-years-old Diane Neal was married to an engineer and former model Marcus Fitzgerald on July 9, 2005.
Diane and Marcus tied the knot at Hideaway, a very romantic venue on the beach in the Dominican Republic. They exchanged their vows in front of their close friends and family.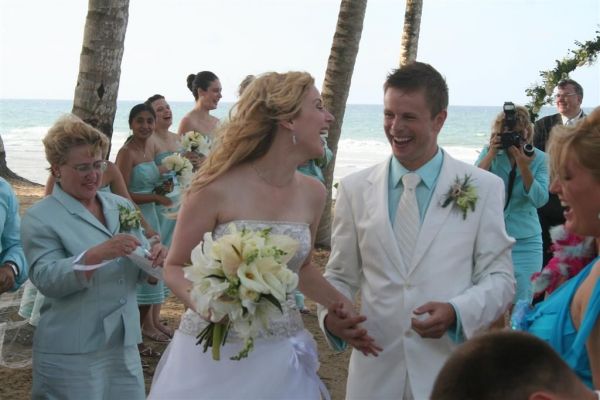 Caption: Diane Neal and Marcus Fitzgerald married on July 9, 2005, at Hideaway.
Photo Credit: Sunny Villa Holidays
The bride, who looked gorgeous in Lazaro dress, met the groom through the mutual friends. According to a source, prior getting married, Diane and Marcus were dating for almost seven years.
Life is long, so we need a companion who could be with us for our good and times. But as time passes, we might realize that our partner can't be perfect for us in the days to come.
It seems that Diane realized something like this, as she is now separated with her boyfriend-turned-husband. Diane had a divorce with Marcus in the year 2014.
A break from love and career?
Who wouldn't love to date Diane Neal who looks stunning with the height of five feet ten inches and body measurements of 36-26-35 inches?
Since Diane split with her husband a long time ago, there are no any sparks of her new romance. But is she dating secretly?
If not, she might be taking a break from love. Is she enjoying living her life alone? Well, the answers to these questions remain a mystery.
Similar to the dating, Diane has been less active in her profession as well. There are no any recent acting credits of Diane. However, most recently, she has appeared in live comedy standup- Don't Tell My Mother.
Caption: Diane Neal's live comedy standup- Don't Tell My Mother.
Since 2015, she has neither appeared in television series nor films. Like Law & Order, Daine is also popular for appearing in NCIS from 2010-2014, Suits from 2012-2014, NCIS: New Orleans (2015), The Following (2015), and Blue Bloods (2015).
Though Diane hasn't attained that height of success, she still has a significant number of fans and followers. Likewise, Diane has been enjoying the net worth of $10 million.
Stay with us for the emerging updates on Diane Neal!