American actor-comedian, Diedrich Bader is mostly famed for his role on "The Drew Carey Show" as the protagonist's dim-witted friend, Oswald Harvey. He had made his first significant role as The Searcher in the 1993 series, Danger Theatre.
In terms of romance, Diedrich is among the few lucky ones who found a soul mate and things are more than perfect for them. Let's dig deep into the personal and professional life of Diedrich Bader!
Diedrich Bader's Bio
Born on 24 December 1966, Diedrich's birthday lies on the merry of Christmas Eve. Although born in America, Diedrich - age 52 - is of German and Irish descent.
At the age of two, he moved from Alexandria, Virginia to France with his family. Later, Bader returned to the states to attend college and complete his education. Sadly, he failed to graduate from the University of North Carolina School of the Arts.
Diedrich lost both his parents in a short interval of time. His mother Gretta Bader, who was a sculptor, passed away in 2014. Two years later in 2016, he parted ways with his father, William B. Bader. For siblings, Diedrich has two brothers namely Christopher and John Bader.
Diedrich is 6 feet 2 inches in height (1.88 m).
Actress Wife, Wedding
Diedrich Bader is married to actress Dulcy Rogers. Dulcy is known for work in Father of the Bride Part II, and Certain Guys.
The couple exchanged their wedding oaths in the presence of their loved ones more than two decades ago on 25 May 1997.
Hollywood has a lot of couples splitting up and getting remarried and splitting up again. But, Diedrich and Dulcy are not the people on the list.
Recently Married: Michelle Branch And Patrick Carney Tied The Knot
It is clear that the love between the couple has not toned down a bit. On their 21st anniversary in 2018, Diedrich posted a photo of their first dance as bride and groom.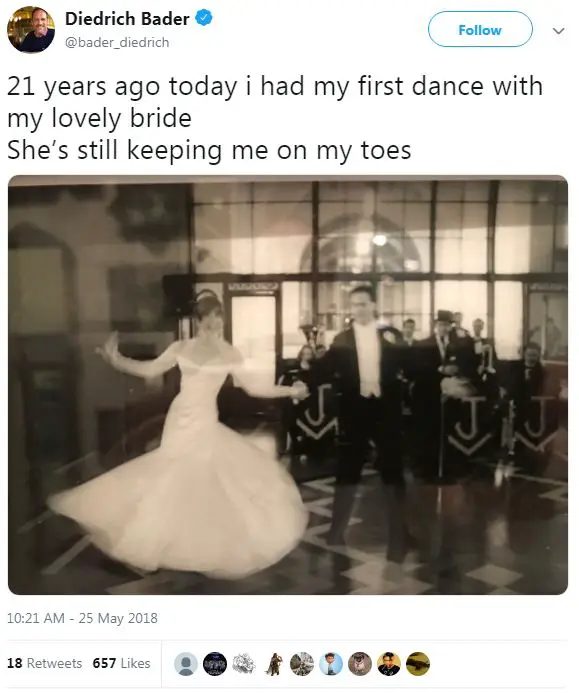 Diedrich Bader And his wife, Dulcy Rogers Dancing On Their Wedding (Photo: Diedrich's Twitter)
Diedrich and his wife are blessed with two children, a daughter named Ondine Caolila Bader Bader - who was born in 2005 - and son Sebastian Bader, born in 2003.
Diedrich Bader's Professional
Diedrich is known for appearing in movies such as Office Space, EuroTrip, Napoleon Dynamite, and The Beverly Hillbillies.
Diedrich's first significant role came in 1993 playing "The Searcher" on Danger Theatre. Diedrich has worked as a voice actor in many animated shows like The Simpsons and The Penguins of Madagascar and the film, Ice Age. However, one series that has stuck with him seems to be the famous caped crusader, Batman. Diedrich has done voice work for many Batman cartoons including Batman Beyond, The Batman, and Batman: The Brave and the Bold.
Another Successful Comedian And Actor: LeJuan James Wiki BIo
Being in the industry for such a long time, and working on so many projects, Diedrich has created a name in the fame list. Along with celeb status, he holds a net worth totaling $6 million as of 2019.