Entertainment
Dirk Benedict Battled Cancer With a Diet And Is Still Healthy Today! How Did He Do it?
Dirk Benedict Battled Cancer With a Diet And Is Still Healthy Today! How Did He Do it? "The A-Team" actor Dirk Benedict is someone who you know as a successful person in his career as an actor and author. But he is also someone who has vanquished fatal disease like cancer and is still living healthy today. So let us address the stars battle with the fatal disease and also address how he raised his children while battling cancer in a wiki-like bio of him.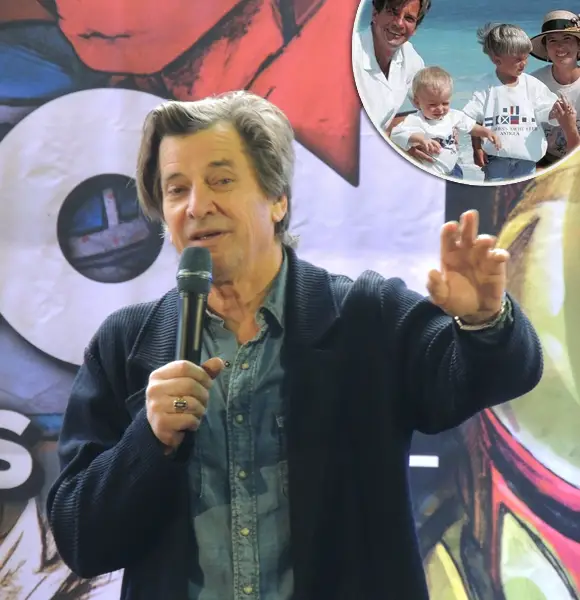 "The A-Team" actor, Dirk Benedict is someone who you know for being famed in his career as an actor and author. But he is also someone, who has vanquished fatal disease like cancer and is still living a healthy life today. 
Today, let us address the stars' battle with the lethal disease, and how he has been living a salubrious life with his sons.
Battling Cancer & How He Conquered It: His Weapons and His Diets
Dirk Benedict was diagnosed with cancer in the prostate, but he refused to accept the usual treatment and rather moved away to a secluded cottage. Dirk managed to cure himself of cancer, conquering it by following the rules of his macrobiotic diet.
Actress Gloria Swanson and her husband- William Dufty introduced Dirk to Boston-based macrobiotics expert, Michio Kushi. Dirk admitted that Kushi's teaching helped him survive.
In Dirk's own words,
Then I went to see Michio Kushi in Boston. I had met him three years before through Miss Swanson. He confirmed that I had a prostate tumor and said it was very important for me "to have good behavior" for the next four months by sticking with the diet.
He added,
No cheating. I was not scared because I had been studying macrobiotics, and I believed completely in the principles behind it. Actually, I was excited by the adventure of it. Growing up in Montana, I learned: If the tractor breaks down, fix it. So I always have had that in my nature. It was dangerous, but I wanted to figure it out on my own.
Moreover, he opened up about how he gave up on the things he used to eat and maintain a stable diet.
My body was starving to death. I was not eating anything my body was used to. Because of the cancer fear, I was not cheating. Before that, I would have a little cheese, a little fish, bread, salad, but now all that was gone. I was eating only grains, so my body was living off my fat, and then my body was eating my muscles. It was taking the protein out of my muscles; in effect, I was consuming myself. I used to dream about hamburgers and steaks pleading with me to eat them, like a Walt Disney nightmare.
Dirk also opened up about how he did not let his family know about his health issues, and expressed,
At one point, I was driving from L.A. to the East Coast, and I swung up to Montana to see my family. I probably shouldn't have done that. I had never told them of my condition. It doesn't matter now, but I couldn't say it then. When my mother, who works in a hospital, saw how thin I was, she pleaded with me to see a doctor. I left her and my sister sobbing in the backyard and went down the road to New York.
But then, he grew healthier and gained weight. 
I began to feel I was getting better when the weight started coming back after about a year on the diet. I weighed 135 until the end of 1975, and then I went up to 148 halfway through 1976. I even stuck to the diet while I was doing Battlestar Galactica in 1978, but I was actually a little pudgy by then. It was at that point that I felt I was beginning to recover. About two months ago, I got my passing grade from Dr. Block after extensive blood tests. I don't have the tumor anymore.
He did end up conquering cancer just by maintaining his diets.
 About 60 percent of my diet is grain, about 25 percent beans and another 15 percent side dishes like nuts, seeds, fruit and fish. 
That is something which people fail to do, but Dirk has done it and is now living healthy and happy.
Speaking of him curing himself of the prostate cancer, he said,
 Do I think cancer is curable? I'm alive, ain't I? The cost of my cure was less than what most people spend on diet soft drinks in one year … it is economically available to all America. It would put modern medical megacorporations out of business. Was my cancer back? No. Could I now finally call myself cured? No. Is there such a thing as being cured? No, no, no. Could my prostatic cancer tumour return? Yes.
He is still alive in 2017, and he is happy!
His Sons & His Married Life With His Former Wife, Which Ended In A Divorce: 
Dirk Benedict has three sons, George and Roland, both with his former wife Toni Hudson, who he was married to from 1986 till 1995, while the other son is from his earlier relationship that he had.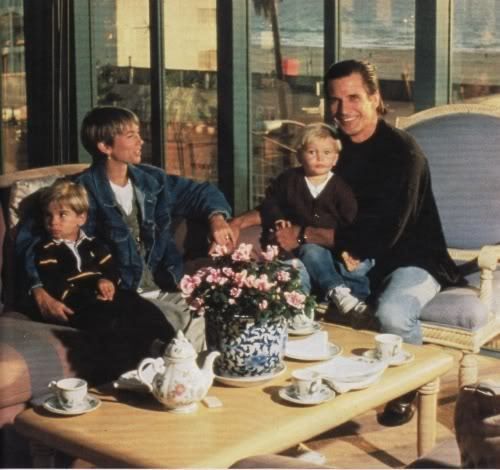 Caption: Dirk Benedict and his family.
Photo Credit: Pinterest.com
However, there exists no significant revelation about the reason behind Dirk and Toni's divorce.
Furthermore, in 1998, Benedict shockingly learned that he also has another son named John Talbert, who was born in 1968 from an earlier relationship. John was given up for adoption.
However, later with the help of his adoptive parents; John Talbert discovered and contacted his biological parents.
The actor, who is 72 in age, has been a part of several hit movies and TV shows during his time like- "Charlie's Angels," "The A-Team," "Battlestar Galactica" and plenty more. 
He is a successful man in regards to his lucrative career and also possesses strong financial status, as his net worth of $1.5 million shows.
Stay with us for the emerging updates on Dirk Benedict!