Entertainment
Divorced in 2007, Sheree Whitfield, is Dating: Ex-Husband as a Boyfriend
Is it alright for a couple to stay in touch even after separation and divorce? We know that a little part of heart will always be longing to get back to whom we once loved and something similar seems to happen with Sheree Whitfield and her… well, let's know who.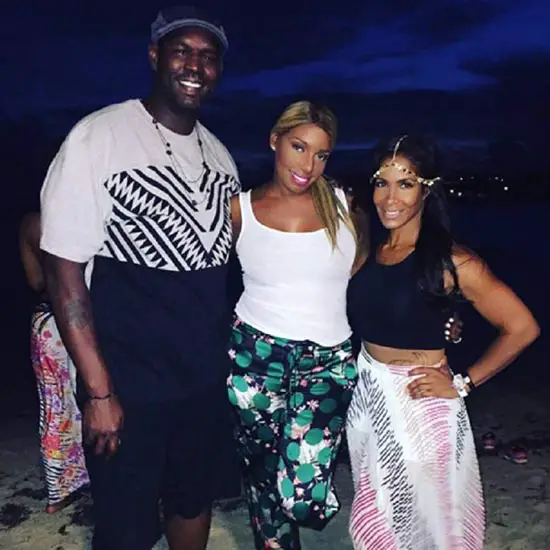 Caption: Sheree Whitfield(Right) and Bob Whitfield(Left) in a trip to Jamaica with the Cast of 'RHOA' in 2016.
Source: Heavy.com
It looks like the couple that got divorced in 2007 are closing back up. Her ex-husband who is a former NFL player, Bob Whitfield escorted Sheree on the gateway during the Real Housewives of Atlanta trip to Jamaica this season and to our surprise, according to Radar Online, they are not planning on getting married. Bob told Radar:
"Here's the thing, the previous relationship was so damaged. Two adults, we wouldn't dare to venture into a relationship, but we are exploring each other's company, I will say."
However, it all started with a birthday party of one of their kids in 2015. He further added:
"It started because of the birthday party, he said. It was kind of a festive occasion and it was a bowling alley party. So now drinks are involved, jokes are involved, different type of mood. So then it's like. Let's try breakfast…' take it easy and just go little bit by little."
Bob even indirectly confessed that he stopped dating another woman since he got along with Sheree.
"I've been kind of low key, he confessed. It's almost like that's why it feels like an experiment to even me. I'm not saying I'm going to marry the girl next week. But I said, why couldn't I build something of substance?"
Divorce with Husband:
The separation of the couple was quite a scandal as it did not end at once. Although the couple got divorced in October 2007, and Sheree received $775,000 lump sum, more than $1.1 million dollars of marital property, a portion of Bob's retirement plans and $2,142/month for child support and she did get a chance to enjoy any alimony.
Later, she did appeal to the Georgia Supreme Court that she was falsely denied from the alimony and required it because she lacked the education and skill set to make good money on her own. But this was defended by Bob's attorney claiming that $113,422 is already enough for her and she should be fined $2,500 by the court for wasting everybody's time.
In 2013, Sheree received a hefty sum of $75,000 from Bob after he missed 38 consecutive payments of $2,142 for child support. It was reported that after Bob signed a $30 million dollars for six years with Atlanta Falcons in 2000.
Bob filed a Chapter 13 bankruptcy in 2011, claiming that his assets were total worth $1.07 million and he had over $600,000 in liabilities.
Lawsuit against insurance company for house:
Just months after being sued by a contractor for $23,000 for the work they did, Sheree emerged in another legal situation. She filed a lawsuit on January 16, 2016, against an insurance company for $279,940.56 claiming that the insurance company did not pay enough money to fix the water leak. She said the leak caused some significant damage to her home in 2014 while the house was under construction.
Whitfield's ex-Husband and Kids:
Sheree Whitfield and Bob Whitfield were married on June 10, 2000, on Grand Cayman Island. The couple met in 1994 at Rupert's which was a Buckhead Club. The couple separated after three years on March 9, 2005, after a divorce filed by Sheree claiming that Bob was unfaithful and used to abuse her mentally.
The couples have three children, two of which belong to Bob as the eldest daughter Tierra Fuller was born while Sheree was just 15 years old. The two other children are daughter Kaleigh Whitfield and son Kairo Whitfield.
Caption: Daughter Kaleigh Whitfield (left) Sheree Whitfield (middle) and daughter Tierra Fuller (right) on August 23, 2015.
Caption: Son Kairo Whitfield on July 2, 2016.
Recently, their son Kario was arrested and pressed charges for DUI and reckless driving on May 14, 2016, and that news was published in Caroll County Newspaper.
Looks like Sheree is a magnet, which always attracts lawsuits and court approach. Now, everybody including us is curious to know what turn will their life take. Will they again get married after all the case filings they went through or will they stay as friends or date as boyfriend and girlfriend? Leave your thoughts in the comment section below.
Sheree's Short Bio:
Sheree Whitfield (née Fuller) was born on January 2, 1970, in Shaker Heights, Ohio. She is mostly known for her recurring appearance in Bravo's reality television show called The Real Housewives of Atlanta. Prior appearing in The Real Housewives of Atlanta, Sheree opened a boutique named Bella Azul in 2003 but later closed it in August 2006 to try and forward her own signature line, She by Sheree.
From 2007 she started making her appearance in The Real Housewives of Atlanta and till now, she has been appearing frequently in the show.