Entertainment
Divorcee Krista Tippett, On Donating Love: Becoming Wise on Love and Married Life
There are very few people in the world who modify their lives based on their experience. Krista Tippett is one of these figures who used her own experience of the divorce to advise people on the matters of love, emotions, and marriage.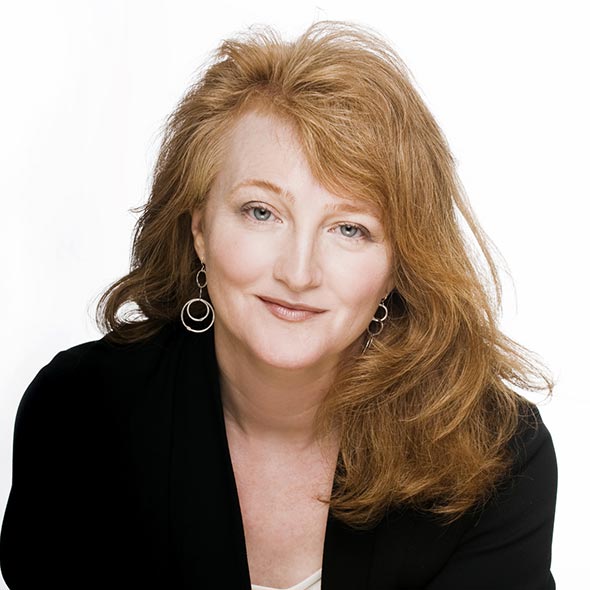 Krista Tippett is someone who has used her own experience of the divorce to advise people on the matters of love, emotions, and marriage.
Caption: Krista Tippett talking on the TED about reconnecting with Passion, 2011.
Book Release and Past Works:
Krista Tippett has recently published her new book on April 5, 2016. The book is titled, 'Becoming Wise: An Inquiry into the Mystery and Art of Living.' The book is based on her conversations with many interesting people on her radio show, 'On Being.' 
The book is a narrative journey that teaches us to recognize the answers to even the most difficult questions in everyday happenings. The book has tried to show us that our identities have become disentangled with how others portray us.
People have high expectation from her new book especially after the success of her last one. Her last book, 'Einstein's God: Conversations about Science and the Human Spirit', was a New York Time's best seller. Besides, she has also written, 'Speaking of Faith: Why Religion Matters—and How to Talk About It' similar to her present book based on her show.
On Being:
'Speaking of Faith' was the previous name of her show 'On Being' until it got changed in 2010. She interviewed some of the biggest historians, artists, and activists of our time like The 14th Dalai Lama, Mohammed Fairouz, Jean Vanier and many others. 
These interviews were easily relatable to commoners especially on burning emotional issues. There have been many people who are thankful for the show.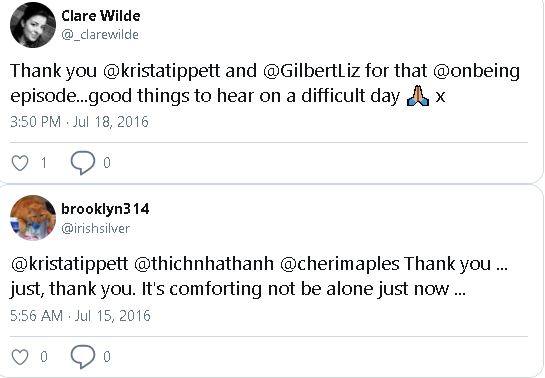 It seems like years of interviewing such visionaries has made herself an expert on the matters of love. She also posts a lot of meaningful tweets.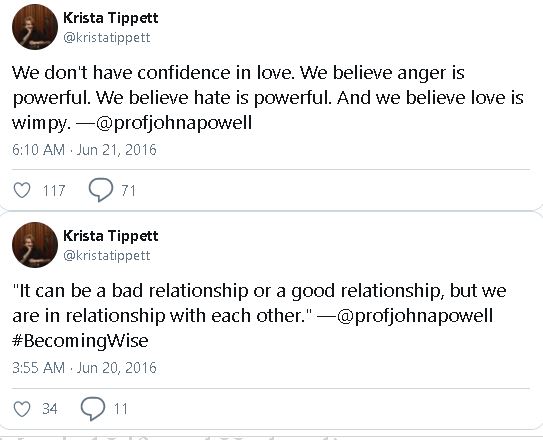 Married Life and Husband!
There is not much about the married life of the author and entrepreneur. After her brief time in diplomatic services, she went on a self-assessment for two years in Mallorca, Spain. Soon after, she was married Scottish man, Michael Tippet in 1989. But their marriage ended in divorce in 2004.
I have two children (a daughter, 20, and son, 15). They keep me grounded. If I ever started to feel like a sage they'd put a pin in it. Some of the places it's most challenging to live out these ideals is with the people closest to you.

Krista with The Washington Post  in 2014
She and ex-husband Michael have two children (a daughter, 22 and son, 17). One of her children is her son Sebastian.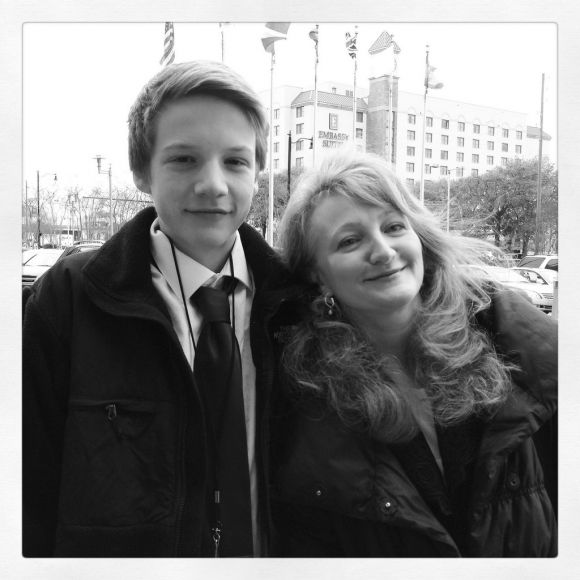 Caption: Krista Tippett with son, Sebastian, 2013.
Photo Credit: staticflickr.com
Krista Tippett was born on November 9, 1960. She is the recipient of the 2013 National Humanities Award from the hands of President Barrack Obama. She also received 'George Foster Peabody Award' in 2008. She has once again been a talk of the town because of her book's release.
Caption: the full ceremony of National Arts & Humanities Medals.
Krista Tippett, Not Religious But Spiritual
The host of On-being self-identifies as a Spiritualist rather than a religious person. While she was born and raised as a Christian, she believes in the concept of Spiritualism. The host talked about her beliefs in an interview stating,
I don't really have a quick one-word label. I would say Christianity is my mother tongue and homeland. But I'm not an especially active Christian right now in the traditional ways. My yoga practice is as important a part of my spiritual life as anything else. I also get a lot of spiritual nourishment out of the work I do. As well, reading passages from Pema Chödrön's When Things Fall Apart at regular intervals is a big piece of my spiritual life.
The Author has previously talked about how she came to became a Christian, growing up in Oklahoma where Souther Baptism was extremely prominent and became religious again in England at the Church Of England. She later turned Episcopalian after returning to the US but identifies herself as a Christian rather than Episcopalian.
She also responded that she isn't part of a Church Community but she might again and was quoted saying,
I feel like I get a lot of spiritual nurture and community from different parts of my life. In that, I'm like a lot of other people.
Similarly, she's very open-minded and instead of belittling scientific advancements and the Atheism aspects of Science, she believes that Science has brought closer the world of Spiritualism and Religion and was quoted with the following words,
What's quite new is how widely accessible the teachings of the ages are. I remember twenty or thirty years ago talking to Phyllis Pickle, who started the religious division of Publishers Weekly. It was a big thing for Publishers Weekly to acknowledge that religious and spiritual books actually had a big market. What she said to me back then was that a lot of people were getting their "church off the shelves."

Today we can say that a lot of people are getting a very diverse spiritual education "off the shelves." But it's not just the shelves anymore. It's technology. It's a show like On Being. It's travel and accessibility. People can go on meditation retreats in many different kinds of institutions and communities, or they can go on silent retreat at a Buddhist monastery that may not have as many monks as it once did but is bursting at the seams with modern people looking for quiet and wanting to touch into that contemplative part of themselves.

I see technology offering opportunities to be both free and creative, while also providing an earnest, serious searching place in our common life that's unfolding in unprecedented ways.
Tipett is also very optimistic as a person and believes that the culture of spiritualism is taking the right steps forward and that this improvement would make humans as a whole to be more complete. Her exact words were,
Culturally, we are opening up to this part of life with a new integrity. That is going to help us be more complete human beings, and therefore it's an important aspect of manifesting the wholeness of our best human potential—not just in private, but in public.

The culture, the collective, is lagging behind where masses of individual people already are. But I think this next up-and-coming generation of deep, deep searchers and people committed to joining their inner integrity and outer presence in the world will do it differently, if we can just fasten our seat belts and not self-destruct. This spiritual life that's been emerging will be good for all of us