Entertainment
Does Hannah Gross Have Boyfriend To Flaunt? Her Dating Status Now
Hannah Gross, born and raised under the wings of her famed parents, Paul Gross and Martha Burns, had all under her feet as she grew up. She was able to grab attention along with career opportunity while she made her way through the entertainment world.
However, with her name on the rise, Hannah has raised several queries regarding her romantic union, among her fans.
If you are one of them, do read along to explore more.
Hannah Gross's Dating Status
Hannah Gross, the Canadian Actress, is followed by her admirers who tend to know what she puts up to in her love life.
Well, Hannah who is at the age of 27, has her relationship entirely under the veil. She has not opened up about her romantic bond yet, leaving her fans to wonder if she has a possible boyfriend who she might be dating keeping things off the radar. Moreover, Hannah is neither active on social media platform nor has she gushed anything related to love in any of her interviews.
Well, with Hannah maintaining absolute silence in the matter, she supposedly appears to be single. She seems to be enjoying on her own, as her name has not been linked with any gentleman around, unlike her romantic affair on-screen with her fellow cast member who portrays Holden Ford, Jonathan Groff's square FBI agent in Netflix's drama Mindhunter.
Hannah Gross's Personal Life Details
Born on 25 September 1990 in a Canadian city Toronto, the capital of the province of Ontario, Hanna Gross who calls herself a rookie, seems poised for stardom.
Being the daughter of Paul Gross and Martha Bshurn, well-known Canadian actors who shared top billings in Slings and Arrows, acting runs in Hannah's blood too. Initially, she was excited about performing while witnessing her parents portray different characters in front of the cameras.
Moreover, she studied acting at Tisch School of the Arts at New York University and made her acting debut playing as a messenger in a school production of Macbeth.
Meanwhile, when asked about the moment that led her to pursue performing full-time, Hannah expressed that she was really into acting and her moment of realization was when she saw Shakespeare in Love. She wanted to be Gwyneth Paltrow!
Eventually, the heir of the Canadian acting dynasty, Hanna made her professional acting debut in Soulpepper's Doc which showcased in Young Centre for the Performing Arts in 2010.
Also in 2013, Hannah played in short film Lydia Hoffman Lydia Hoffman where she portrays the title character. Later, Hannah had the lead role in Charles Poekel's movie Christmas, Again in 2014. Moreover, in 2014 Hannah performed in Nathan Silver's Uncertain Terms along with a leading role in David Raboy's short film Beach Week. Well, she again reunited with Nathan Silver in his 2015 film, Stinking Heaven.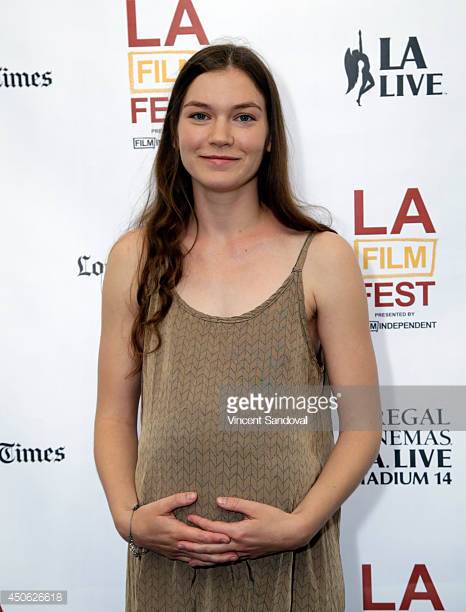 Hannah Gross attends 'Uncertain Terms' premiere in 2014 (Photo: gettyimages)
Recently in 2017, Hannah played the role of a post-graduate student Debbie Whitford, at the University of Virginia and the girlfriend of the one the main characters, in the Netflix drama Mindhunter which helped her gain additional fame.