Entertainment
Does Matt McGorry Have The Dating Skills To Have A Girlfriend Or A Wife? Gay Man Or Straight Personality?
How many of you enjoy watching the series, "Orange Is The New Black"? If you do, then you are bound to know a certain someone named Matt McGorry who played John Bennett in the Netflix series. But today, let us draw our attention to his personal life rather than his professional life and see if he has what it takes to have a girlfriend or a wife in his life? Or is he a gay?
Let us find out.
Has He Got What it Takes To Have A Girl in His Life or is He A Gay?
Matt McGorry is talented and there is no doubt on that. Also, he is a good looking guy which helps him attract a lot of ladies towards him. But is he attracted to someone in his life?
Back in 2014, in an interview, he said that he is not that good with girls. His characters in his projects are somewhat backward when it comes to dating. But is he the same in his real life?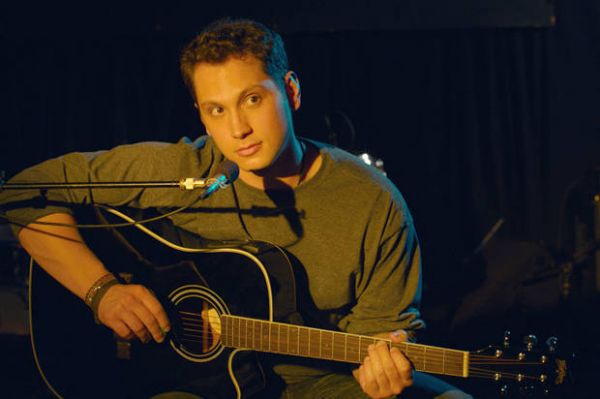 Caption: Matt McGorry on the set of "How He Fell in Love (2016).
Photo Credit: salon.com
When asked about this very thing, he said,
I never particularly thought of myself as great with girls. I can be awkward and I have a strange sense of humor at times. But I've also been learning to try and embrace that. Dating is sort of like auditioning.
He then added,
Even on your worst day, if you're right for the role, you're going to get another shot; you're going to get another callback. It's the same thing with dating: If you meet the person who's the right fit, it doesn't matter if you've had something in your teeth or you didn't pull their chair out or whatever. It'll fit.
Well, this in interesting and awkward at the same time to know that someone who is famous and equally good looking is not that very good with girls.
Also, recently in 2016, when asked about his experiences with love, he provided a clearer insight on who he feels.
I don't easily fall in love. With my friends, I prioritize a strong connection over a lot of connections with different people. I'm the same way with love. It's hard for me to find something that excites me, but when I do, I'm all in.
Moreover, when "Pitch Perfect" actress Kether Donohue asked an interesting question on his dating method, he gave an interesting reply to the tweet.
If the alternative is being a misogynist, then absolutely! But it's probably a bit complicated to put into tweets https://t.co/zh0P1EBOq3

— Matt McGorry (@MattMcGorry) July 25, 2015
But this is how he feels and what skills he has in dating. Has he been dating anyone or is married, though? Well, the answer to that might only be answered by him as he has not given any sort of clue of whether he has a girlfriend in his life or is married to his wife.
Also, he is often called a gay due to the fact that he revealed that he is not good with girls. But he is yet to address any rumor regarding his sexuality. Thus, we might need to wait for him to confirm his sexual preferences.
A Short Bio of Matt McGorry:
Matt McGorry was born in Manhattan, New York, USA on April 12, 1986. BY profession, he is an actor best known for his role in the series, "Orange Is The New Black".
He first played his debut role in the movie "Thursday" in 2006 and since then, he has been making quite the name for himself. People often wonder how tall is he and how much is his height and well, he is said to stand over 5 ft 11 inches tall.
But it is now how tall he physically is, how much he has succeeded professionally. He has been able to touch good heights in his career and he seems to have earned a lot of money as well. But still, he is yet to provide any official statement on his net worth.