Entertainment
Dolores Catania At Age 47: With A Heartthrob Son & New Boyfriend To Dote Over
American entrepreneur and reality show star Dolores Catania has the reality show, Real Housewives Of New Jersey(RHONJ) to thank for her newfound stardom She started appearing as a regular in the sixth season of the show after a few guest appearances in the preceding seasons.
However, the reality show is not the only good part Dolores enjoys in her life as she also has a loving son and new found on her side. Like that of her reality show, RHONJ, we will also be providing sneak peaks of her son and her love-life.
Keep on reading to explore the whole story of fitness guru!
Superstar In The Making: Model Cum Actor Son
Dolores Catania, age 47, was a married woman once.
From her marriage with her ex-husband Frank Catania, she shares two kids, to whom she mothers lovingly. Dolores, who has a net worth of 3.5 million dollars, has a son named Frankie, 19, and a daughter named Gabrielle, 22 together with her ex-husband, who serves as her business partner.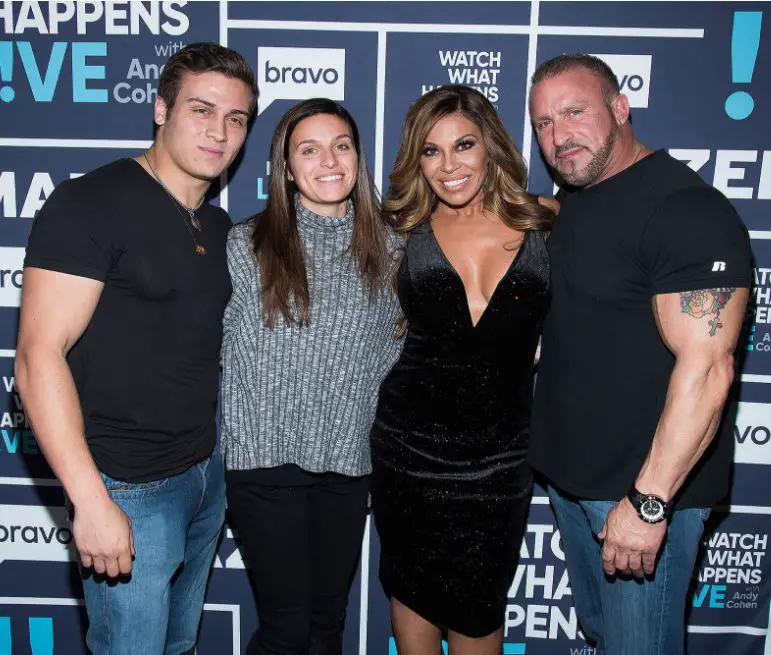 Dolores Catania with her son Frankie, Daughter Gabrielle and Ex-husband Frank (Photo: People.com)
Frankie was good at college football from his young age, but physicality betrayed him when it comes to coping with the demands of the sport.
In an interview with Daily Dish on 1 September 2017, Dolores confessed that her son returned with a severely cut lip and expressed his desire to give up football; instead, he wanted to pursue a career in acting. She quoted:
Frankie used to play football for Don Bosco [high school]. It's a nationally ranked school for football and he just wasn't as big as the other players. He would come home with his lip hanging off and one day said he wanted to be an actor.
Dolores was initially skeptical of her son's decision to pursue the acting career as revealed in an interview with OMJ on 1 September 2016. She was inquired how she felt about her son's acting. Replying to the question, Dolores expressed her skepticism, stating:
I'm like, 'Go do your homework.' Next thing you know he had a little small part in a movie in L.A. [called A World Away]. I moved to L.A. with him for two months, and he got his first taste of acting. He's pursued it ever since. Now he's at the Michael Luggio acting school in the city.
However, Frankie's dream might have to wait as he enrolled in Sacred Heart University and decided to earn a college degree before establishing as an actor. Yet, he has already taken a short course in Michael Luggio Acting School, making an early start.
However, the college is in Connecticut, and its proximity to New York means that Frankie can obviously be a part of some gigs and shows when called upon.
Frankie has already been a part of few modeling sessions and boasts a movie credit to his name, but because he has a sensible mom and his dad Frank living together by his side and helping him make tough life decisions, he has a bright future ahead of him.
Dating a Doctor; Living With Her Ex
On 5 October 2017, an episode of RHONJ made a shocking revelation of Dolores' ex-husband, Frank living with Dolores' family in the same home after the divorce. The American native and Frank had divorced in 2000 after she found that Frank cheated on her.
The turn of events got more quirky as Dolores was dating a doctor, David Principe at the time.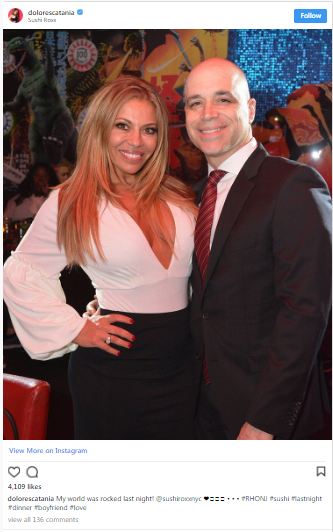 Dolores Catania with her boyfriend, David Principe (Photo: Dolores Catania's Instagram)
Dolores had admitted she is dating David in an interview with DailyDish on 10 October 2017 and explained her new boyfriend got both, a bit of bad boy and sexy vibe. She was quoted saying:
"He's a perinatologist, which is a doctor that helps women deliver high risk pregnancies. I'm very attracted to this man. I have a good time with him when I see him at 10 o'clock at night and I wait in front of his house for him to get home. He is a little bit of a bad boy. He's very sexy."
Meanwhile, the reality star, who belongs to Italian-Irish ethnicity, also seemed to be enjoying with her ex-husband, suggesting Dolores might have rekindled her romance with Frank.
But Dolores herself poured cold water to the rumors after she reasoned Frank was living with them because he needed shelter after his breakup with his longtime girlfriend.
Talking to bravotv.com on 12 October 2017, she stated,
"My ex and his girlfriend have been together 11 years and they're in this thing where they keep fighting about the same thing. Nothing's getting better, so it's time to take a break. I think after 11 or 12 years, it's worth giving it a shot, maybe you need a little break and not be in the same house and argue about the same things, so he moves back in with me."
Previously, in 2016 she had labeled Frank as just a friend talking to bravotv.com, she affirmed:
"Frank and I are not married and obviously not involved beyond being good friends and co-parents as well as partners in business"
But that's not the end of Dolores problems!
Weight loss was her one of issues as she gained more than 20 pounds after wraps of the filming of the eighth season of RHONJ in 2017. Talking to FOX News on 27 March 2018 that she nearly had an anxiety attack and later, went through a weight loss procedure.
She disclosed she went through weight loss program called Obalon; an FDA approved weight loss program. Miraculous results came after six months after she started flaunting her toned body in various events.